The Celebrity Collector
Noel Neill, Superman's "Lois Lane" Collects Tchotchkes
By Ken Hall
Around the mid-1970s, with her acting career over and plenty of time on her hands, Noel Neill decided she would do some travelling. The actress who gained fame as "Lois Lane" in the hit '50s TV show The Adventures of Superman set off for some of the world's most exotic destinations, often roughing it in the process. She bought lots of "tchotchkes" (knick-knack items) along the way.
"I would buy things for people back home, but by the time I returned to the States I had pretty much decided to keep them for myself," Neill said with a chuckle. "I know that sounds terrible, but in some cases I earned those little items." She displays her knick-knacks (she's got about 75) in an open hutch at her Santa Monica home in southern California. Few have value, save for sentimental.
Like the metal figure she bought from a child street vendor in Indonesia. "Kids were always in the streets, selling things, and I paid a dollar for this heavy, black metal piece showing a multi-armed woman -- like Medusa -- with a helmet on. It's a very interesting looking thing, and that's what the customs people thought, too, when they detained me at a check point and asked me about it."
The customs officials initially took the item for an antiquity. Removing it from the country would have been against the law. They apologized to Neill and told her she'd have to give it up. "I was on the verge of missing my bus, so I said, "Fine, keep it,'" she recalled. "But they must have had a change of heart, because at the next customs check point it was right there waiting for me."
Like Noel said, she's earned some of those little figures. Another time, she was on a trans-Russian train trip and just settling in for the night in her sleeping compartment. "All of a sudden I heard this terrific noise," she said. "I flipped on the light and saw this bullet hole right in the double-pane window of my compartment. Some Russian hillbilly just decided to fire off a round, I guess."
She calmly notified the train officials, who had the window replaced the following morning. Then it was on to Ulla Baton, a large city in Mongolia, where Neill and her travel companion Barbara King (who accompanied Noel on most of her trips over a 20-year period) stayed in kurd huts. As stated, Neill often roughs it. "I'd much prefer to experience a country like a native, not a tourist."
While in Mongolia, Neill picked up some little hard rubber figures. "They're wearing fur hats, muffs and babushkas (head scarves), just like the people there do," she said. "One's a girl, with braids." In Russia, she bought a foot-tall statue with a Russian star atop it, as well as a nest of dolls (one goes into another, which goes into another, etc.). All occupy prominent positions in her hutch.
In Kenya, more spartan living accommodations: "We stayed outside Nairobi in this canvas hut," Neill said. "There was a strange contraption that dispensed water, which was our shower. At night, it was very noisy -- lots of clomping around. We never did learn what was making all the racket." While there, she picked up ceramic elephants, giraffes and rhinoceroses -- "all quite handsome."
In China, Neill purchased some royal blue chopstick holders (similar to knife rests), with hunching animals illustrations. She also bought a black-and-gold sitting cat, direct from the factory that produced it, as well as a couple of brown wood-carved fish and a mother-and-baby porcelain set (mother about 2" tall, baby about 1-1/2"). Oh, and did we mention? Noel was taken for a hooker!
"We were staying at a hotel that must have been a bordello," she said, laughing. "These men kept approaching us. At first it was puzzling, but then we figured out what was going on. We just smiled a lot and shook our heads no." She and Barbara had checked in to see the lifesize statues of military men and their horses that were often buried with the actual deceased warriors of long ago.
Noel loves Alaska, and has been there several times. Once, she, Barbara and a small group were transported by helicopter to a glacier and deposited there, to experience what a glacier looks and feels like. "It was amazing, and we had this guide explaining it all to us. But a long time passed and the helicopter didn't come back for us. We really thought they'd forgotten all about our group."
Eventually, the helicopter did come back, permitting Neill time to buy a few tchotchkes: a figure of a bear with a fish in its mouth, made from what she believes to be a jade-colored soapstone; some totem pole figurines (about 3" tall) and a clear ceramic paperweight filled with gold flake from a local mine. "I did the mine-your-own gold tourist thing," she pointed out, "but I didn't get anything."
Mexico is another place Neill has visited numerous times. "I've got lots of stuff from there," she said, "including a wine decanter that's used at weddings. See? Two spigots, one for the bride, one for the groom!" Ceramic pieces include a pink-and-white cat, a cactus, a small vase and a turtle. One time, on a side trip to Puerto Rico, she purchased an orange chariot-like ceramic push-cart.
In Bali, Neill picked up "some really weird, futuristic-looking ceramic animals. They're wildly painted, and look almost like pottery. I also got a neat black reversible jacket, for casual wear." Other places Noel has been to include Vietnam, Cambodia, the Galapagos Islands and Tibet. "From those countries, either I didn't buy anything at all, or I actually gave the stuff to the people I bought it for!"
Today, Neill's travel itinerary has been less hectic, but not for lack of wanderlust on her part. "Barbara has been such a great friend through the years," she said, "but lately she's just not up to travelling. Health issues, you know." But Noel still has a burning desire to see the Taj Mahal in India and Machu Picchu, in Peru. "I'll get there," she promised. "It's just a matter of when and with who."
Noel Neill was born Thanksgiving Day, November 25, 1920, in Minneapolis Minnesota. Remarkably, her father, David Neill, was a respected Minneapolis newspaperman and editor in the 1940s and '50s, and wanted his daughter to become a reporter. She would fulfill his wish, but not in the way he expected! Meanwhile, young Noel dreamed of becoming a singer and performer.
She tried out for school plays, but more times than not failed the audition. Then, after graduating from high school in 1938, Noel and her mother took a motor trip to California, visiting relatives along the way. In Hollywood, they stayed with a friend of a Minneapolis neighbor, who was a musician. He arranged a singing audition for Noel, and she got a job at the nearby Del Mar racetrack.
While there, singing at the Turf Club, she met Bing Crosby, one of Del Mar's stockholders. Bing introduced Noel to his brother, Ernie, a talent agent. Before long, she was under contract to Paramount Studios. At 5' 2" tall, with dark red hair and blue eyes, Neill found work in wholesome roles, notably in the Henry Aldrich series starring Jimmy Lydon. She was also a pin-up model.
Throughout the '40s, Neill was cast in minor roles, most of them forgettable, in films like Lady of Burlesque (1943, with Barbara Stanwyck) and Here Come the Waves (1944, with Bing Crosby). She became a regular in Sam Katzman's "The Teenagers" series for Monogram, playing Betty Rogers (she was 26 at the time). She also posed for "sweater girl" and "leg art" studio promo shots.
Then, in 1947, Katzman began casting for a serial version of the popular comic book character Superman. He liked Neill's work in "The Teenagers" and wanted her as reporter Lois Lane. Neill's initial reaction: "Who's Superman, and who's Lois Lane?" Nevertheless, she took the part, becoming part of an ensemble cast that included Kirk Alyn as Superman. Alyn once said of the young actress:
"When Noel Neill and I worked together on the Superman serials, she must have had an awful lot of faith in me. I carried this girl so many times through fire, smoke, through all kinds of danger --and she'd dangle under one arm while I did these things. But she didn't mind, she didn't wince, she didn't say a word. She just believed I was Superman, and so I was." The serial was a huge hit.
Neill's post-war film credits included An American in Paris (1951, in which she played an American art student); Invasion USA (1952, which also featured a budding starlet named Phyllis Coates -- more on her in a moment); Gentlemen Prefer Blondes (with Marilyn Monroe); The Greatest Show on Earth (Oscar winner for Best Picture); and Superman and the Atom Man (1951).
When TV burst on the scene in the early '50s, it was natural for the Superman series to make the transition to the small screen. But when it came time to cast for the show, Noel Neill was passed over. No one is sure why. The best guess is that since Kirk Alyn refused the role, the producers decided to wipe the slate clean with an entirely new cast. Phyllis Coates got the part of Lois Lane.
But Coates' contract was just for the first season, and she elected not to return. When Whitney Ellsworth, the show's producer, heard of the decision, he sought out Neill, who was given the part without even having to audition. She held the role the rest of the way, until 1959, earning $225 per episode. It all came to an end with the suicide death of the show's star, George Reeves.
Neill, devastated, decided to chuck acting altogether and entered the field of public relations. She had no thought of ever taking the stage again, but in the early '70s was contacted by someone at Monmouth College in New Jersey. "They wanted me to go there and speak about my years acting and playing Lois Lane. At first I said no. But I did go, and when I got up there I just started to cry."
Energized, Neill started doing the college circuit, speaking of her experiences and even acting out scenes from Superman. "It was so much fun," she remembered. "I'd bring a script from one of the episodes called "Panic in the Sky." The students and I would act out a scene or two. We'd even have costumes from the 1950s that they'd wear. The kids were really into it. It was wonderful."
In 1977, Warner Brothers went into production for the feature film Superman: The Movie, starring Christopher Reeve in the lead role (and Margot Kidder as Lois Lane). Neill and Kirk Alyn were recruited to play the parents of a young Lois Lane in a flashback scene. Alas, nearly all of the footage from that scene ended up on the cutting room floor, and neither actor received a credit.
Nevertheless, Noel Neill will forever be remembered as the Lois Lane that millions of Baby Boomers watched while growing up in the '50s. Today, she plays golf and bridge and works part-time for Tom Selleck, helping him answer his fan mail! She also makes occasional guest appearances, always in connection with the Superman show and often with longtime friend Jack Larson.
Noel Neill was married and divorced twice and has no children. Fans of Ms. Neill may write to the star c/o ICARE, Inc., P .O. Box 324, Guffey, CO 80820. ICARE is owned by Larry Ward, who is writing a biography of Ms. Neill to be titled "Truth, Justice and the American Way: The Life & Times of Noell Neill -- The Original Lois Lane."
2003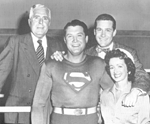 The Superman cast (left-to-right): John Hamilton, George Reeves, Jack Larson and Noel Neill.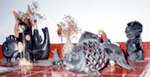 A fish and cat live in
harmony on a tile step-up
in Neill's home.
"When I travel I buy things for my friends back home, then I can't bear to part with what
I've bought."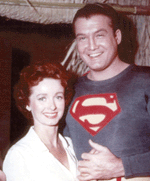 Neill was so devastated by
George Reeves' suicide she
left acting altogether for
public relations.
Today, Neill makes appearances in connection with the Superman show, often with Jack Larson.