Minding Scarlett's Business:
75 Years of Margaret Mitchell's Gone With the Wind
By John Wiley, Jr.
Posted June 2011
When Margaret Mitchell began writing her novel of the Old South in the fall of 1926, she had so little faith in the quality of her work that she told few people about it and shared the draft with only her husband. Nine years later, when she finally turned over the manuscript to a New York publisher, she doubted the company would be able to create a novel from her rough assemblage of pages. Even after she signed a contract with The Macmillan Company for a $500 advance, she joked that her story would sell no more than 5,000 copies—and those mostly to relatives and friends.
While Mitchell had numerous talents, prognostication clearly was not among them.
| | |
| --- | --- |
| | On Dec. 15, 1939, the movie premiered in Atlanta, and Mitchell thanked the people of her hometown for their support of "…me and my poor Scarlett." Movie producer David O. Selznick is at far right. |
Three-quarters of a century after her work, Gone With the Wind, appeared in the nation's bookstores, the story of Scarlett O'Hara and Rhett Butler remains one of the greatest publishing and cinematic phenomena in history. The novel has sold more than 30 million copies in at least 40 languages around the world. The 1939 motion picture version has been seen by more people than any other movie and recently was chosen in an ABC News/People magazine poll as the best movie of all time. In addition, the characters and dialogue of Mitchell's story are an indelible part of popular culture here and abroad. People everywhere understand references to, "My dear, I don't give a damn," and "Tomorrow is another day."
The story behind the success of this legendary book is as fascinating as any adventure Scarlett faced during the Civil War and Reconstruction. When Gone With the Wind was published on June 30, 1936, Mitchell was 35 years old. She had been a reporter with the Atlanta Journal Sunday Magazine for about four years, but had left the working world a decade earlier. When sales of her novel soared into the stratosphere in the midst of the Great Depression, this quiet Atlanta housewife found herself thrust into the public arena as one of the most famous women in America.
Of course, she was pleased with the book's success and the glowing reviews it received. But fame was not what she desired. Despite the demands of fellow Atlantans and fans from around the world, Mitchell fought valiantly to ensure her everyday life changed as little as possible. She and her husband, John Marsh, who worked at Georgia Power, stayed in their small 17th Street apartment until 1939 when they moved to a two-bedroom unit on Piedmont Avenue.
From the beginning, it seemed as it everyone wanted a piece of Mitchell and her book's success. Fans inundated her with letters and requests to sign their copy of her book; one woman even approached her at a funeral, book in hand. Readers, publishers and Hollywood begged her to write a sequel, and some took matters into their own hands and did just that, copyright law be damned. Others, like showman Billy Rose, borrowed liberally from her plot for his stage show, while an unreconstructed rebel from Alabama named Susan Lawrence Davis sued Mitchell for plagiarism, charging that Gone With the Wind paralleled her 1924 history of the Ku Klux Klan. In a 461-page complaint, Davis found fault with the fact that both her book and Gone With the Wind were bound in Confederate gray, both dared mention Robert E. Lee and the Freedman's Bureau, and both authors referred to people from Charleston as "Charlestonians."
Mitchell did not take these encroachments on her property lightly. While she went out of her way to be kind to readers, people like Rose and Davis felt her wrath. The author and her family were sticklers for details and contracts and expected others to take the same approach. Mitchell hired lawyers and wrangled an apology and $3,000 in damages from Rose and successfully fought Davis, whose case was dismissed by a federal court.
And the rumors! Within weeks of the book's release, the mill ran rampant. One of the falsehoods that hurt Mitchell the most was that she had not written the book. Gossip suggested her husband had written it, or her father, or that she had stolen the manuscript from an elderly person and passed it off as her own. At first, the rumors were extremely hurtful, but she eventually came to laugh at many of the crazier ones, such as that she had a wooden leg, owned a yacht, or had gone on a wild shopping spree in New York.
She also managed to find humor in the claims by hundreds of people that her characters, from Scarlett and Rhett to the Tarleton twins, were based on real-life people. The author said repeatedly that the only way to control one's characters was to create them from whole cloth; otherwise, they could get away and do things you didn't intend them to do. Still, readers confided in her that they knew she had based this character or that character on someone in their family, despite her denials. After all, she was only the author. What did she know?
But the early days of lawsuits and public adulation were only a dress rehearsal for what was to come next. In the fall of 1936, Macmillan returned to Mitchell the foreign rights to her novel. While she was perplexed that people in other countries would be interested in her most American of stories, she launched what would turn into a worldwide publishing empire—all managed from her apartment in Atlanta, a rather sedate southern city of 300,000 people at the time.
In the 1930s, copyright law was a muddle. The United States had refused to join the Berne Convention, an international copyright agreement that offered protection for American authors. Knowing this, several publishers including one in Holland and another in Chile, decided to pirate Gone With the Wind. In other words, they printed copies and refused to pay Mitchell royalties.
The author valiantly fought them both, settling with the Chilean publisher in 1938 and battling in The Hague until a final agreement was consummated in 1945. In large part because of the many problems she faced, Congress in the early 1950s finally approved the United States joining an international copyright accord.
To help her deal with the myriad of contracts overseas, Mitchell and her husband hired a New York agent who promised to take care of everything for them. The woman, Marion Saunders, managed to line up numerous foreign contracts, but always seemed to be cutting corners. Eventually, it came to light that Saunders had embezzled more than $30,000 from the author. She was fired, and Mitchell and Marsh began handling the foreign rights by themselves.
By the time World War II ended, the couple, along with the author's brother, Stephens Mitchell, had secured the copyright on her book around the world. While piracies remained a problem, the bulk of the countries in which the novel appeared paid royalties, and the war-weary world clamored to read this remarkable story of survival. If Scarlett could survive war and defeat, so could they, thought many residents of Europe and Asia.
Just when it seemed as if her life might finally be settling down, Margaret Mitchell was struck by a car driven by a drunk driver while she was crossing Peachtree Street. She died five days later on Aug. 16, 1949; she was only 48.
The rights to Gone With the Wind went to her husband, who continued to keep a close eye on Wind affairs until his death three years later. Marsh bequeathed the literary rights to Mitchell's brother, who ended up watching over this literary legend for the next three decades.
Taking a slightly softer stance than his sister, Stephens Mitchell made some business decisions that resulted in her estate becoming profitable beyond her wildest dreams. In the early 1960s, as the book's copyright came up for renewal, he renegotiated the movie contract and won a percentage of the film's future earnings. In the mid-1960s, he allowed a stage version of his sister's novel to be mounted in Japan; it was the first of many such dramatic and musical productions to appear in England, Greece, France and even the United States.
In the mid-1970s, Stephens Mitchell made a move that, on the surface, appeared to go against his sister's strongest desire: He authorized a sequel to Gone With the Wind. At the time, the book's copyright was set to expire in 1992. To retain some control over the storyline, and of course, share in the profits, Mitchell decided to accept the inevitable.
Movie producers David Brown and Richard Zanuck—fresh off their success with Jaws—purchased the rights to a film sequel. The project never got off the ground, though, and their option eventually expired.
After Stephens Mitchell died in 1983, his successors, a committee of lawyers, continued down the trail he had blazed, this time hunting for an author to write a book sequel. The first authorized continuation, Scarlett, by Alexandra Ripley, appeared in 1991 and was hugely popular. A second sequel, Rhett Butler's People, by Donald McCaig, was published in 2007 to positive critical reaction.
Today, the GWTW literary rights continue to be managed by a committee of lawyers in Atlanta, including the sons of two law partners of Stephens Mitchell. After 75 years, there is no end in sight for Gone With the Wind. A musical version opened in London in 2008, and a new Japanese stage version is set to debut this summer. The novel continues to sell well at home and abroad. An Albanian edition was printed in 2009, dozens of Chinese editions have appeared in the past few years, and Scribner, successor company to Macmillan, has released a 75th anniversary edition of its most famous book.
Margaret Mitchell did not realize it in those early years, but the characters created in her fertile imagination seemingly would have an endless life. Scarlett and Rhett, Melanie and Mammy continue to fascinate and inspire readers everywhere and remind us all of the hope of a new beginning—Scarlett's promise of an eternal tomorrow.
__________________
John Wiley Jr. is co-author of Margaret Mitchell's Gone With the Wind: A Bestseller's Odyssey from Atlanta to Hollywood. The book, written with Ellen F. Brown, was published by Taylor Trade and marks the 75th anniversary of the publication of Mitchell's novel. He also publishes a quarterly newsletter for GWTW fans called The Scarlett Letter.
You can also find Margaret Mitchell's Gone With the Wind: A Bestseller's Odyssey from Atlanta to Hollywood at Amazon.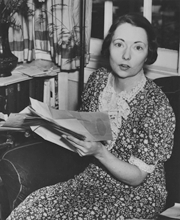 The author faithfully answered most of her fan mail, which at times numbered hundreds of letters a day.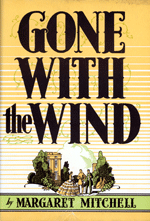 Gone With the Wind 1st Edition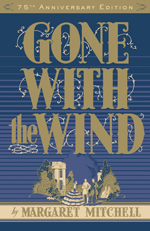 75th Anniversary Edition of Gone With the Wind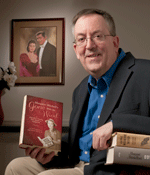 Co-author John Wiley with his new book, Margaret Mitchell's Gone With the Wind
Gone With The Wind Events
This year marks the 75th anniversary of the 1936 publication of Gone With the Wind by Margaret Mitchell. To commemorate this literary milestone, numerous events are scheduled throughout 2011. The anniversary was cited by the Atlanta Journal-Constitution as one of the "11 for 2011" arts and entertainment high notes of the year. Events include:
• May-August: Second in a series of three exhibits at the Atlanta-Fulton Public Library, "The Movie" exhibit will focus on the making of the 1939 film classic and its Atlanta world premiere; 404-730-1896.
• June 4-Sept. 5: "Atlanta's Book: The Lost Gone With the Wind Manuscript" exhibit featuring pages from the original typescript of the novel, recently rediscovered at a library in Connecticut. In addition to the pages, which show handwritten corrections by Mitchell and her husband John Marsh, the display will feature the author's desk, letters and foreign editions of Gone With the Wind; 404-814-4000.
• June 10-11: Annual GWTW weekend celebration at the Marietta Gone With the Wind Museum, Scarlett on the Square, in Marietta, Ga., with movie cast members Ann Rutherford (Carreen O'Hara), Mickey Kuhn (Beau Wilkes) and Patrick Curtis (Baby Beau), as well as Morgan Brittany, who portrayed Vivien Leigh in Gable and Lombard and Moviola: The Scarlett O'Hara War; 770-794-5576 or www.gwtwmarietta.com.
• June 30: World television premiere of Margaret Mitchell: An American Rebel, 8 p.m. on WGTV, Atlanta.
• June 30-Dec. 23: "Gone With the Wind at 75: A Diamond Jubilee" exhibit at the Mary G. Hardin Center for Cultural Arts in Gadsden, Ala. The largest GWTW display ever mounted in the United States will feature rare items borrowed from leading collectors across the country; (256-543-2787.
• Sept.-Dec.: Third in a series of three exhibits at the Atlanta Fulton Public Library at Margaret Mitchell Square. "The Writer" will focus on Mitchell and her family and their relationship with Atlanta history, as well as her personal life before and after the great success of her novel; 404-730-1896.