The Celebrity Collector

Minae Noji, Dr. Kelly Lee on "General Hospital,"
Collects Heart-Shaped Objects
By Ken Hall
Minae Noji has been steadily making a name for herself in the entertainment industry, first with the release of the 2005 film "Be Cool," a sequel to the hit "Get Shorty" in which she played the sexy singer "Miss Bangkok" opposite rapper "Raji" (played by Vince Vaughn); and more recently on the hit TV shows "General Hospital" (ABC) and "Night Shift" (SoapNet), the latter being a spinoff of the long-running daytime drama. Noji plays the adorable yet sultry obstetrician, Dr. Kelly Lee.
After Minae graduated from college, her mother gave her some money to buy something nice. She came home with
this beautiful (and expensive!) heart.
Noji is a collector, too ­ of heart-shaped objects. She's got about 15, and they're kept in a sterling silver bowl on her dresser at home (in Los Angeles, which she shares with her catfish, Nessie). The hearts are made of materials ranging from stone to cut glass to clay. "I've always loved hearts," she said. "They ground me. It's something I inherited from my mother. She always told me not to get too caught up in status or material things. In the end, it all comes down to love. The heart expresses that."
The first heart in Minae's collection was actually a gift from her mother. "She wore it as a necklace when I was a very young child," Noji said. "Then, when I was about four, she gave it to me. For years, I wore it, too, but now I keep it in the silver bowl with all the others. It's a brown stone, with some white in it. It's rather old and very nice." Noji's mother is a semi-retired accountant; her father is a retired engineer. Both live in the United States. Minae was born in California and raised in Hollywood.
One of the hearts in her collection is a rock she found on a beach in France. "It was during a period of change and some upheaval in my life," she recalled. "I was just sitting on this beach, and all of a sudden I looked down and saw this perfectly-formed, palm-sized rock in the shape of a heart. I saw it as a sign and kept it. Later on, I began loaning it out to friends of mine who were going through tough times, too. The agreement is, when their issues are resolved, they have to return the heart to me."
Another heart is one Noji made out of clay in the second grade. "The teacher told us to make something that was important to us," she said. "Most of the other kids made clay figures of their pets or whatever, but I made a heart. Then I cut out a picture of a butterfly and shellacked it to the heart. To me, that represented freedom and love, two things that were important to me even then. It's not perfect, because I was so young then. But that's the reason I love it. It was a heart, from the heart."
Another heart was a gift from her grandmother. "It's a locket," Minae observed. "There's a photo of me on one side, but the other side is empty. My grandmother made me promise that when the right man comes into my life and wins my heart, I will put his picture in the locket next to mine." She added with a laugh, "That hasn't happened yet, but I'm sure it will. And then I will make her wish come true." Her grandmother, who she visits as often as she can, lives in Japan. Minae is Japanese-American.
| | |
| --- | --- |
| | Noji's grandmother gave her this heart-shaped locket. Minae's photo is on one side. The man who wins her heart will occupy the other. |
After Noji graduated from college (with a BA degree in sociology from the University of California at Irvine), her mother gave her a chunk of cash ­ around $275 ­ and told her to go out and buy something nice for herself (figuring she'd use the money to buy clothes or maybe a nice hand bag). Not Minae. She took the money to an artsy-craftsy boutique in Los Angeles and spent it all on a heavy, carved-glass heart. "My mom didn't appreciate it too much, but that heart spoke to me!" she remarked.
Two other hearts have interesting histories. One was a glass heart given to Noji as a present by a dear, longtime friend. "I wore that heart every single day as a necklace until finally it broke," she said, adding, "The friend who gave it to me has since dropped out of sight. I have no idea where he is." The other is a heart fashioned from two teardrop-shaped stones she bought from Native Americans at Monument Valley, near the Grand Canyon. "When joined together, they make a perfect little heart!"
| | |
| --- | --- |
| | Minae's very first heart ­ given to her as a present from her mother, who wore it for years herself. It has great sentimental value. |
Being from the Los Angeles area was a convenient stroke of luck for Minae Noji, who has been acting since she was a child, both in theater and on television. On the stage, Minae was chosen from thousands of hopefuls to be a cast members in the first national touring company of "Miss Saigon," the highly praised play that enjoyed a long run on Broadway. On TV, she appeared on "Spin City" and "Power Rangers Time Force". She's also done voice-over work for animated cartoons.
Additional movie credits include roles in "The Last Run"; "Bill the Intern"; "Instant Trauma"; "Earth and Beyond" (voice); "Judge Is God" (actor and producer); and "Emperor: Battle For Dune". Current projects include "Vanishing Point"; "God's Waiting List"; and "Rewind 1987".
Noji worked as a child actress on television, copping recurring roles on "Together We Stand" (CBS, with Elliot Gould) and "A Year In the Life" (NBC, with Alan Arkin). She is semi-fluent in Japanese, and at age 16 she earned a recording contract and toured South America and Asia as a Japanese recording artist. She also became a singing finalist on the smash hit TV show, "Star Search."
Minae has some offbeat talents of which she is particularly proud. These include making animal sounds and doing hyperextended splits and toe tricks. Fans of Minae Noji may visit the star online at www.minaenoji.com. Or, you may write to her c/o Sharp & Associates Public Relations, 8721 Sunset Boulevard, Ste. 208, Los Angeles, CA 90069. She replies to fan mail when her time permits it.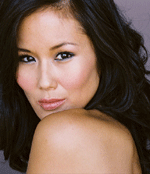 Minae Noji is a Japanese-American actress who grew up in the Los Angeles area. She's been acting and singing since childhood.
Minae plays the adorable yet sultry obstetrician Dr. Kelly Lee on the hit shows "General Hospital" and "Night Shift."
Minae bought these two pieces from Native Americans at Monument Valley, near the Grand Canyon. When you put them together, they form a heart!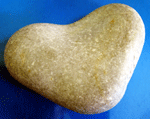 Minae found this heart-shaped rock on a beach in Nice, France.
This heart was a gift from a friend who has since disappeared from her life. She wore it as a necklace until it broke.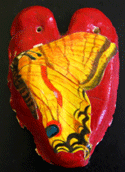 Noji made this heart while a student in elementary school. She crafted a heart out of clay, then applied a butterfly with shellack.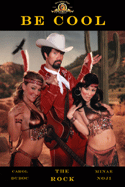 In the 2005 movie "Be Cool," Noji (far right), played the sexy singer "Miss Bangkok" opposite "Raji" (played by Vince Vaughn).