The Celebrity Collector

Today, Marie Osmond has nearly 700 dolls
and her own line of dolls, too.
By Ken Hall
Being the only girl in a family of nine children, Marie Osmond was surrounded by boys and the toys they played with. So it was only natural that her mother, Olive, would want to get her started on a doll collection as soon as possible. "I had many dolls long before I had the motor skills to hold onto them," the singer said with a laugh. "I loved my dolls as a child. I carried them everywhere."
Today, Marie's collection comprises nearly 700 dolls. They've been gathered from various shops around the world and in the U.S., via catalog and at major doll shows like IDEX and Toy Fair. In 1990, she was approached by the LL Knickerbocker Company to design and market a line of porcelain collector dolls. Today, almost 200 dolls have been either produced or marketed for her line.
"When Lou Knickerbocker first approached me about endorsing a line of dolls on the QVC Network, I told him I would do it only if I could work with the dolls in every aspect," Osmond said. "I didn't want to offer a token celebrity endorsement. He agreed, and the rest, as they say, is history." Marie became hands-on, participating fully in the creation, development and marketing of the line.
There's no disputing Osmond's love for dolls. "They were my best friends as a kid," she said. "I had one with me always. They were a much appreciated break from playing with my brothers!" She and her mom became veteran collectors, buying dolls from every country and culture they visited while on tour. "Looking back, dolls provided a cherished bond that I shared with my mother."
One of the pair's traditions was to give each other a doll each Christmas ("whether we'd been good or not!"). Before long, Marie's dolls included examples from Madame Alexander, Barbie (especially vintage and designer), reproduction dolls, doll figurines, one-of-a-kinds and whimsical art dolls. She collects other artist's dolls, too, but has slowed somewhat to make room for her own creations.
"I do have rare dolls," she said, "but I'm not a person who collects to 'sell.' Rather, I collect a doll because it speaks to me in some way and represents a little piece of who I am. So I collect to enjoy and display, and to pass down for posterity. Given that perspective, every doll is valuable to me." She thrills at getting a "sneak peak" at the new artist dolls unveiled each year at the doll shows.
Marie has had long and spirited discussions with her husband about what will ultimately become of the collection. "We've talked about housing them in a museum, and I haven't ruled that out," she said, "but I've put that on hold for awhile because I love having my dolls where I am. Many of them will be passed down to my daughters and to my son's future wives. We've got a big family!"
When her mother passed away two years ago, Marie saw to it that the many nieces and nephews who knew and loved her were given dolls from her collection as keepsakes. Marie's brother Wayne's daughter, Sarah Elizabeth, is an RN who cared for Olive in her final year. In honor of that, Marie gave her the original "Olive May" doll, which Marie sculpted and named after her mother.
"That doll held a place of honor in my mother's curio cabinet," Marie said. "She openly wept as I placed the doll in her arms. I can only hope that my own dolls are so lovingly appreciated someday. That's what I plan for my collection. My mother and both collected dolls with a genuine passion for them. Dolls were such a sweet part of my childhood. I can't imagine not enjoying them now."
Today, much of Marie's time is devoted to the Marie Osmond Fine Porcelain Collector Dolls. The talents of several doll artists are utilized ("that keeps the line fresh and innovative") and within the collection there are several themes of dolls, such as the "Four Seasons" series, which are dolls dressed in seasonal motifs, and the "Velveteen Rabbit" series (porcelain-faced, plush-body bunnies).
She's especially proud of the "Miracle Children" series, created in dedication to the many children Marie meets through her work with the Children's Miracle Network (CMN). Osmond is the organization's co-founder and co-host. A portion of the proceeds from the "Miracle Children" dolls is donated to CMN. Support for charitable causes, in fact, is a theme the recurs throughout the line.
For example, "Adora Belle - Doll for the Cure" is a 15" collectible introduced in October, and Osmond hopes she will help in the fight against breast cancer. She is donating all proceeds from the sale of the doll ($79.95), which she personally designed, to the Fashion Footwear Association of New York, a non-profit trade association that has raised over $16 million for breast cancer research.
"We have all known women who have bravely fought this disease," Osmond said. "I feel privileged to contribute in any way to ongoing research for the cure." Adora Belle is hallmarked on the back of her neck with Marie's signature and is hand-numbered. She wears a pink dotted Swiss dress adorned with a pink satin wrap and secured by an official breast cancer awareness pin.
Marie Osmond made her TV debut in 1963, on "The Andy Williams Show," when the veteran crooner hoisted the three-year-old onto his lap and introduced her as "the youngest Osmond brother." Ten years later, she scored her first # 1 hit with the song, "Paper Roses." Until then, The Osmond Brothers toured as an all-male act. When Marie joined them, the act was renamed The Osmonds.
In the early '70s, Osmond released hit records like "In My Little Corner of the World" and "Who's Sorry Now," the title track of which went Top 40. She made numerous TV guest appearances, including one with brother Donnie in which they sang. "I'm Leaving It Up To You," which was released as a single. It set the stage for The Donnie & Marie Show, which ran from 1976-1981.
The program was noted for the lighthearted banter engaged in by the brother and sister. Viewers will remember that Marie was "a little bit country," while Donnie was "a little bit rock 'n' roll." Marie's hairstyle was copied by young women across the country, and her fashion sense was emulated, too. Over time, Marie became - and still is - a role model for women throughout the world.
In 1979, Marie starred in the Christmas TV movie, The Gift of Love, with James Woods and Timothy Bottoms. Following that, she took on the role of her mother, Olive, for the 1982 TV movie Side by Side: The Story of the Osmond Family. In 1983, she starred in the TV movie I Married Wyatt Earp, with Bruce Boxleitner. She went on to co-host the TV series, Ripley's Believe It or Not.
In the mid-'80s, Osmond returned to her roots, recording country music. The 1985 album There's No Stopping Your Heart featured two #1 country hits: the title track and Meet Me in Montana, a duet with Dan Seals. In 1986, she scored another #1 hit with You're Still New to Me, a duet with Paul Davis. Two other albums followed: All in Love (1988) and Steppin' Stone (1989).
For years, Osmond toured the country with her "Marie Osmond's The Magic of Christmas" holiday show. In 1994-95, she performed the lead role of Maria in the national touring company of Rodgers & Hammerstein's The Sound of Music. Two years later, she made her Broadway debut as Anna in another Rodgers & Hammerstein production, The King & I. The show got rave reviews.
In 2001, Marie and her husband, record producer Brian Blosil, bought the company that was manufacturing her porcelain dolls. They named the new firm Marian ("Mah-RYE-an"). It is expanding to capture a broad retail presence and will ultimately brand Marie's name into an array of products, not just dolls. Marie has eight children (some of them adopted) and over 80 nieces and nephews.
Fans of Marie Osmond may visit the star online at www.marieosmond.com.
2006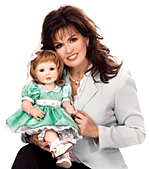 "Mommy's Girl" is from the "Toddler" series of collectible dolls. Marie designed her and
she sells for $139.95.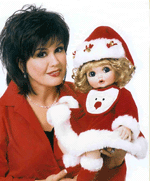 Marie poses with "Baby Adora Holly Belle," a Christmas doll
from her "Adora" line.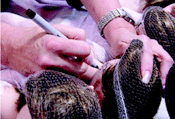 Marie personally signs a doll for
a fan at a doll show.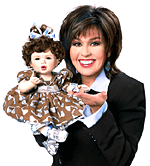 Marie's "Hershey's Kisses" doll
was designed by her, sculpted by the artist Ping Lau, and made her debut at Hershey's Chocolate World in Hershey, Pa.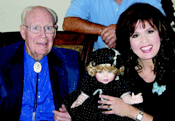 Marie and her dad at a doll signing. Marie often appears at
doll shows and shops.