Fine Art & Antiques by Dr. Lori
Happy Holiday Ornaments from Germany

Photo:The German glass blowing center of Lauscha is known for its production of blown glass kugels. In many homes, kugels remain on display all year long.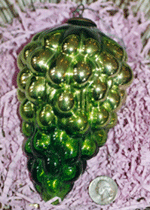 Dust notwithstanding, each year we commence upon the ritual treasure hunt for cherished collectibles and holiday decorations in the attic or basement. This interest in displaying holiday keepsakes and sharing the joy of decorating our homes initially came into fashion in the early decades of the 1800s. Back then, most traditional holiday trees were adorned with yummy decorations, such as peppermint sticks, gumdrop candies, sugar-coated nuts and fruit slices. In addition to the ornamental edibles, holiday branches and evergreen boughs supported hand-made ornaments, molded paper figures, fancy ribbons, and paper cut-outs. However, when it comes to holiday decorations, some of the most popular 19th century holiday traditions came from Germany where we first got the Christmas tree, breathtaking outdoor Thuringian markets and early glass ornaments.
While paper ornaments from Germany make fine holiday accessories, the quintessential ornament for tree decorating is the German kugel. Nineteenth century Lauschan glassblowers produced glass tubes and glass beads that were sold to merchants all across Europe. These glass tubes and beads became the seed for a growing interest in Christmas ornaments in the 1800s. The tubes and beads became the impetus for the mass production of the most popular German holiday ornaments, the kugel.
Kugels first appeared on the scene in the 1820s taking on the form of brightly colored glass spheres and molded shapes. Some of the most popular kugel shapes are grapes or berry clusters, apples, and pears. Kugels were typically hung from the branches of the holiday tree, while in some homes, glass kugels adorned entryways, hanging next to the holiday mistletoe. Many holiday decorators and kugel collectors believe that leaving a Germany kugel on display in the home throughout the entire New Year will bring good fortune to the home's residents and guests.
In the historic German town of Lauscha, glass blowing was a timehonored activity. Holiday trees were adorned with miniature ornaments made of glass in shapes ranging from majestic white horses to gingerbread houses. Some hand-blown glass ornaments were blown around a mold to obtain a distinctive shape or blown free form showing the talents and ability of a glass artisan or glass blower. Kugel ornaments run the gamut in terms of style and form, and values for antique versions range from $25 to $1,250 with market prices depending on various factors like condition, provenance, condition, origin and style. Of course, they are most sought after and priced the highest during holiday shopping time. German glass ornaments are typically found in the form of grape clusters or the everpopular silvered balls that reflect the world around them.
------------------------
Dr. Lori is an art and antiques appraiser with the Ph.D. in art history. As seen on the Daily Show with Jon Stewart, Dr. Lori hosts the TV talk show Comcast Tonight, entertaining antiques appraisal comedy shows nationwide, and popular art/antiques vacation cruises. For information, visit www.DrLoriV.com or call (888) 431-1010.