Art & Antiques by Dr. Lori

Vintage Halloween Decorations
By Lori Verderame
Posted October 2015
Photo courtesy of www.DrLoriV.com digital staff.
There are many types of Halloween decorations that are collectible and crafty. For the purists among us, you can decorate a pumpkin using everything from acrylic paint to glitter glue with themes ranging from the scary Frankenstein monster to Casper the Friendly Ghost.
While carving jack-o-lanterns requires some skill and expertise, you can use your favorite Halloween antiques and collectibles to make some fun and seasonal home decorations. If you want some quick Halloween decorating ideas, try these simple displays. Some of the easiest Halloween holiday displays can be developed from digging in your crammed closets, dusty attics or jam packed basements. Find some vintage costumes, black and orange metal noisemakers, autumn-themed ceramics and pumpkin candles and put them together to make a fancy kitchen island or family room shelf display. In no time, you've got a great display that ushers in the season's scariest night with memories and objects from days gone by.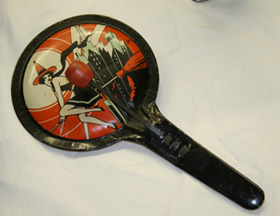 Halloween Noisemakers. Clickers, horns, lithographed tin noisemakers and even musical instruments with Halloween themes are not just objects that help children stay safe as they walk the streets in search of silly tricks or candy treats. These collectible noisemakers speak to the crux of the Halloween holiday. These vintage noisemakers—featuring owls, ghosts, witches, goblins, black cats—were introduced in order to ward off evil spirits, plain and simple.
If you want to make your own Halloween noisemaker, fill a clean orange juice concentrate or lemonade concentrate can with uncooked beans, decorate the outside of the can with Halloween-themed drawings using markers, crayons or stickers, add a popsicle stick or wooden dowel as a handle and you are ready to go.
Most of the original, vintage Halloween noisemakers are very valuable on the collectibles market now so don't let your children or grandchildren take the vintage collectibles outside with them when they tour the neighborhood hunting for candy.
Mask Basket. Remember those hot masks that you wore as a kid with your favorite Halloween costume? Reuse them to make a fun Halloween centerpiece. In the same way that many people will prominently display their beloved Christmas tree ornaments in a bowl on the dining room buffet, select a group of three or four vintage plastic costume masks from yours or your children's bygone Halloween costumes. Keep these costume masks at home since the market for these collectibles is strong at this time of the year and collectors pay a pretty penny for them online, at flea markets, swap meets, and antique stores. Gather the plastic masks—masks of politicians, witches, astronauts, cartoon characters—and place them together in an oversized bowl or basket to make a bright and colorful Halloween centerpiece. Forget the candy bowl; you've got a scary bowl!
Have some fun sharing the memories of Halloween's past and decorate the season in style. Happy Halloween!
---
Dr. Lori Verderame is an antiques appraiser, nationally syndicated columnist and author, and award-winning TV personality who stars on Discovery's Auction Kings internationally. With a Ph.D. from Penn State University and experience appraising 20,000 antiques every year, Dr. Lori presents antique appraisal events to worldwide audiences. Visit www.DrLoriV.com/Events, www.Facebook.com/DoctorLori, Lori Verderame on Google+ or call (888) 431-1010.