Art & Antiques by Dr. Lori

Dr. Lori's Animals in Art & Antiques
By Lori Verderame
Posted October 2013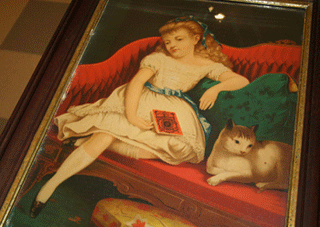 I have appraised many antique and vintage objects in the form of animals—from cow creamers to Kermit the Frog dolls. While objects are collectible for many reasons, when it comes to animals in art and antiques, it is interesting to note what an animal form symbolizes and why a particular animal was highlighted in a certain period of art history.
We love the animals that share our lives, and in art and antiques, these beloved creatures reference important life lessons. When found in a work of art (painting, sculpture, print) or an antique object (figurine, decorative carving, fetish), the appearance of animals have special meaning.
Ant - group effort and orderly.
Bat – messenger of wisdom.
Bee – industry and community. Famous wealthy families of the Renaissance and Baroque periods oftentimes commissioned artists to include bees in paintings of their family coat of arms to suggest their public interest in serving the community.
Birds - freedom.
Bear - gentle strength and nurturing. In Native American totem poles, bears are often times carved to suggest the strength of nature and the nurturing characteristics of forest animals.
Beaver – builder and gatherer.
Bull – wealth. Associated with the financial world today, images of bulls were painted on cave walls in Lascaux, France, and Santander, Spain, dating back to pre-historic times.
Butterfly – metamorphosis.
Cat – pride. The ancient Egyptians via sculptures associated cats with pride in beauty and personal accomplishment. The French Impressionist artist, Edouard Manet painted cats in his masterpieces to suggest the abilities of a woman to attract male suitors.
Cock – passion. Ceramic figurines of cocks are common decorations in the kitchens of female chefs in France as they are female power symbols.
Cow – gentleness.
Coyote – playful, a prankster.
Deer – sensitivity. Walt Disney's animated feature film, Bambi, captured the longstanding art historical symbol of the deer.
Dog – fidelity. A dog is shown at the feet of a couple on their wedding day in the world-known Arnolfini Wedding Portrait (National Gallery, London) from 1434 by Jan van Eyck.
Dolphin – kindness.
Donkey – humility.
Dragonfly – carefree. Louis Comfort Tiffany highlighted the dragonfly and other insects in many of his decorative creations including jewelry and lamps.
Eagle – protection from evil. American flag collectors look for intricate and decorative flags featuring the eagle from the late 1700s and 1800s.
Elephant – strength and memory.
Elk – agility.
Fish – long life. In their numerous forms, fish symbolize longevity in works of art dating from the early Christian era to the present.
Fox – intelligence.
Frog – water power, medicinal knowledge.
Goat – abundance.
Goose – watchful.
Hawk – noble.
Horse – stamina and power. The famous sculpture of a horse turned machine by Futurist artist Raymond Duchamp Villon highlighted society's change from an agricultural society to an industrial one in the early 1900s.
Jaguar – speed.
Lion – power and majesty, guardian. Lions have guarded the gates and entrances of some of the most famous sites in the world. Lions are featured on the Ishtar Gate, the eighth gate (north) to the inner city of Babylon. The gate was ordered by King Nebuchadnezzar II in 575 B.C.
Moose – headstrong.
Owl – wisdom.
Rabbit – rebirth. Female artists often choose rabbits as subject matter for paintings, prints and works on paper to suggest the rejuvenation of the earth in spring.
Ram – breakthrough or achievement.
Raven – transformation.
Salmon – determination. The salmons' regular process of swimming upstream speaks to its determination and resulting prosperity. It is a common image in Native American paintings and handmade art forms.
Serpent – passion.
Shark – hunter.
Snake – shrewd.
Spider – creative.
Swan– grace.
Tiger – strength, ferocity, power. Japanese artists of the 1700s oftentimes featured tigers in their gouaches, watercolors, woodblock prints, and paintings.
Turtle – perseverance. French sculptors cast forms of turtles in bronze and other metals in the art movement called animalier. Animalier, or animal sculptures, were popular with artists such as Barye and Bonheur in the mid-1860s to the1880s.
Whale – regeneration or rebirth.
Wolf – loyal pathfinder.
Personally, I have collected art and antiques that feature fish for decades. It started when I was a youngster on the swim team, and the association meant something important to me. Over the years, fish have served as pets, and fish objects have been the basis for some of my collections. This glossary of animal symbolism may help you collect with a vision in mind and learn about the history of your favorite animals.
---
Celebrity Ph.D. antiques appraiser, author, and award-winning TV personality, Dr. Lori hosts antiques appraisal events worldwide. Dr. Lori is the star appraiser on Discovery channel's Auction Kings. To learn about your antiques, visit www.DrLoriV.com, www.Facebook.com/DoctorLori, @DrLori on Twitter or Lori Verderame on Google+.