Art & Antiques by Dr. Lori

Olympics Highlight a World of Collectibles
By Lori Verderame
Posted August 2012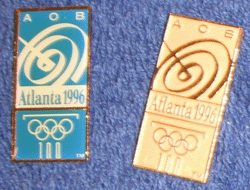 While the Olympic Games originated in the ancient world, they still stir great worldwide excitement today. I have appraised many collectibles associated with the Olympic Games over the years, including pins, sponsor apparel, press tickets to individual events, stadium equipment (a field-used track hurdle and baton), and even a torch carried in the famous relay that transports the Olympic flame from ancient Greece to the host city. Recently, I appraised Olympic memorabilia during one of my many trips to Atlanta where I tape Discovery's Auction Kings. Atlanta was the American host city for the 100th anniversary of the modern Olympics in 1996 and the city's residents have some special Olympic collectibles. Recently, the NBC station there asked me to share some tips with viewers about Olympic collectibles.
Some of the most popular Olympic collectibles are also the most accessible and easiest to obtain. Many people the world over assemble pin collections from the Olympic Games. There are numerous categories of Olympic pins, and many collectors, known adoringly as "pinheads," have extensive collections. Some pins reflect the Olympic spirit, featuring the highly recognizable Olympic rings, and others have attributes of host cities.
Other pins focus on sponsors like IBM, Coca-Cola®, or McDonalds. Sponsor pins are produced by corporations that either sponsor or supply products or services to an Olympic Games. The corporate logo is usually prominent in designing these pins and in certain cities, particular sponsor pins command high prices when traded such as Coca-Cola® pins in Atlanta or McDonald's pins in Los Angeles.
There are very desirable and collectible pins which highlight the mascots, like Izzy from the 1996 Atlanta games or Wenlock and Mandeville from this year's London games. Some of the most famous mascots like Misha the bear (Moscow 1980), Cobi the dog (Barcelona 1992), and Athena and Phevos (Athens 2004), whose figures were based on the form of ancient dolls found at Greek archaeological sites, are the most expensive Olympic collectibles. The mascot pins command the highest values on the collectibles market. Pins showing the mascots participating in a particular sporting event bring excitement and big bucks to collectors. Don't overlook the pins which focus on an individual sport like swimming, gymnastics or track and field.
Commemorative pins are issued by an Olympic Committee to raise funds to support a nation's athletes. The national flag, indigenous animals, or famous landmarks of a particular nation are the basis for these pin designs—and on these pins, the Olympic Rings are prominent. For instance, there were many commemorative and historical pins issued for the 1996 Atlanta Games making these pins some of the most expensive, ranging in value from $50 to $250 each.
For those of you who want to cash in on the Olympic buzz, this is the time to sell. For the rest of you who want to hold onto your pins and revel in the Olympic mania, you will have to wait to enjoy the market spike associated with the 2014 Olympics in Sochi, Russian Federation, or 2016 in Rio.
Get your 2012 Wenlock and Mandeville mascot pins and take a sip from your London Olympic water bottle. Go team USA!
----------------
Video: Dr. Lori discusses collectible Olympic pins.
---
Celebrity Ph.D. antiques appraiser, author, and award-winning TV personality, Dr. Lori hosts antiques appraisal events worldwide. Dr. Lori is the star appraiser on Discovery channel's Auction Kings. To learn about your antiques, visit www.DrLoriV.com, www.Facebook.com/DoctorLori, @DrLori on Twitter or Lori Verderame on Google+.