Art & Antiques by Dr. Lori

Step Right Up: Collecting Carnival Antiques
By Lori Verderame
Posted April 2013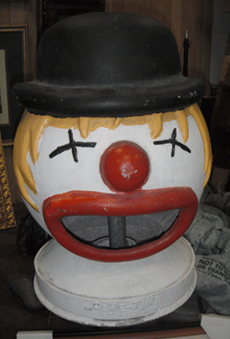 I recently appraised a vintage carnival game on the Season 4 premiere of Discovery channel's Auction Kings that was picked by Gallery 63's picker and general manager, Jon Hammond. Today, antique and vintage carnival games are a hit with collectors, traders, and yard sale shoppers as shown by the sale of the clown toss carnival game during the live auction featured at the end of the show.
Designers like to add these carnival items to interior design concepts to introduce whimsy, and collectors amass these objects to recall the good old days. From the original objects used in vintage carnival games to the signs that advertise those popular games along the midway, these remind patrons at America's amusement parks and fairs of the lazy days of playing games of chance. These pieces of Americana are as popular as they are pricey.
While most carnival games show heavy use and only fair condition, the evidence of age on these objects adds to their desirability. Prices are high: a black Americana ball toss game sign commands $500-$1,000, and the accessories from a skeet shooting game bring $250 to $275. Highly sought after carnival collectibles are those which come with complete parts in working order. Oddly enough, the well-worn and lovingly used look of some of these hand-lettered signs that announce the games which read, "3 balls for $1" or "Whack a mole" with a painted image of a frightened rodent, make many of these carnival advertisements quite appealing, too.
Carnival games that required rare objects, such as a gigantic wooden sledgehammer used to ring a bell posted high above the carnival grounds, old milk bottles that even the strongest baseball pitch couldn't topple over (because one bottle was hollowed out and replaced with heavy lead shot inside), or primitive shooting target game animals, like brightly painted figural ducks or squirrels carved of wood, are still all the rage with antique collectors.
The Americana market stirred the interest for these collectibles in the 1970s and today, many new collectors are returning to the collecting category. Some of the most popular carnival games are those which still stir the spirit of the amusement park. Similar to the bean or corn-kernel bag toss games (also known as corn hole—where a kernel-filled bag is tossed underhand into a hole in a piece of wood), the clown toss carnival games were once played by two opponents or opposing teams positioned on opposite sides of a carnival booth. Players tossed corn-kernel filled bags from one side and tried to get their bag into the clown's opened mouth. Their opponent did the same from the other side of the booth. The winner received a prize.
The clown toss carnival game that I appraised on Auction Kings was made by Game Time Inc. and was of cast iron and brightly painted. Some of these games were even re-purposed as decorative trash can covers at amusement parks. It ranges in value from $350 to $450.
When collecting these old carnival games, accessory objects, and signage, you can almost smell the cotton candy.
---
Celebrity Ph.D. antiques appraiser, author, and award-winning TV personality, Dr. Lori hosts antiques appraisal events worldwide. Dr. Lori is the star appraiser on Discovery channel's Auction Kings. To learn about your antiques, visit www.DrLoriV.com, www.Facebook.com/DoctorLori, @DrLori on Twitter or Lori Verderame on Google+.