Loni Anderson used to cry herself to sleep as a child.....because she wasn't blonde. Imagine it, the blonde bombshell from WKRP in Cincinnati, the only actress who could do justice to the role of Jayne Mansfield (which she did) in a made-for-TV movie, cried as a kid because she wasn't blonde. Chemistry would lend her a hand in time, of course, but back then it was a huge issue.
"My father used to read me fairy tales at night, and it seemed that all the heroines had blonde hair," Loni said from her home in Los Angeles. "It was really upsetting to me. Then one night he read me Snow White and the Seven Dwarfs and I was so excited. Finally, a girl with black hair, just like mine!" In Snow White, Loni had found a kindred spirit, and a collection soon was born.
Today, Loni's massive collection of Snow White miniatures and other Disney memorabilia, animation art, dolls, music boxes, plates and dachshund figures (which she inherited from her mother) occupy a sizeable room in her house. She lives there with her boyfriend, Geoff, and son Quinton, 12, the child she adopted with then-husband Burt Reynolds before their highly publicized split in 1993.
The Snow White items take up a fair amount of space in that room. She's got Snow White dishes, Snow White cookie jars and sun globes, "a petrified box of Snow White chocolates," a discontinued porcelain scene depicting Snow White at the table with the dwarfs, a Dopey scotch tape dispenser, a Doc clock and a Grumpy card holder. And that's not counting an army of miniatures!
Some of the Snow White items are from 1937, the year of the film's release. From that group there's a coaster, a book, sheet music, figurines and a bag full of Snow White flour. Such was her fascination with Snow White and animation in general that her early ambition, which followed her to college, was to be a Disney animator. She attended the University of Minnesota and majored in art.
| | |
| --- | --- |
| | |
| Loni dedicated what could be a game or family room for most people into a place where she can view and appreciate her collections. | Loni found a kindred spirit when her father first read her Snow White and the Seven Dwarfs. "Finally, a character with black hair, just like mine!" |
But she was interested in acting, too, and minored in drama. The head of the theatre department -- Frank "Doc" Whiting -- had a profound influence in her decision to pursue acting as a profession. But it didn't come easily. She was a single mother and, to support herself and her daughter, she taught art at the high school level and at an all girl's finishing school. Acting was done part-time.
For now, though, let's go back to that big room. It also contains a huge collection of music boxes, some of which date back to 1883. And dolls -- oh, does Loni have dolls! There are lots of Madame Alexanders from the '60s and '70s, as well as Barbies from the same era. She also has an original cloth Cabbage Patch Kid, "signed by Xavier, before they were mass produced," Loni said.
In light of her life-long interest in art and animation, it isn't surprising that Loni also collects animation art. One of her prized possessions is a signed Charles Schultz drawing. It shows Snoopy, twirling with glee and holding his chest. It's signed, "We love you, Loni. Charles Schultz." Also in her collection are a Bart Simpson (Matt Groening) and a cell from the film All Dogs Go to Heaven.
In addition (yes, there's more), Loni has lots of Disney-related porcelain (much of it given to her by Burt Reynolds, who she said encouraged and fed her collections). Burt gave her Bambi and Sleeping Beauty porcelains, among others. Loni said her collections have become known throughout the industry, and she's received numerous gifts from former co-stars and industry big-wigs.
"Howard Hessman, a WKRP co-star, gave me a Jayne Mansfield bubble bath bottle, about 18" tall, with Jayne in a bikini," Loni said, chuckling. The story she loves to tell, though, goes right back to Snow White, and it involves Marty Ingles, the former comedic actor ("I'm Dickens, He's Fenster") and present-day talent agent who is married to Oscar-winning actress Shirley Jones.
"Marty had used my picture without asking for permission, and it really made me angry," she remembers. "We got the whole thing straightened out, and he felt terribly. Well, to make up for it, he actually had a tape personally made for me by the lady whose voice was used in the original Snow White movie. She spoke to me in the same little girl voice she used as Snow White."
Loni Anderson's acting career took off when she moved from her hometown of St. Paul, Minn. to Los Angeles in 1975. "As much as I loved being on stage, I decided to move to L.A. to find work in television and film so I could work days and be there for my daughter," Loni said (by this time she was remarried). And find work she did -- within weeks. No waitressing for this actress!
For several years she guest-starred on many of the TV shows of the day. She did an episode of The Love Boat and worked with the late comedian and musician Steve Allen. He gave her a bit of advice she would never forget. "He said I was playing the role of the dumb blonde too well, and if I continued to do it I would never do anything else in show business."
She took that kernel of wisdom to the casting call for WKRP in Cincinnati, where she told the executives at MTM Productions she wouldn't be interested in playing a dumb blonde, even though the role called for just that. To her shock, they asked her to read the part the way she would play it. She did, but left the audition in tears, thinking she had flubbed it. The next day, she got the part.
WKRP had a four-year run (1978-82) and put Loni Anderson on the map as a TV star and a sex symbol. Her poster (Loni in a bikini) was as hot as Farrah's or Raquel's, and helped ensure her marketability for years to come. The next chapter of her life would see her appearing in films (Stroker Ace with Burt Reynolds, The Lonely Guy and a voice-over role in All Dogs Go To Heaven).
She guest-starred in a number of TV shows and, in 1994, wrote a best-selling autobiography called My Life in High Heels. Of the experience, she said at the time, "Everyone should write a book. It was wonderful therapy for me. I can't think of a better gift to leave for my family forever after. I feel that now I can move on. There isn't one word I regret, nor one question I left unanswered."
Today, Loni is a full-time mom to Quinton. And, she's a (gulp) grandmother. Her daughter, Dierdre (a superintendent of schools in a Northern California town) has two daughters, McKenzie, 8, and Megan, 5. Still, Loni finds time to take occasional acting roles, including those offbeat ads for Lipton Sizzle & Stir, where she and Mr. T play parents to George Hamilton and Mary Lou Retton.
Loni is also active in the fight against chronic obstructive pulmonary disease. "Both of my parents were heavy smokers, and they both died in their '50s," she said. "My dad, who read me those bedtime stories and got me started on Snow White, never got to see me on WKRP, never even saw me as a blonde." Loni speaks at high school assemblies, to doctors and to cancer survivors.
Fans of Loni Anderson may write to the actress c/o Sandy Hook Productions, 20652 Lassen, # 98, Chatsworth, CA 91311.
2001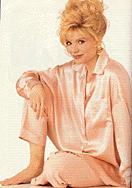 Loni Anderson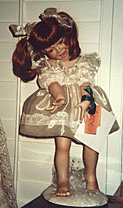 Doll from Loni's Collection.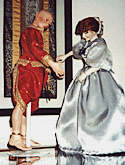 Along the way, Loni acquired this impressive set of dancing dolls from the hit play and movie The King and I.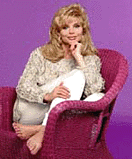 Loni Anderson's split from ex-husband Burt Reynolds was highly publicized, especially in the tabloids. But Burt encouranged her collections, buying her many pieces of animation art.