The Celebrity Collector

Liz Torres of TV's "Gilmore Girls" has a home filled
with old and unusual items.
By Ken Hall
Liz Torres plays the town gossip "Miss Patty" on TV's Gilmore Girls, and before that, she was "Mahalia" on The John Laroquette Show. Her home in Los Angeles is filled with old and unusual items.
Liz Torres is true to her roots. The little Puerto Rican girl from the Bronx is all grown up, with numerous Emmy and Golden Globe nominations to her credit, from television shows like Gilmore Girls (on which she plays the busy-body "Miss Patty"), The John Laroquette Show (she was the spunky "Mahalia"), and The Fabulous Teddy Z. But even today, Torres still lives in a predominantly Spanish neighborhood. Only now it's in suburban Los Angeles, just west of Pasadena.
The house is a 1914 Craftsman bungalow, with three gables in front and a ton of character.
"I live alone, so it's all I could afford," Torres said. She described the place as "half Spanish Colonial, half Wild West, and all money pit." She bought it about fifteen years ago, and since then has added a new roof, new plumbing, new everything.
"There's always a project going on. It's a work in progress," she said. Step inside, and there's more mayhem as you quickly learn Liz Torres is a packrat.
Where to start? How about the record albums ­ Liz has about 3,000 of them, all crammed into a closet with a ten-foot ceiling. Many are dedicated to Broadway and rhythm and blues ­ two of her passions ­ and there are other eclectic discs. Mel Torme co-exists alongside Marvin Gaye, and so forth. And Torres, because she cut her teeth as a singer, also has a sizeable sheet music collection. She even has a book, published in 1912, about old music manuscripts titled, Modern Music and Musicians.
The song sheet titles are all over the map, not organized according to genre, age or category. "Ah, Sweet Mystery of Life" is right there alongside "Chattanooga Choo-Choo," which rubs dog-ears with "It's Three O'Clock in the Morning." Some of it is vintage and no doubt valuable (although Torres has no clue as to the aggregate worth of her collections). A fan of "all things Barrymore," she lovingly framed the sheet music for "Madrigal of May," which John Barrymore sang around 1920.
The furniture in Torres' home ­ and there's a lot of it ­ reflects a lifelong appreciation of Art Deco, an interest that began when Liz was a young singer-dancer in New York City. "My lofts and apartments in Manhattan were always decorated in Art Deco," she said, "both before I was married and after. I remember at an auction in upstate New York, my husband and I bought these wonderful Victorian golden oak pieces, but the living room was kept in the Art Deco motif."
A sofa set with inlaid wood panels on the sides plus two chairs, set her back about $1,000. A 1927 Murano glass chandelier that's "to die for" hangs in the living room. Also in the living room is a couch, brown striped, that Torres dates to the 19th century. The bedrooms feature an 1861 half-tester carved rosewood bed, and a Renaissance Revival bedroom and bureau set, with mirrors and marble. And a beautiful French armoire from the early 1800s comes apart.
A walk-through of the house also reveals the following: a small Corona manual typewriter in the library; all rotary phones from the '30s and '40s, no push-buttons; an ornate wicker chair that no one, not even Liz, is permitted to sit in; a replica of a mummy (cost: $45) that hangs in the library; vintage electric fans in varying shapes and sizes; a wall phone in the kitchen from 1910 that came out of a hotel; and an antique grandfather clock made around 1750 by David Blaisdell of Amesbury, Mass.
Torres also has a pretty good supply of vintage gowns from the 1930s and '40s. "I used to buy them at the Goodwill. They would be on racks, these wonderful old gowns. Then, beginning around the late '60s, they got wise and started putting them in the 'gourmet section,' and eventually they disappeared altogether. Bette Midler and I used to go out and buy gowns together, back when we shaved our eyebrows and performed at the Continental Baths in New York. Barry Manilow was our pianist!"
Books are another commodity not in short supply. Liz has hundreds of titles. She owns a first-edition copy of a book dedicated to photos of and about Georgia O'Keeffe, assembled by the artist's husband; a book about Salvador Dali that she remembers staring at in a shop in New York as a child and then ran across and bought years later at an estate sale in California; the complete works of Shakespeare and Kipling ("I'm an Anglophile"); and a Latin textbook from the early 1700s.
Torres' "Hispanical stuff" is a nod to her heritage. She's got church items, crosses, Jesus figurines, big wooden rosaries (about a half-dozen) and more. Many of the items are from Mexico, some dating to the 1800s. "I don't have any doubt that some of this stuff was stolen by the poor or needy," she said. "Today, it's a huge problem, items being stolen out of churches in South America and Mexico and smuggled into countries where they're sold at a premium."
Artwork includes 18th-century Mexican paintings of people, church objects and other religious items; a painting of a 17th-century saint from Brazil, which Liz purchased from an old shaman at a botanical drug store in San Antonio and had placed into an ornate, heavily carved frame; a print signed by Salvador Dali ("from the 1960s, when he was still lucid"), depicting a surrealistic orgy, complete with skeleton; and a struck print by Block that she bought at a garage sale for $20.
Finally, Torres is a big fan of silver. She has a complete silver set made by Reed & Barton, with the family name of the original recipient (E. R. Swain) still engraved, from the 1800s; another complete tea set, purchased from "another female actor" (she wouldn't say who); and a pair of silver spoons made in England by a woman in the 1700s. "I was fascinated that a woman could have made these back in a time when men dominated the trade," she remarked. "And the workmanship is beautiful."
Liz Torres was born in the Bronx in 1947. She began her career as a singer and comedienne in the small New York City clubs (where she and "The Divine Miss M" shared Barry Manilow as a musical director). She made forgettable appearances in films like You've Got to Walk It Like You Talk It Or You'll Lose That Beat (1971). Her big break came when she did a stand-up comedy routine on The Tonight Show Starring Johnny Carson.
After that, she landed a role for one season on the hit series All in the Family (1971). Throughout the 1970s, Torres appeared on TV variety shows hosted by stars like Melba Moore, Clifton Davis and Ben Vereen. In 1975, she replaced the late actress Barbara Colby on the Mary Tyler Moore Show spin-off series Phyllis, starring Cloris Leachman, following Ms. Colby's tragic murder. In the '80s, she continued to appear on shows like The New Odd Couple and Checking In.
In 1993, she got a huge break when she landed the plum role of Mahalia on The John Laroquette Show. It was a part that would earn her multiple Emmy and Golden Globe nominations. Since that series ended, Ms. Torres has been seen on numerous other TV shows, like Ally McBeal, The Nanny, Quantum Leap, The Wonder Years, Murder She Wrote and L.A. Law. She also received an Emmy nomination for her work in the series The Famous Teddy Z.
On Broadway, Torres replaced Tony-winning Rita Moreno as the bathhouse entertainer Googie Gomez in the madcap comedy "The Ritz." She also played the bizarre character Bunny in "House of Blue Leaves." Other Broadway credits include "Man of La Mancha" (as Aldonza); "Bye, Bye Birdie" (with Tab Hunter); and "See Saw" (with John Raitt). Her movie credits include roles in Just Cause (with Sean Connery); Sunset (with Bruce Willis); and Permanent Midnight (with Ben Stiller).
Liz Torres has also enjoyed a singing career, with RCA Records. She gave a command performance for Morocco's King Hussan II; was invited to the White House by then-President Carter for America's First National Hispanic Week Celebration; has performed in nightclubs; had a one-woman show; and has worked with such stars as Liza Minnelli and Tony Bennett.
Fans of Liz Torres may write to her c/o Santos Productions, Inc., P.O. Box 69919, W. Hollywood, CA 90069.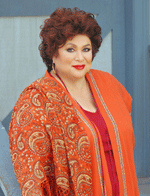 Liz dressed in full Miss Patty regalia, her character in the hit TV's series Gilmore Girls.
All of the telephones in the Torres' house are rotary.
Liz has a 1927 Murano glass chandelier "that's to die for" hanging in the living room of her 1914 Craftsman bungalow in LA.
Liz's 3,000+ records are crammed into a closet with a 10-foot ceiling.
A self-described Anglophile, Liz Torres owns the complete works of William Shakespeare, Rudyard Kipling and others.
The cast of TV's Gilmore Girls, on which Liz Torres (top row, 2nd from r.) plays the town gossip Miss Patty.