Lithophanes: Magic Illuminated

By by Margaret Carney, Ph.D.
Posted March 2012
Picture yourself in an antique shop, your grandmotherís attic, or in storage at the Metropolitan Museum of Art. When left to browse at leisure, you come upon a white bumpy plaque that is smooth on one side and three-dimensional on the other. You canít quite figure out what it is until the dealer or your grandmother or the curator suggests that you to hold it up to the light. Suddenly, you see the beautiful image, and then you are told that you are holding a lithophane. You know litho means stone in Greek, so you are baffled by the name because the piece you are holding looks more like china than stone. Later, you learn that the Greek phainen means to cause to appear. You Google the word, and you go right to www.lithophanemuseum.org - the website for the Blair Museum of Lithophanes in Toledo, Ohio. There, you learn that lithophanes are three-dimensional, translucent, porcelain plaques which, when backlit, reveal detailed magical images.
First created in Europe in the 1820s, the largest collection of this 19th century art form in the world is on view at the Blair Museum of Lithophanes.
For some collectors, discovering a lithophane for the first time truly is a magical experience. However for collectors of fairy lamps, miniature dollhouse furnishings, beer steins, teacups, oil lamps, erotica, lamp shades, lanterns, and even hand fans, lithophanes may already form an interesting facet of their larger collection.
While relatively rare today, they were made by the hundreds of thousands in Europe in the 19th century. Their heyday was nearly 200 years ago during a time when electricity was non-existent, and building interiors were illuminated by candles and oil lamps and heated by fireplaces. Lithophanes were incorporated into nightlights, candle shields, tea and food warmers, lamp shades, fairy lamps, beer steins and tea cups, and were hung or mounted in windows. When electricity became common, lithophanes became less common. Not too long after, the word lithophane disappeared from common usage.
Engravings, usually copies of popular paintings, served as the inspiration for lithophanes. During the 19th century, lithophanes were manufactured in a factory setting by skilled, yet primarily anonymous, craftspeople. The process involved using precision hand tools to model an image in wax on a backlit glass panel. Where the wax was thinnest, more light shined through; and where it was thickest, less light was transmitted. This skillful modeling is what allowed all the subtle nuances of an engraving to be translated ultimately into the finished porcelain lithophane. The carved wax served as the model and was used to create a plaster mold, which in turn was used to mold lithophanes in porcelain.
Because the ceramic body of choice for lithophanes needed to be translucent porcelain or a Parian body, often it was not until individual factories invented, discovered or introduced a suitable material into their repertoire that lithophanes were produced. The original 1827 patent by Baron Paul (Charles-Amable) de Bourgoing (1791-1864) gives a good description of the process and can be read in its entirety in the appendix to the book, Lithophanes, published in 2008 by Schiffer Publishing.
While the majority of lithophanes appear as white porcelain plaques, there was an early innovation in lithophane production that was reported around the time of the Crystal Palace Great Exhibition in London in 1851. This rarity involves the addition of colored glazes applied to the relief or front surface of the white porcelain or even more infrequently, to the inside of a porcelain lithophane globe or single-cast shade. These pieces were fired a second time at a lower temperature to render the colors permanent.
The pieces with the color added to the relief have a soft attractive quality even when not backlit. Those with the color on the interior or back of the porcelain cannot be detected as tinted, except when backlit. KPM, also known as the Royal Porcelain Manufactory, was the first factory to exhibit a sampling of these colored lithophanes.
An alphabetical listing of countries that made lithophanes in the 19th century, are alleged to have produced lithophanes, or are currently manufacturing them would include: Austria, Belgium, Bohemia/Czechoslovakia, Denmark, England, France, Germany, Hungary, Ireland, Italy, Japan, Norway, Portugal, Russia, Sweden, the United States and Wales. Well-known porcelain manufacturers who have created lithophanes as one segment of their production include: Meissen in Dresden; KPM (KŲniglichen Porzellan-Manufactur) in Berlin; Belleek in Ireland; Vista Alegre in Portugal; and Wedgwood in England. Only a few of the countries that were making lithophanes in the 19th century have continued producing them to the present day.
Lithophane images are as diverse as imaginable, including: copies of master paintings by various artists (Rembrandt, Rubens, Corregio, Battoni, Goethe) or genre painters (Begas, Becker, Cot, Dou, Kaulbach, Kersting); religious subjects (Flight Into Egypt, Sistine Madonna, The Last Supper); scenes from the Bible (Moses in the bulrushes, Jacob and Rebecca, Daniel in the lionís den); hunting and battle scenes; moralizing stories; fairy tales (Snow White, Hansel and Gretel); images from popular literature (Esmťralda from The Hunchback of Notre Dame, Scheherazade from The Arabian Nights, Reynard the Fox, Romeo and Juliet, Don Quixote, and Paul and Virginie); portraits (Goethe, Napoleon, Kaiser Wilhelm III, Samuel Colt, Queen Victoria and Prince Albert, Abraham Lincoln, Henry Clay); and genre themes of romance, puppies and kittens, and sweet smiling babies. As one could imagine, the lithophanes with images of children and their pets would be displayed in the nursery, while hunting and war scenes were hung in the manís study or den.
The Blair Museum. The Blair Museumís permanent collection includes more than 2,380 lithophanes, a few original carved wax models, plaster molds, and engravings. The Museum was founded as a private museum in the early 1960s by Laurel Blair (1909-1993), a Toledo realtor and born collector. As he had amassed the largest lithophane collection in the world, he wanted to insure that his collection would stay intact and remain in his hometown of Toledo. Prior to his death, he donated the collection to the City of Toledo. In honor of what would have been Mr. Blairís 100th birthday in 2009, the Blair Museum inaugurated their program of annual special exhibitions relating to lithophanes, illuminated ceramics, and related topics. A newly formed support group, the Friends of the Blair Museum, Inc., presently supports new acquisitions, the conservation of the collection and temporary exhibitions.
If visiting Toledo and the Blair Museum is not plausible, 12 lithophanes may be viewed in situ at the Glenn Iris Inn, a charming restaurant and inn, located at Letchworth State Park, Castile, New York. A magnificent lithophane globe can be seen in the Campbell House Museum in St. Louis, Missouri. A brief listing of museums with lithophanes in their permanent collections would include: the Metropolitan Museum of Art; the Smithsonian Institutionís National Museum of American History; the Victoria & Albert Museum in London; The Wadworth Atheneum in Hartford, Connecticut; and the Birmingham Museum of Art in Birmingham, Alabama. Be sure to call ahead to make an appointment with the curator or registrar to see the lithophanes in storage, as they are rarely on public exhibition.
-----------------------
Margaret Carney is a ceramic historian who has been paid for decades to do what she loves the most - research, write, teach, curate and explore the world of ceramics. She holds a Ph.D. in Asian Art History and was the founding director of the Museum of Ceramic Art at the New York State College of Ceramics at Alfred University. She taught ceramic world history at Alfred for 12 years and later taught at the Ohio State University. She has curated 40 exhibitions, presented 85 public lectures, and authored 67 books, catalogues, and journal articles. She is a Fellow of the American Ceramic Society and an elected member of the International Academy of Ceramics in Switzerland. Grants received include Senior Fellow at the Smithsonian Institutionís National Museum of American Art and the Renwick Gallery, as well as Tile Heritage Foundation and the Cumming Ceramic Research Foundation. She presently is the director and curator of the Blair Museum of Lithophanes.
Additional information and images related to the subject of lithophanes can be found in the book Lithophanes by Margaret Carney, published in 2008 by Schiffer Publishing. It is the first book on the topic in 180 years and is available from the publisher, through the Museumís website or from Internet book sellers.
All photos, courtesy of the Blair Museum of Lithophanes.
A lithophane globe, shown lit and unlit, featuring four scenes of women, German, 19th century, Meissen, height 11.5 inches, overall diameter 10.5 inches. (Photo by William J. Walker, Jr.)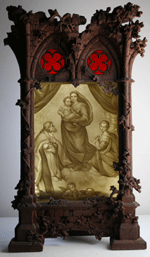 Lithophane, Madonna del Sixto (Sistine Madonna by Raphael), mounted as a table screen; German, 19th century, Meissen 83 (hand incised) and 50 (stamped);11.375 x 9 inches. (Photo by William J. Walker, Jr.)
Five-sided veilleuse thťiŤre featuring Faust and Gretchen, attributed to Jacob Petit, French, 19th century, 7.75 x 6.5 x 6.125 inches, overall height 11.5 inches. (Photo by William J. Walker, Jr.)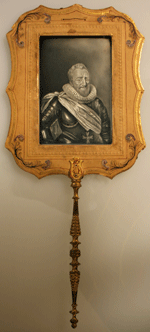 Lithophane, Henry IV, mounted as a complexion fan, 19th century, marked 493, 5.75 x 4 inches. (Photo by William J. Walker, Jr.)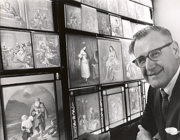 Museum founder Laurel Blair with a small portion of his 2,350+ lithophanes, ca. 1965.
Miniature lithophane plaque in the fingers of Mr. Laurel Blair, founder of the Blair Museum of Lithophanes, c. 1966.