The Celebrity Collector

Jay Leno - The Tonight Show's $1 Billion Man
Collects Cars and Motorcycles
Fortune Magazine reported that Jay Leno "has generated close to $1 billion in profits for NBC" since he took over for Johnny Carson on The Tonight Show in 1992, making him TV's "MVP-its Most Valuable Performer." Since his first appearance on The Tonight Show in 1977, many would say that Leno was destined for success. What most do not know is that up until that time, Jay Leno worked 300 gigs a year doing stand up. His thinking was that other comedians take vacations. When they do, he would be there to fill in.


Contact us to place your antique shop
or antique related information here.

That work ethic obviously paid off, and it hasn't changed since he became the top late night star. Leno's typical routine is to arise at 7:30 am, work out with trainers for over an hour, meet with staff, tape a show at 5 pm, and then go out after the show. At home, he works on jokes until the early hours of the morning. Leno gets by on four or five hours of sleep per night.
With such a rigorous schedule, it is no wonder why the late night master needs a hobby to relax with. He has a passion for collecting cars and motorcycles, and although the size of his collection changes, it includes somewhere in the neighborhood of 80 cars and 80 motorcycles. He also owns a fire truck.
"It is cheaper to have 35 cars and one woman than one car and 35 women," is the one-liner Leno uses when asked about his collection.
Leno's collection occupies three football-field size warehouses, whose walls and ceilings are decorated with period car, oil company and race posters and billboards. He employs four people to care for his babies.
The multi-million-dollar collection includes several Stanley Steamers from the early 1900s, Lamborghinis, Bughattis, muscle cars from the 1950s and '60s, a 427 Cobra, several Bentleys, a two-cylinder 1916 Auto Car, a 1932 Packard Twin Six 12-cylinder coupe; a 1913 Mercer; a 1909 Baker Electric, a chain-driven, two-cylinder Morgan, a 200-mph McLaren F1 Supercar, Jaguars, Deusenbergs, a 1955 Buick Roadmaster coupe and many more. His first vehicle? A 1934 Ford pickup.
The McLaren Supercar is valued at more than $1 million, and some Duesenbergs, which originally sold for $20,000-$25,000, are now worth about $1 million. The McLaren features a 627-horsepower engine, and it will do 60 in 3.4 seconds. It has been dubbed the world's fastest production line car.
Jay Leno also owns another super fast vehicle: a Y2K Turbine Superbike. The Y2K is powered by a 320-horsepower engine that was designed for a 10,000-pound Bell helicopter. Its top speed is around 260 mph. Leno purchased the second one on the market, which listed at $150,000 at the time. They're much higher now.
Not that there is a need to keep an eye on the road behind you when riding this rocket bike, but there is a color monitor display on the dash. With the tail-mounted camera, you can see the surprised looks on drivers' faces as you pass in a flash.
And for the kid in him, Leno has a fire truck in his collection that he was given for free. The 1941 American-LaFrance with a 754-cubic-inch engine was first owned by Warner Bros. When it was no longer needed, the studio donated it to the City of Burbank. It sat in the sun for 20 years at the end of the city's airport runway before the City's Fire Chief offered it to Leno for free. The tires were flat, the upholstery and gauges were cracked, the paint was faded and it had to be towed away. Leno and his team had it up and running after 10 days of hard work, so they drove it to the Burbank Fire Department.
Leno's love for cars is well known, and it has garnered him several plum opportunities. He's been the official pace car driver for the Daytona 500 and the Indianapolis 500. (Morgan Freeman will have that honor for the 88th Indianapolis 500 on May 30.) In fact, Leno is the first person to have driven the official pace car at all major NASCAR races.
Leno's collection has such notoriety that Mattel created a line of Hot Wheels cars named after it, "The Jay Leno Collection." His Lamborghini Miura, Shelby Cobra, Shelby Mustang and Jaguar E-type are in the collection, and individual cars sell for $10-$15 each.
Born on April 28, 1950 in New Rochelle, New York, as James Douglas Muir Leno, his father, Angelo, was an insurance salesman, and his mother, Cathryn, managed the home. Early on, Leno exhibited his funny streak by pulling pranks and jokes in elementary school. His antics caused his fifth-grade teacher to write on a report card that "if Jay spent as much time studying as he does trying to be a comedian, he'd be a big star."
Leno's love for cars began with his first job in a Ford dealership in 1967 in Andover, Mass. There, he did auto detailing and odometer recalibrations. Don't ask.
First appearing on The Tonight Show as a guest in 1977, Leno was a hit and was invited back often. He began guest hosting in 1987 before taking the seat behind the desk permanently in 1992, following in the footsteps of the greats - Jack Paar, Steve Allen and Johnny Carson. May will mark his 12th anniversary there. His success has been a financial bonanza for the Peacock Network (you're getting close to being an antique if you understand that nickname for NBC) and has resulted in his being awarded a star on Hollywood's Walk of Fame.
Despite fame and fortune, Jay Leno's every man persona makes him well liked by all. That persona is reflected in his everyday life off-camera. He has performed for U.S. troops in Bosnia and Italy. He often drives the streets of Burbank, and he smiles and waves at everyone who greets him. Leno has also been seen pulling up to the drive-through window at McDonald's in one of his vintage cars or his fire truck to order a Big Mac.
Although he and his wife, Mavis, have no children, Leno consented to provide the voice for a character on one of today's popular kid's cartoons, Fairly Odd Parents. (Watch it with your kids or grandkids. It's really good-if you have a "special" sense of humor like I do.) Leno was the voice for the Crimson Chin. He has also been featured in 1994's The Flintstones and in Doritos and Tostitos commercials.
So what's ahead for the famous Chin? Probably more classic cars for the collection and the sale of some that he has now. Leno feels that he doesn't really own the cars; he's just getting them ready for the next caretaker. As for his career, considering that Johnny Carson put in 30 years on The Tonight Show, who could expect less from NBC's billion dollar man?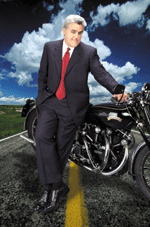 Jay Leno and one of his
prized motorcycles.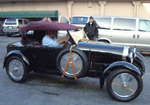 Leno drives one car from his collection to work every day.
Jay Leno on
The Tonight Show with
Gov. Arnold Schwarzenegger.
Leno's 1941 V-12 American-LaFrance fire truck with a fan out front. He has given Tom Cruise a ride in it.
Artist David R. Darrow immortalized Leno's other job with this piece. See more of his outstanding work at www.DarrowArt.com.
©David R. Darrow
Other Celebrity Car Collectors and Classic Car Owners:
Gary Cooper, Elton John, Harrison Ford, Eminem, Hulk Hogan, Nicolas Cage, Adam Sandler, Ken Griffey, Jr.and Jerry Seinfeld.
Seinfeld goes for Porsches from the 1960s. It is reported that he spent $1.4 million to have a 20-car garage-gallery built in Manhattan for his collection. Supposedly, he has a total of 47 in his collection. The centerpiece is a $700,000 Porsche 959 that is undriveable on the street. Only 200 were built and Porsche would not give four for emissions and crash testing. The car cannot be legally driven on the road.
No word on what Newman drives.