The Celebrity Collector
Jack Larson played "Jimmy Olsen" on the hit '50s TV show
The Adventures of Superman
By Ken Hall
Jack Larson's fascination with Frank Lloyd Wright dates back to his childhood in suburban Los Angeles, circa the late 1930s. There, the boy who would later gain fame as wide-eyed cub reporter "Jimmy Olsen" in the hit '50s TV show The Adventures of Superman, recalls spending time at his Aunt Gladys' house, a few doors from a concrete block Wright creation called "Barnsdall."
"It was this wonderfully designed structure in Silver Lake that the city is now restoring for millions of dollars," Larson said from his home in Brentwood (itself a Wright designed house, one of only five in Los Angeles). "I remember looking past that house down onto Sunset Boulevard, where they'd shot the D.W. Griffith epic film Intolerance. I could see the remains of the set very clearly."
That house, which Larson described as a mansion ("and mine is not a mansion; it's a modest, two-bedroom, wood-and-brick home") inspired a lifelong appreciation for the iconic American architect, whose worldwide reputation for being a difficult genius only fueled his legend. One of his greatest creations was the Imperial Hotel in Tokyo, which withstood a tremendous earthquake in 1923.
In the mid-'60s, when the Imperial was earmarked for demolition, Larson learned from a friend that a dealer he knew was visiting Japan to see what might be salvaged and brought back to America. "I contacted him right away, and told him I wanted something, anything from that hotel," Larson said. Noritake china -- designed for the hotel by Wright himself -- was on his wish list.
Sure enough, Noritake from the hotel was available. "I ended up buying 24 sets of everything," Larson said, "and it's all dated 1963-1964." Each set consists of seven pieces, each with the same eye-catching, art deco design: an off-center maroon, yellow and light blue disc pattern against a stark white backdrop. Larson displays the pieces in his home and has no idea as to their value.
"I'm sure they're worth a lot of money, but I'm not concerned with that," he said, adding he has other Wright-designed furnishings, including octagonal chairs, a pair of lamps and a table. Original art adorns the walls. Larson bought the home in 1967 as a run-down fixer-upper, with his friend James Bridges. "This place requires a lot of upkeep," he said. "I'm constantly renovating it."
Larson's collection marries two names that conjure images of style, quality and timelessness: Frank Lloyd Wright and Noritake china. Wright conceived of the place settings when he was commissioned to design the Imperial Hotel and its furnishings. He was deeply influenced by Japanese aesthetic traditions, and managed to fuse Eastern and Western principles in his design for the hotel.
The plates show Japanese influence in the simplicity and asymmetry of their design. They appealed to Japanese and Westerners alike, and Noritake produced them until the 1960s, when the hotel was torn down. The Imperial opened for business on Aug. 23, 1923. The very next day, an earthquake registering 7.9 struck Tokyo, killing nearly 150,000 people. But the Imperial didn't fall.
The name Noritake has been synonymous with fine china since the company first opened in the Japanese village of Noritake in 1904. It was founded by Baron Ichizaemon Morimura, a businessman who recognized early on that the American market was ripe for fine china dinnerware manufactured in Japan. In the late 19th century, Japan's doors to international trade were mostly closed.
Morimura, seeing an opportunity, established Morimura-kumi in 1876 to ship china and gift items to America. Initially he distributed through a wholesale and retail store in New York. Concerned about quality, he decided to control production by building his own factory. He chose the village of Noritake, near Nagoya. The company officially changed its name to Noritake Co. Ltd. in 1981.
Jack Larson was born Feb. 8, 1933 in Los Angeles, an only child. His father, a milk-truck driver in East Los Angeles, and his mother, a Western Union clerk, divorced when he was still young. A self-admitted "bad boy," Larson skipped school often and more times than not wound up at the local bowling alley. Even in divorce, his parents agonized over what to do with their truant, rebellious son.
The side-trips to the alley actually had an upside: Larson went on to become the California state bowling champion for his age group (14). He was good enough to ponder a career as a bowling professional (in fact, his first film appearance ever was in an MGM sports-short, where he was featured alongside two bowling stars of the day, Hank Marino and Ned Day). But it wasn't to be.
In the fall of 1945, Larson enrolled at Pasadena Junior College (now Pasadena City College), where he discovered he had a gift for writing. "My instructors motivated me to write plays, and to perform in the plays as well," he said. His first works were metered verse, followed by plays with acting roles for him. In 1947 and 1948, he wrote and starred in three musical operettas and comedies.
At one of those performances (for a musical comedy titled Balguna Del Mar, about college students on spring break), Larson was spotted by an agent for Warner Bros. and offered an audition. He accepted, and was soon cast in the role of a young Amy Air Corpsman in the post-World War II film Fighting Squadron, directed by Raoul Walsh and featuring (in his screen debut) Rock Hudson.
In 1951, at age 18, Larson set his sights on Broadway. But his casting director persuaded him to audition for the role of Jimmy Olsen in a new TV show, The Adventures of Superman. "At first I said no. I was intent on becoming a serious actor," Larson said, "but my agent told me, 'Kid, nobody will ever see this show. It's like doing a Saturday morning serial. Just take the money and run.'"
And so he did, earning about $250 per show for the 26 episodes that were shot in less than five months. It would be two years before Superman first aired in 1953, and during that time Larson moved from Los Angeles to New York to take on new projects. One was a part in the film Kid Monk Baroni (1952), which starred Leonard Nimoy and Bruce Cabot. Everything changed on Feb. 3, 1953.
That night, The Adventures of Superman made its TV debut and was an instant hit. Jack Larson was accorded instant fame and stardom, but it was bittersweet. "I was recognized everywhere I went as Jimmy, but I was afraid my reputation as a serious actor and playwright would be damaged by the role," he recalled. As a result, he refused to do any publicity regarding the show.
By the end of the show's sixth season, in 1959, Superman was as popular as I Love Lucy. George Reeves, the show's star, had contracted to act and direct in 26 more episodes, to air in 1960. Larson, who was making just $350 per show at the time, signed on to come back for a seventh season. But it wasn't to be. Reeves' death of an apparent suicide spelled the show's demise.
Larson discovered he was so typecast as Jimmy Olsen he couldn't find work. He did a movie in Germany and appeared with Ethel Barrymore in her last feature film, Johnny Trouble (1957). He did some stage work and accepted feature parts in TV shows, but roles eluded him. Eventually, he gave up acting altogether to write plays and librettos.
Larson also became a respected producer. As a longtime companion of the writer and filmmaker James Bridges (who died in 1993), Larson co-produced such Bridges films as The Paper Chase (1973); Urban Cowboy (1980); Bright Lights, Big City (1988); and Perfect (1985). He continues to write librettos and has contributed to many musical works that have been made into CDs. Two works, "Lord Byron" and "The Astronaut's Tale," are available on CD from Koch International.
Jack Larson lives with his dogs Dewy, a white Shepherd/Lab mix, and Ashley, a cock-a-poo. "I can live without people," he said, "but I can't live without a wonderful dog."
2003
"I can live without people," Larson said, "but I can't live without a wondertful dog"
(like Dewy).
Jack Larson (third from left) earned about $350 per
episode playing cub
reporter Jimmy Olsen.
When George Reeves
committed suicide in 1959, Larson was typecast and unable to find work.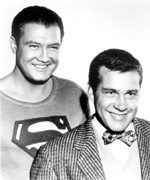 Larson believes George
Reeves committed suicide,
but many suspect he may
have been murdered.
Larson has 28 sets of Noritake china designed by Frank Lloyd Wright for Japan's Imperial Hotel.