The Celebrity Collector:
Larry Hagman (Dallas, I Dream of Jeannie)
By Ken Hall
Posted October 2011
When considering the many items collected over the years by actor Larry Hagman (Dallas, I Dream of Jeannie), there are really three stories to tell. There is the art, furniture and memorabilia sold at auction June 4th by Julien's Auctions Gallery in Beverly Hills; there is the substantial number of items still in his possession, mostly at his two California residences (in Santa Monica and Ojai); and there are the items on display in a wing of the Doss Heritage and Cultural Center in Weatherford, Tex., where Hagman grew up (most of those items had belonged to Hagman's mother, the stage and screen actress Mary Martin (Peter Pan, South Pacific).
We'll talk about the Julien's sale first. The fact that it happened at all is a minor miracle. Hagman is a self-described pack-rat who has been accumulating objects large and small for most of his 80 years (he turned 80 in September). But as he told the New York Times after the auction was over, "There comes a time, even in J.R. Ewing's life, when you have to downsize. Besides, I have more left at home than I know what to do with." About a month before the sale, Hagman had a dream that he was riding horseback down Wilshire Boulevard in Beverly Hills, to promote the sale. He approached Darren Julien about making the dream a reality, and Mr. Julien said sure.
So three days before auction day, there's Larry Hagman, riding atop a horse down one of the most famous streets in America, dressed in full J.R. Ewing regalia, waving to the crowd, with a police escort no less. He even convinced his co-star from the show, Linda Gray (now 70; she played his vodka-swilling wife, Sue Ellen) to ride alongside him, on another horse. Also at the event was Charlene Tilton, the actress who played J.R.'s wayward niece, Lucy (but don't expect a similar auction of her items; as she said, forlornly, "I didn't save a damn thing").
The very saddle that Hagman rode on that day – an Edward H. Bohlin Diamond Supreme sterling mounted parade saddle -- turned out to be one of the top-selling lots of the sale, fetching a cool $80,000 (a record for a Bohlin saddle). Other highlights included a signed portrait of Jim Davis as Jock Ewing by the South Korean 20th century artist Rio Kim ($38,750); a replica I Dream of Jeannie bottle featured in the entrance hallway of Hagman's Ojai estate ($10,975); and his personal collection of Alexander Hamilton-Aaron Burr dueling pistols ($4,062).
Items sold that had been handed down to Hagman by his mother included an Arthur Rackham signed and limited-edition copy of Peter Pan by J.M. Barrie ($6,250); Ms. Martin's cast-signed sailor cap from South Pacific ($5,000); and a 14kt yellow gold charm bracelet ($3,125). Additional lots from Mr. Hagman's collection included his Charlie 1 Horse cowboy hat, which he signed inside the auction gallery ($2,375); an 18th century Spanish Colonial School painting of Madonna and Child ($8,750); and a Bruce Killen (American, 20th century) bronze eagle sculpture ($7,187). Hagman, who attended the event and regaled the crowd throughout the day with remembrances from Dallas and Jeannie, implored people to "bid high and bid often."
What Mr. Hagman didn't sell is just as impressive and valuable as what he let go. Let's start with an original oil still life rendering by legendary actor Henry Fonda, executed in the 1940s at the request of Mary Martin and signed to her. "My mother knew Henry was an artist, and when she asked him if he'd ever been commissioned to do a painting he said no. So she said, 'Well, you're about to get your first commission.' She paid him $400. And it really is a very well done rendering, of a rose and a vase." The work, measuring about 20 inches by 30 inches (framed), hangs on the dining room wall of Hagman's Santa Monica home.
For years, Hagman and his wife (Maj) have been enthusiastic collectors of art by Barton Lidice Benes (N.Y., b. 1942), renowned for his three-dimensional collages, assemblages and sculptures. The two were introduced by one of Mr. Hagman's wife's sisters, who had met him in an elevator in Manhattan around 1960, when the artist was just 17 years old. He and the Hagmans hit it off immediately and have been friends ever since. Hagman estimates he owns more than 50 works by Benes, and upon his passing all of them will be willed to the North Dakota Museum of Art, with whom Mr. Benes has had a longstanding professional affiliation. In the meantime, many works by him dot the walls of the Hagmans' two residences.
It was Mr. Benes, in fact, who introduced the Hagmans to an antiquities dealer who sold them an authentic, 3,000-year-old Egyptian sarcophagus. "I can't tell you much about it," Hagman said, "except that it's not a replica and it's a surefire conversation starter." His other guaranteed conversation piece is a recent replica of the bottle from I Dream of Jeannie (he had two, but sold one in the Julien's auction). As for the actual bottle from the iconic TV show, Barbara Eden (who played Jeannie) has been keeping it under lock and key, but Hagman said she told him recently she planned to donate it to the Smithsonian Institution in Washington, D.C.
The one thing that Hagman does collect in quantity is hats – he's got a lot of them that he's gathered over the years, literally from around the world: elaborate and ceremonial African hats, Viking helmets, English bobby hats and derbies, military hats and, of course, ten-gallon Texas hats, the kind J.R. wore on Dallas. "Naturally, once people find out you collect hats, they start giving you hats as gifts," he said, "and that has only increased my collection." But then he added with a laugh, "We have so many we put them in a storage facility somewhere, but I can't remember where! I'm sure the storage people will contact me. Pretty embarrassing, huh?"
Noteworthy items owned by Mr. Hagman include a glass-top wooden table with bronze wheat-like stalks and a very old high-back chair with red needlepoint. Both were purchased for him many years ago by his wife, Maj, and despite their age and delicate condition both are proudly displayed at home. "Larry's not one to get something and put it away," said Teri Prather, his personal assistant. "He loves what people give him and never gives anything away. He'll often display objects alongside one another that seemingly have no connection. He'll have an expensive Waterford cut glass vase sitting next to an old tin toy someone gave him. But that's part of the fun of it for him. It's an artistic statement."
As stated, most of the items at the Doss Heritage and Cultural Center are from Mary Martin, who loved Weatherford, Texas and called it her "Never Never Land." Items on display include family photos; movie and play scripts; the first of many family needlepoint rugs made by her (and the one she often brought with her from place to place, as a connection to home); the needlepoint jacket she was making for Heller, Larry's half-sister, at the time of her death; her childhood piano, given to her by her father; a sailor doll from South Pacific; sheet music; clothing and costumes; and a small library of books she donated to the Center.
A smaller section, dedicated to Mr. Hagman items, includes a gun made for him by Holland & Holland, with a tintype image of the main characters from Dallas hand-engraved onto it (the revolver, known as "The Dallas Gun," has been valued at $250,000); a bottle of whiskey, with the bottle in the shape of J.R. Ewing; a six-pack of J.R. Beer; and a pair of boots worn by the actor on Dallas. Also featured for visiting guests is a video, narrated by Mr. Hagman, in which he talks about his famous mother and his early years growing up in Weatherford.
Fans interested in learning more about Larry Hagman may log on to www.larryhagman.com.
Larry Hagman has enjoyed success as the star of two of television's most memorable shows.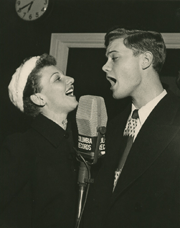 Hagman as a young man with his mother, Mary Martin.
Hagman owns and displays an authentic, 3,000-year-old Egyptian sarcophagus.
This antique glass-top wooden table with wheat-like stalks was a gift to Hagman from his wife.
Larry Hagman co-starred with Barbara Eden in the hit '60s TV comedy, I Dream of Jeannie.
Larry Hagman today, dressed in full J.R. Ewing regalia.