How I Became a Lancaster Lunatic
By Kay P. Caruso
It was the loveliest piece of glass I had ever seen, so I bought it. The tag said, "Landrum, Lancaster." At that time, it had no meaning to me whatsoever. It was just a really beautiful yellow glass tray with delicately scrolled handles, which stood in a prominent place in my china cabinet.
I showed my treasured piece to a friend who was knowledgeable about glass. "Do you think there are any other pieces like this?" I queried. She told me about "The Bible" for glass collectors, Colored Glassware of the Depression Era, Book 2 by Hazel Marie Weatherman. I ordered it via the Internet and got it in a week. I ripped open the box and quickly flipped to the "L" section to find the Lancaster pages. What a surprise! Pages and pages of catalog reprints showing many pieces of glassware made by Lancaster. Then, there it was ­ Landrum. And yes, there were other pieces, and they were made in three colors.
I will collect them all. This will be my mission. That was about eight years ago. Since then, I've learned a lot about "Landrum, Lancaster", and my house is filled with many exquisite and interesting pieces made by the Lancaster Glass Company.
Shortly after my discovery of the Weatherman book, my sister-in-law introduced me to eBay, and the collecting fever got into full swing. I won't say I was addicted, but I had to set up a system to keep track of the glass I was buying. In a few months, I had collected most of the Landrum pieces, and decided in order to be a serious collector of Lancaster, I would simply have to collect everything shown on the catalog pages in the Weatherman book. I've pretty much achieved that goal and then some, acquiring a collection of more than 350 pieces. I'm still collecting and finding new and interesting pieces all the time.
Lancaster has several identifying features that make it easy to recognize. The most prolific blank used by the Lancaster Company was a gracefully scalloped blank with six points. The Landrum pattern is an intricate floral pattern that was mold-etched onto scalloped trays, plates, bowls, 3-toed bowls/trays and center-handled servers. (The name Landrum was given to the pattern by H. Weatherman. The actual catalog page did not indicate a name for this pattern). Many of these scalloped blanks have a distinctive design in the center that looks like caning on a chair seat. On the 3-toed pieces, there is a molded "petal" that leads into the toe. The rib of the petal is actually a seam cleverly hidden in the design.
Another blank that was widely used has three wide panels separated by three narrow ribbed panels. It also has six scallops. Around the bottom of these pieces, there is a twisted-cabled design. This blank was dubbed Cable Line by Gene Florence. The most famous Cable piece, and a rare find, is the Sphinx pattern, which is a winged Greek Sphinx design.
Some handle and toe designs are indicative of Lancaster. Scroll handles with a scored curvy shape were used on all sizes of bowls and trays and center-handled servers. They can be found on scalloped and octagon pieces. The toes, or feet, on bowls and trays could be scrolled or ribbed to look like vines. Crimping or pulling points downward and folding up sides were techniques often used to create a variety of styles and eye-catching shapes for marketing. A beautiful lace-edged pattern in clear and satin glass is easily identified by the consistent size of the arched loops.
Lancaster produced many types of decorations for their blanks. Glassware could be satinized, reverse painted or adorned with hand-painted flowers and floral decals. There are two different satin finishes. The hand-painted designs were all very similar and usually had one or two central flowers with green stems and leaves branching out from either side.
So far only two different floral decals have been identified. A few mold-etched designs were done. Paneling optics were used in a number of lines. In a few rare cases, gold edging and silver overlay were used. Iridescent finishes in pearl and gold were used over stretch glass in the early years.
The colors used by the company were not always consistent. Pinks can range from pale to bright. Green can be from a true lush green to a pale bluish or teal green. Yellow is the most consistent color. Recently, two pieces of pale blue satin glass have turned up.
They also produced lines in a jet black glass this is stunning. Early pieces were exclusively crystal with ruby or gold flashing. Some crystal pieces with blank shapes from the thirties have shown up.
The Lancaster Glass Company began in 1908 making clear pressed glass in Lancaster, Ohio, for general and restaurant/hotel use. As preferences changed, Lancaster produced to meet the needs of the consumer. In the twenties, the clear glass was reverse painted. Their line used bright colors with wide black bands at the edges. At this time, console sets were popular, and they produced many types. Lancaster letterheads note that the company manufactured "high-grade table glassware, specialties and novelties, plain and decorated."
Hocking took over controlling interest of the Lancaster Glass Company in 1927. Lancaster continued to make and market glass under the Lancaster name until 1937. After 1937, the factory was one of the main Hocking producers and is still in use today.
Much of Lancaster's glassware was sold undecorated to other glass companies or sent to Standard Glass Company, another Hocking subsidiary, where wheel cutting was done. A number of pieces of Lancaster glassware were purchased by the Canadian firm of W.J. Hughes who specialized in cornflower cuttings. The Lotus catalog shows pieces of Lancaster with Lotus decorations. At least three Lotus patterns were applied to Lancaster pieces.
Lancaster glass is unlike other machine-made glass of the Depression Era. It was not made in the mass-producing mold machines. Most of it was mold blown and hand finished. Some collectors feel that it should be classified as elegant glass due to its clarity and polished seams. Defects can be found in some pieces, but the quality of the glass itself is remarkable.
It is a unique company to collect because it is something between the roughness of machine-made, mass-produced glass and the finer, more expensive elegant glass. Because it is not labeled elegant glass at this time, it is a very affordable to collect.
There are a number of books available besides the Weatherman book that provide reliable information about the Lancaster Glass Company. The Measell and Wiggins books Great American Glass of the Roaring 20s and the Depression Era (Books 1& 2) have many colored photos of reversed-painted glass and show advertising pages for the company.
---
Kay Caruso is a retired teacher (33 years), and she has been collecting Depression Era glass for about 10 years. She specializes in collecting and researching Lancaster Glass. A lifelong resident of the Greater New Orleans area, Kay has been a member of the Crescent City Depression Glass Club for seven years and the National Depression Glass Association. She is currently the editor of the CCDGS newsletter.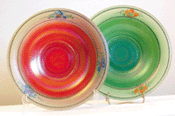 Produced in the '20s, these bowls are clear and iridized, reverse painted in red/green and hand-painted.
One of two complete dinnerware sets made by Lancaster, 23 pieces. Somewhat rare Patrick pattern, mold etched and produced in yellow and pink.
Reverse painted; bright orange compote, a popular color in the late '20s and early 30's.
Diamond Band pattern can be undecorated, etched or satinized in clear pink or yellow, frosted white or yellow.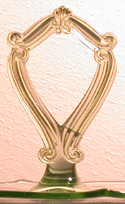 Close-up of the graceful scrolled handle, a trademark design by Lancaster.
Hazel Weatherman hand-painted flower pattern "Milly", 1932.
This compote is an example of iridized stretch, another technique used to decorate glass; Iris Ice decoration. This style of flower was used repeatedly by Lancaster.