The Lancaster Glass Co., 1908-1937
By John P. Zastowney, MBA

July of 2008 will mark the 100th anniversary of the inception of the Lancaster Glass Company. Even though it is sometimes referred to as one of the minor glass companies, Lancaster's Plant #2 is still in operation today under the auspices of the Anchor Hocking Glass Corporation in Lancaster, Ohio. In addition, the Hocking Glass Company throughout the 1940s, '50s and '60s used many of the molds that were originally made by Lancaster for some of its lines. Hocking acquired controlling interest in the Lancaster Glass Company in 1924 and eventually dissolved the Lancaster name by 1937 after completing the final purchase. However, the name Lancaster and their exquisitely-made pieces live on.
Lancaster had ties to some of the contemporary glass companies of its time: the Standard Glass Manufacturing Company of Bremen, Ohio, which cut many of the Lancaster blanks; the Monongah Glass Company of Fairmont, West Virginia, which was acquired by Lancaster in 1927; and the Lotus Glass Company of Barnesville, Ohio, which put silver overlay decorations on some Lancaster blanks.
Lucien B. Martin and his son, L. Phillip Martin, started The Lancaster Glass Company of Lancaster, Ohio (30 miles southeast of Columbus), in early July of 1908. He had formerly worked for the Fostoria Glass Company of Fostoria, Ohio (128 mi. northwest of Lancaster.) The foundation for the new plant was completed a month later in August, and the July 9, 1908 edition of the China, Glass and Lamps trade journal stated that operations were expected to commence in the fall of 1908. Lancaster was formally organized by November, and by the end of 1908, the plant employed slightly more than 200 employees.
In 1903, Isaac J. Collins moved from Maryland to head the Ohio Flint Glass Company. Collins, who eventually headed the Hocking Glass Co., became the president of the Lancaster Glass Co. Collins stayed with the Anchor Hocking Corporation until his death in October of 1975.
Two of Lancaster's most famous and well-known lines were Jubilee and Patrick. Patrick, marketed in both topaz (yellow) and rose (pink), was actually marketed as Decoration #203, called "Patrician." Patrician was renamed by Hazel Marie Weatherman as "Patrick" in her 1974 book, Colored Glassware of the Depression Era 2. The name Patrick still stands today.
Jubilee, on the other hand, has quite a controversial history. The Jubilee design, Cut #1200, was actually done by the artisans of the Standard Glass Manufacturing Company. Standard also marketed its own line of Cut #1200, which adds to the confusion. The pattern Jubilee was named for the 15th anniversary of the Frigidaire Corporation wherein a complimentary 19-piece, topaz-colored luncheon set was given to anyone who purchased a Frigidaire appliance. Today, Jubilee continues to create confusion among buyers and sellers since the 12-petal flower was cut in many variations by the Standard Glass Manufacturing Company. Those cuts carried many different cut numbers and names. Much of Jubilee's (and Patrick's) charm comes from the fact that it is one line that has a full array of luncheon pieces. Many of the other lines by Lancaster were more decorative in nature.
Lancaster made so many beautifully designed cuts, molds, patterns and decorations that one can hardly choose a favorite. Lines such as Jody, Marguerite, Morning Glory and Sunshine continue to rise in popularity. As with all collectors and their prized collections, the quest to find every piece and color made in one line keeps one on that never-ending journey.
Lancaster's most extensive line to date is #906, Open Work, with more than 30 documented pieces. Open Work served as a basis for Hocking's Old Colony, which was made in pink and crystal. Lancaster's Open Work, on the other hand, was made in seven different colors in both clear and with a satinized finish. Open Work's other decorations include: etching, decaling, gilding and painting.
Some of the Standard Glass Manufacturing Company's lines have also endured the ages and are still popular today, such as Standard's Grape, which is sought after by collectors. Twinkle (pink) and Tyrus (topaz), both Cut #28, are also heavily coveted by Jubilee collectors since the 12-petal flower is very similar to Cut #1200. Many of the Twinkle/Tyrus pieces are decorative in nature and are used as serving pieces or sideboard pieces to compliment the Jubilee line. Beadles, another Standard cut on pink Lancaster blanks, is also popular and seems to proliferate in online auctions and antique shops.
With regard to Monongah, Lancaster marketed many of their stemware pieces after the acquisition. Monongah etches are also found on Lancaster blanks. Vida is one such etch that has been popularized on pink Lancaster pieces. Lotus' Hunt Scene is probably the most recognized etch/silver overlay design done on both pink and topaz Lancaster blanks. Grecian Urn is another popular Lotus silver overlay decoration used on Lancaster blanks. Grecian Urn appears on other company's blanks as well.
Lancaster also ventured into Stretch glass production during its manufacturing years. Rose Lustre and Green Lustre with their painted purple (Decoration #400) and orange flowers (Decoration #401), respectively, is highly sought after by both Lancaster and Stretch glass collectors. Iris Ice, a white satinized Stretch glass line with painted purple flowers, continues to draw attention of collectors when found.
The Lancaster Glass Company has certainly made its mark on the glass-collecting world in its 29 years of production under that name. Even after the dissolution of the name, Hocking continued to use those molds for its lines. Grape was an etch that was used well into the 1960s.
Today, rare pieces of Lancaster's Sphinx and almost any colored piece of Lancaster's Cable or Petal with the Corn Flower etch done by the W. J. Hughes Corn Flower Company of Ontario, Canada, will command prices in the hundreds of dollars. Certain pieces of Tyrus and Twinkle will also command prices in that range due to their association with Jubilee.
Every new etch, cut, design and pattern that I found in my research over the years led to new alliances and friendships with collectors that further brought the company and its wares to life. New collectors have emerged, and seasoned passionate collectors have added to their prized and coveted assemblages. Every day brings the opportunity of a newly discovered piece, color or design for those passionate collectors. As you can tell, I am one of those passionate collectors.
---
John P. Zastowney was born and raised in Philadelphia. He graduated from Brigham Young University with a Bachelor's Degree in Business Management-Operations, and he also holds an MBA from the University of Utah. He currently resides just outside Salt Lake City. John became interested in glass collecting in 1995 as a result of a local thrift store auction. Three years later at that same thrift store, he acquired his first piece of Lancaster glass. John is the author of The Lancaster Glass Co. 1908-1937. Feel free to contact him at vitreous1@comcast.net.
Three Jody bowls with various finishes/cuts.
Lotus' Grecian Urn, various colors.
Lancaster's 924 Octagon pink handled tray with Monongah's Vida etch.
Twinkle pink center-handled tray.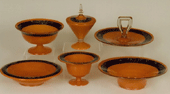 Marguerite with orange overlay.
Morning Glory green with a pink satinized finish.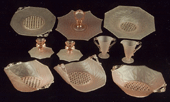 Sunshine pink with satinized
finish.
Open Work with green satinized finish.
Lancaster Glass Co. ad
advertising Patrician.
Rare Sphinx console bowl, booked at $1,750, probably the rarest piece in the book.
Patrick pink handled salad bowl.
Standard Glass Mfg. Co. catalog page depicting Cut No. 1200, aka Jubilee.