The Celebrity Collector

Lana Wood Collects Madame Alexander Dolls and Vintage Jewelry
By Ken Hall
It's a good thing Lana Wood went splash in the pool and not splat on the pavement when she was thrown out of that Las Vegas hotel window in the 1971 James Bond movie Diamonds Are Forever. The actress, who played the voluptuous temptress "Plenty O'Toole" opposite Sean Connery, might never have accumulated such impressive collections of Madame Alexander dolls and vintage jewelry pieces. Wood is the kid sister of Natalie Wood, who drowned in a tragic accident in 1981.
That really was Lana, not a stunt double, who was tossed out of a hotel window.
"I was told that I was going to be thrown into the pool, basically half naked," she recounted, "but they told me not to worry because they were going to be filming in the middle of the night. But it was Las Vegas. Half the world's up in the middle of the night in Las Vegas! There were all these people trying to get a look at me from their windows. It was quite the scene." And probably her most famous scene on film.
Lana's fascination with Madame Alexander dolls is actually a two-part story. The first part occurred when she was a child, growing up in Santa Monica, Calif., where she lived with her parents, Natalie and a half-sister, Olga. Her parents (Russian immigrants, Nikolai and Maria Zacharenko) would give the dolls to young Svetlana (Lana's real name) as gifts. Her father even built an elaborate three-shelf unit in her closet to house them. She also had the accessories (tiny picnic tables, pies, etc.).
"I loved those little dolls. They were such a major part of my childhood," she recalled, "but somehow, over the years, they just disappeared. I have no idea what happened to them. And that's very sad. I'd love to have them back."
But about a dozen years ago, Lana was out shopping with her daughter, Evan (now 33), and they went into a store in Los Angeles and saw a Madame Alexander doll with a "Little Women" theme. "We both fell in love with it and bought it on the spot for $50," she said.
Thus began the second phase of Ms. Wood's Madame Alexander collection, although now she has a partner in Evan. "We decided to become knowledgeable about the dolls, and picked up some catalogs to look through," she said. "After that, we just went wild and bought everything we saw that struck our fancy. I'd say we've got about 200 dolls today, most of them 6 inches tall but some that are 10 inches, too. They're displayed in rooms and in a curio cabinet at home" (in Ventura County, Calif).
A few examples stand out in Ms. Wood's mind. One is a 10-inch Christmas caroling doll she spotted in a local florist. "I couldn't believe it," she said. "This doll should have been priced at $200 or more. I don't think the lady knew what she had. I bought it dirt cheap, for just $25."
She also has many of the Halloween-themed Madame Alexander dolls (there's a new one every year; last year's was a girl dressed up as a gold fish); one modeled after the Mona Lisa; and a French court girl in a powdered wig.
"Most of the dolls in our collection are current," Lana offered. "We buy what we love and don't expect to ever get ten cents back on the dollar if we decide to sell them. But that's not what drives us to collect. We just love the dolls. It's a passion thing. We buy what we like. If it has an interesting theme or if the doll has been dressed in a costume that catches our fancy, we'll end up buying it. It's that simple. And we wouldn't have it any other way. A collection should be about love, not money."
The vintage jewelry collection has been ongoing and uninterrupted since Ms. Wood was a child. "My mother had a Victorian hair locket with a lock of Natalie's hair, and I just loved that little piece," she said. "In fact, I bought one in Beverly Hills for Natasha" (Natalie's daughter from her marriage to Robert Wagner). Even as a kid, there was something about vintage jewelry that appealed to Lana.
Today, her collection includes about seven small Victorian pins (one's inlaid with pearls, turquoise and rubies, with a tulip flower design; one is enamel and seems to have a foreign armed services theme; and one's a small frog, crafted from marcasite and diamonds); a Russian cross, gold with a gold chain, that she wears at all times (it was a childhood gift from a family member); and a heart ring made up of scroll work, with the heart silver and semi-see-through, with a garnet set.
She's also got a pair of Victorian-era Russian amethyst and enamel earrings, about two inches long, purchased at Frances Klein (a shop in Los Angeles); a heavy gold chain with a 6-inch Ankh, from the 1960s; a Carnelian ring that's an Egyptian scarab; about ten "poison rings," so-named because they actually do open to reveal a hidden swig of poison (to be used strictly in emergency situations); an Art Nouveau bracelet "...that I simply adore, with each disc a water lily"; and several marcasite bracelets.
When she was about 14, Lana was on the set of the film "Five Finger Exercise" and her mother noticed she was habitually biting her nails. "She promised me a ring if I stopped biting them," she remembered. It worked. Her reward was a gold ring with a pearl set in the center. "It was modern, with four diamonds around the edges, and I loved it."
"A few years later, when she was around 19 and appearing as a regular on TV's Peyton Place, her preference for vintage pieces began to emerge.
Lana Wood was born March 1, 1946. Her parents were Russian by heritage, but both fled the country following the Communist takeover. Her father, Nikolai, lived in Vancouver, British Columbia; her mother grew up in a Chinese province. The two met in San Francisco, where they were married and then legally changed their last name, from Zacharenko to Gurdin. Natalie (real name: Natasha) was born in San Francisco in 1938; Lana was born in Santa Monica, where the family re-settled.
Natalie would change her last name, too, to Wood, out of respect for the noted film director Sam Wood (her mother's idea). By then, Natalie was already an established child star, having appeared in the 1947 holiday classic, Miracle on 34th Street, as well as Driftwood, Tomorrow is Forever (with Orson Welles), The Bride Wore Boots and The Ghost and Mrs. Muir. When it came time for Lana to earn her first film credit, it only make sense that she have the same last name as her sister.
In the beginning, Lana and Natalie appeared in some of the same movies. Lana actually had a part in Driftwood as a baby, but the scene landed on the cutting room floor. Her part in The Searchers (1956, directed by John Ford), was a younger version of Natalie's character. And the two appeared together in the 1958 movie Marjorie Morningstar. But television allowed Lana to break out on her own, as she appeared in popular series like Playhouse 90, Dr. Kildare, and The Fugitive.
In 1965, Wood signed a contract with Twentieth Century-Fox and was cast in her first TV series as a regular, The Long Hot Summer. She portrayed the Southern belle that Lee Remick had played in the movie version. Her real break came the following year, when she was cast as Sandy Webber, a waitress, in the hit series Peyton Place, long recognized as the first prime time soap opera.
In 1971, Lana agreed to pose for Playboy. Some photos of her wearing revealing nightwear had been taken by a photographer friend, Eric Weston, who was trying to break into the industry. He sent the photos to Playboy, and Hugh Hefner called Lana to discuss a pictorial feature. Initially she declined, concerned that nude photos, no matter how tastefully shot, would be damaging to her career and reputation. She relented on the condition that some of her poetry also be published in the issue.
When producer Albert "Cubby" Broccoli spotted Lana in Playboy, he instantly offered her the part of "Plenty O'Toole" in Diamonds Are Forever. Her next film project, improbably enough, was the Disney romp Justin Morgan Had a Horse (1972). That was followed by parts in feature films such as Grayeagle (1978) and Satan's Mistress (1982). Lana married Richard Smedley, her co-star in the 1972 film A Place Called Today. The marriage ended, but it did produce her only child, Evan.
In the early '80s, Lana was serving as Vice President of TV Films for Ron Samuels Productions at Warner Brothers Studios in Los Angeles, when she was approached about writing a memoir about Natalie. The resulting book, Natalie, A Memoir By Her Sister, reached # 3 on the New York Times Best-Seller List. In 2004, Lana co-produced an ABC-TV movie special The Mystery of Natalie Wood. Lana has been busy in recent years writing, producing and appearing at special events.
She has also been twice thrust into the role of caregiver ­ once for her mother, who was diagnosed with Alzheimer's and who died from the disease (Ms. Wood is writing a book about the experience that she hopes to get published); and again for her daughter Evan who, at age 33, is battling Hodgkin's lymphoma and fibromyalgia. Lana, Evan, Evan's husband and their three children all live together in Ventura County, Calif. The family also maintains a houseful of dogs (10) and cats (12).
Fans of Lana Wood may visit the star online at www.lanawood.net.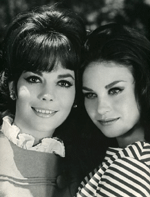 Natalie (l.) was born Natasha Zacharenko. Lana's real name is Svetlana. The two took the last name Wood in honor of film director Sam Wood.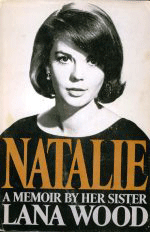 Lana's book about her late sister Natalie, titled Natalie: A Memoir By Her Sister.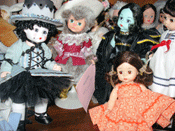 A few of the dolls in Lana's collection of Madame Alexander dolls.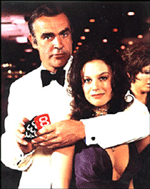 Publicity still from the 1971 film Diamonds Are Forever. Lana played the voluptuous Plenty O'Toole to Sean Connery's James Bond.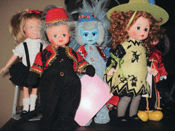 Another shot of Lana's collection of Madame Alexander dolls.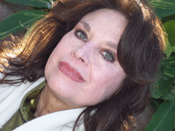 Lana Wood today.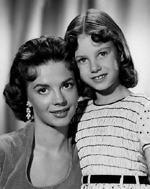 In the 1956 movie The Searchers, Lana played a younger version of Natalie's character.