Ken's Korner
News & Views From the World of Antiques & Collectibles

By Ken Hall

Posted December 2013
Russell Crowe likes Staffordshire teacups
Actor Russell Crowe (The Gladiator, Les Miserables) is a fan of Staffordshire pottery. We know this because he recently sent out a tweet to his 1.2 million followers, asking for help in finding a rare Queen Elizabeth Coronation souvenir mug (made by the Gladstone Pottery in 1953). The tweet was read by Nerys Williams, a woman who works at the Gladstone Pottery Museum in Stoke, England. She tweeted back a photograph of a similar mug at the museum (not for sale). He sent a reply that the mug was "a beauty."
---
Violin from the Titanic gavels for $1.7 million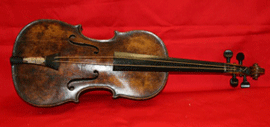 A violin believed to have been played aboard the doomed ocean liner Titanic before the ship sank into the icy waters of the Atlantic in April 1912 has sold at auction for just under $1.7 million. It was a new world auction record for a piece of Titanic memorabilia. The winning phone bidder did not wish to be identified. The violin, of German make, was played by the Titanic's bandmaster, Wallace Hartley, who led the band in a rendition of Nearer My God, to Thee while the ship slowly sank and passengers screamed.
The instrument (which is now unplayable) was found strapped to Hartley's body after the disaster, but its whereabouts were a mystery for decades. Only recently did it resurface, with an unnamed owner consigning it to the British auction house Henry Aldridge & Son, located in the English town of Devizes. The violin was subjected to numerous tests before it was declared authentic. It had been a gift from Hartley's fiancée, Maria Robinson, who inscribed it, "For Wallace, on the occasion of our engagement, from Maria."
---
Museum trying to get back ancient gold tablet

About a hundred years ago, German archaeologists digging around the Ishtar Temple in northern Iraq unearthed a 3,200-year-old, 34-ounce gold tablet. It was brought back to Germany and installed in the collection of the Vorderasiatisches Museum in Berlin, where it remained until the end of World War II. In the ensuing post-war chaos, the tablet somehow found its way into the hands of Riven Flamenbaum, a Jewish Holocaust survivor who may have bought it from a Russian soldier or merely taken it as recompense.
Now, nearly 70 years later, the fate of the tablet is in the hands of New York's Court of Appeals. The museum is suing to get its tablet back, its attorney arguing, "There's no such thing as a right of pillage." The attorney for the estate of Mr. Flamenbaum countered, "Under the Soviet rules at the time, there was permission to pillage and plunder." The family is also arguing that to wait many decades to reclaim the tablet constitutes an unreasonable delay. A decision is expected soon. No guesses as to the tablet's value.
---
WWII letter is delivered 69 years after its writing

About 12 years ago, a woman in St. Louis, Mo., named Donna Gregory was helping to clean out her ex-husband's grandparents' home when she came across a box of old World War II memorabilia. Inside was a letter that Army Pfc. John F. Eddington had written to his three-week-old daughter Peggy, Eddington's Purple Heart award, his high school diploma, draft card and a message from the War Department telling his parents that he had died. Eddington was killed in 1944, just days after penning the letter to his daughter.
Gregory, with help from the Internet, decided it was her mission to find Peggy Eddington and return the letter and box of items to her, and she did just that, personally driving from St. Louis to Nevada for a special hand-delivery. Peggy Eddington is now 69 and Peggy Eddington-Smith. She was stunned to learn of the box of items pertaining to a father she never knew. She said her mother Helen, who died in 1997, was so devastated by John's death she never remarried. The letter was read aloud in an official Army ceremony.
---
Three Stooges film surfaces in Australia

Every full-length and short film ever made by the prolific Three Stooges during their long careers had at least one print in existence, except one: Hello Pop, a backstage two-color Technicolor musical short released by MGM in 1933, directed by Jack Cummings and featuring songs by Irving Berlin. There used to be one copy at the Culver City studio, but that one was destroyed in the same 1967 fire that also claimed outtakes from The Wizard of Oz. Now, a copy of Hello Pop has surfaced – in Australia, of all places.
A collector there recently contacted the Vitaphone Project – a New Jersey-based group whose mission includes reuniting long-missing soundtrack discs for early musical shorts with mute prints in archives and conducting worldwide searches for missing features and shorts from the post-Vitaphone era. The collector, who has no Internet access, asked whether Hello Pop was a lost film, mentioning that he owned a print. The short was recently screened at Film Forum in New York, as part of a program called "Lost – Now Found."
---
A mastodon tooth in a donation box

Someone – no one knows who – deposited a mastodon tooth in the donation box at In The Image, a Christian charity based in Grand Rapids, Mich. The tooth was fractured in two places and the tusk was hollow at one end. Both were covered in lacquer. The charity could have sold the tooth and made money off the donation, but instead gave it to the Grand Rapids Public Museum, to add to its collection. Other items that have been donated to In The Image include someone's divorce papers and a painting worth $5,000.
The mastodon is an extinct relative of the elephant. Thousands of mastodon teeth have been found in North America, the most recent case coming in July, when four children in Iowa found a mastodon tooth in a creek that experts think might be 20,000 years old. The tooth fragment and tusk in the Grand Rapids donation box are thought to be between 12,000 and 15,000 years old. The part of the world where the most mastodon remains are found is Siberia. The majority of North American finds are in Michigan.
---
China – a tough place for classic car owners

Chinese officials, worried that the country is choking on exhaust fumes as more and more cars take to the highways, has banned vehicles that are more than 15 years old from its roads. The logic: those cars are more polluting than their modern counterparts and shouldn't be driven. That is terrible news to Chinese lovers of foreign classic cars (especially American cars from the '50s and '60s) and their ranks are many. They skirt the law by driving their prized vehicles on remote country roads, which get little policing.
Recently, a convoy of classic cars (including a 1964 Chevy Corvette Stingray) left from China's Great Wall, near Beijing, for a 1,100-mile tour to Shanghai. It was the third year of the Classic Cars China Challenge. Officials permitted that event to happen, as it channeled the spirit of the famous Peking-to-Paris Race of 1907. One classic car club in China has more than 3,000 members. Interest in classic foreign cars has been on the rise since China's economic boom gave people there unprecedented disposable income.
---
Norman Rockwell work goes missing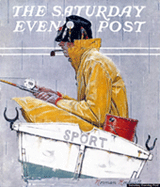 In May, an original oil painting by Norman Rockwell titled Sport (which appeared on the April 29, 1939 cover of The Saturday Evening Post and has that magazine's logo in the image area) was sold by a private collection in Birmingham, Ala., for a little more than $1 million at Sotheby's. It was then shipped to the Welpak Art Moving and Storage facility in Queens, N.Y., for safekeeping. But New York police report the 22 inch by 28 inch work, framed in gilded wood, has been stolen. An investigation is ongoing.
It wasn't immediately clear exactly who owns the painting, one of many that Rockwell executed for The Saturday Evening Post beginning in 1916, when he painted his first Post cover at age 22. Rockwell called the magazine "the greatest show window in America," and over the years, he produced a staggering 321 covers, spanning 47 years.
---
Man's '66 Volvo coupe hits 3 million-mile mark

In 1998, Irv Gordon of Long Island, N.Y., set a world record for most miles driven by a single person in a noncommercial vehicle: 1.69 million. He's still going. Gordon, 74, driving the very same cherry red Volvo coupe he bought new in 1966, hit the two million-mile mark on a drive to New York's Central Park in 1987. He just passed three million miles, while driving on Seward Highway in Alaska. From there it was back to New York, for an appearance on the TODAY Show, in honor of his amazing achievement.
Gordon reached 500,000 miles in just ten years, helped along by a 125-mile round-trip commute to work every day. Remarkably, the Volvo (a P1800 model) has the same engine from when he first bought it. He's driven in every state except Hawaii, as well as in five European countries. The distance he's traveled is equivalent to six round trips between the Earth and the moon. "The best way to see America is by car," Gordon said. Would he ever sell his Volvo? "Sure – for a dollar a mile on the odometer," he replied.
---
Jesse Jackson, Jr. auction canceled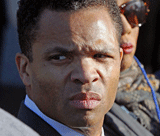 A planned auction of assets forfeited by disgraced Congressman Jesse Jackson, Jr., was canceled by the U.S. Marshals Service over concerns that one of the items in the sale – a guitar supposedly autographed by Michael Jackson and Eddie Van Halen – might have fake signatures. The guitar would have had a starting bid of $525. Other items up for bid were to include pictures and posters signed by Michael Jackson and Kung Fu legend Bruce Lee, as well as two fur capes, a pair of fur coats and other clothes and memorabilia.
Jackson, the son of civil rights leader the Rev. Jesse Jackson, Sr., was sentenced to 2 ½ years in prison for misuse of campaign funds. Money raised by the auction was to go toward paying down a $750,000 settlement. Jackson had used the money for personal purchases such as kitchen appliances, clothing, collectibles, food, travel and health club dues. His wife, Sandi, a former Chicago City Council member, was sentenced to a year in prison for filing false joint income tax returns. The auction will be re-scheduled.
---
Remains of WWII British bomb crew finally found

In April 1943, Great Britain dispatched 327 Avro Lancaster heavy bomber planes to German-occupied Czechoslovakia, with the mission to destroy a munitions plant in Mannheim. Of those, 36 never made it back to base. And of those 36, the fate of the seven-member Royal Air Force crew led by pilot Alex Bone was never learned. The British Air Ministry conducted an exhaustive search for the men after the war, but neither the men nor the plane were found, and the guess was made that they ditched in the sea and died.
A local Czech teenager at the time named Peter Menges witnessed the fiery crash and knew the exact location of the Lancaster's wreckage. Only recently did Menges, now 83, contact Uwe Benkel, a health insurance clerk who moonlights as a military history researcher and has helped recover more than 100 planes. Using metal detectors and ground-penetrating radar to confirm the crash site, Benkel located the plane's engine plus bone fragments from the missing men, who will be buried in a shared coffin in Germany.
---
Banksy – he's at it again! Sells originals for cheap

On October 13th, the British street artist and merry prankster known as Banksy (his true identity is a closely guarded secret) pulled off his greatest stunt yet. He set up a stall in New York's Central Park, totally unannounced, and had an elderly gentleman work the booth to sell original, authentic and signed Banksy canvases (easily worth hundreds of thousands of dollars) for $60 apiece. The man didn't make his first sale until four hours into the day, as passersby were oblivious to the incredible deals before them.
The total take for the day was $420. One lady bought two canvases for her two small children (but only after negotiating a 50-percent discount). A man from Chicago, saying he needed something for the walls in his new apartment, bought four canvases. Wait, it gets better. Eight days later, two New York artists, cashing in on the resulting hype, set up a stall at the exact same spot in Central Park and sold Banksy fakes with "letters of inauthenticity" (their answer to Banksy's stunt). By day's end, they were all sold out.
---
Belafonte is suing over MLK papers

Singer Harry Belafonte, 86, has filed papers in federal court in Manhattan, asking a judge to declare him the rightful owner of three documents he says were given to him by the Rev. Martin Luther King, his widow Coretta Scott King and by MLK aide Stanley Levison. King's heirs – Dexter, Bernice and Martin Luther King III – said the documents were taken without permission and rightfully belong to the MLK estate. The King family has a history of suing to protect their rights to MLK's many works and images.
Belafonte's documents include a three-page outline for King's 1967 speech titled, "The Casualties of the War in Vietnam" (written on a lined legal pad in Belafonte's apartment in New York); a letter of condolence from Pres. Lyndon Johnson to Coretta Scott King; and an envelope King was carrying in his pocket the day he was assassinated in Memphis in 1968. In December 2008, Belafonte tried to sell the documents through Sotheby's, to raise money for the charity Barrios Unidos, but the King family blocked the auction.
---
$10 silver certificate easily worth $500,000
Billy Baeder, 39, of Royersford, Pa., collects paper money and owns what is thought to be the world's most valuable $10 silver certificate. The bill, from 1933, bears the inscription, "Payable in silver coin to bearer on demand." It also has a low serial number – "A00000001A." Baeder's late father, also a collector, purchased the certificate 25 years ago for around $15,000. The auction house Stack's Bowers says the bill, if sold at auction, would fetch $500,000 or more. Baeder has already turned down an offer of $300,000.
---
The All-American doughnut is British?

It's been widely believed that the deep-fried treat we know as the doughnut was invented by Dutch settlers in the United States in the mid-19th century (although an American, Hanson Gregory, also claimed to have invented the ring-shaped confection aboard a lime-trading ship in 1847). But now, word comes from across the pond that a recently discovered cookbook by the wife of a society doctor in Britain details how to make a "dow nut" in a recipe from 1800. The 213-year-old cookbook was just recently discovered.
In it, Baroness Elizabeth Dimsdale, the wife of smallpox pioneer Dr. Thomas Dimsdale, stated she had been given the recipe for the "dow nut" by a woman identified only as "Mrs. Fordham." The ingredients given were sugar, eggs, nutmeg, butter and yeast. Ms. Dimsdale didn't go much into instruction on how to make a doughnut, just what to use to make one. The historian who discovered the cookbook, Dr. Heather Falvey, recently published the book, The Recipe Book of Baroness Elizabeth Dimsdale, c. 1800.
---
Salinger letters go on exhibition

2013 was a big year for J.D. Salinger, the reclusive and enigmatic author of The Catcher in the Rye. A biography and companion documentary film about the writer (who died in 2010, at age 91) were both released, then came the bombshell news that five previously unknown works by Salinger would be published, beginning in 2015. Also, the Morgan Library in New York City is showing never-before-displayed letters that Salinger wrote from 1941-1943 to a female admirer in Toronto, Canada, named Marjorie Sheard.
Both were in their 20s, and this was years before The Catcher in the Rye was published (in 1951). In one letter, Salinger writes, "Dear Miss Sheard, Your warm bright letter just reached me. Thanks very much. It's unfair to authors that you write only to Aldous Huxley and me." Sheard was an aspiring fiction writer and asked Salinger for his advice, which he gave. She never did become a published author, but did work in advertising for 30 years as a copywriter. She died this past May in Toronto, just shy of her 95th birthday.
---