HONUS WAGNER CARD
BRINGS OVER A MILLION
Honus has hit the road again. The "Mona Lisa of Baseball Cards," the Honus Wagner T206 tobacco card was sold on eBay for $1.1 million, plus a buyer's premium of $165,000. The buyer was Brian Seigel, a collector from southern California. Siegel started collecting baseball cards at age 10 or 11, quit, and then began collecting again in the mid-1980s. He has been an avid collector of tobacco cards, and he was reported by eBay as having '...a good number of the T206 series cards." The Honus Wagner card is now the jewel of his collection.
The former owner, Michael Gidwitz, said after the sale that the money was not the most important thing in this transaction...having a good time was. The good time lasted about 10 days as the famous card was featured for sale on eBay from July 5th to the 15th. However, only pre-registered buyers who deposited $100,000 in escrow and bid in $50,000 increments could join in the auction. On July 13th, two days before the sale was to end, the high bid stood at $800,000.
Since the sale, Gidwitz has been interviewed by CBS, the BBC and numerous other media. He was interviewed extensively by the BBC as to why this card was so rare and so valuable. He also outlined for the British the card's historical progression of ownership through the hands of Wayne Gretzky and LA Kings hockey team owner Bruce McNall, Treat Entertainment (which engineered a give-away of the card with Wal-mart), Patricia Gibbs (a postal employee who won the Wal-mart give-away), Michael Gidwitz, and now Brian Seigel.
The CBS film crew spent hours filming Gidwitz' private collection and were struck by the depth and breadth of it.
"My collection records the history of baseball on uncut sheets of cards," he said. "The crew planned to spend about two hours filming. They ended up staying an additional 2 3/4 hours filming it." Obviously, they liked what they saw.
Gidwitz purchased the Wagner card at a Christie's auction in 1996 for the then record price of $640,000. Today, he is extremely happy for being the first person to sell a baseball card for more than $1 million.
The only question left now is, how long before Honus hits the road again?
2000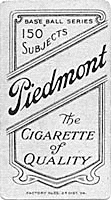 The traveling $1,265,000
Honus Wagner card.