The Celebrity Collector
Olivia Hussey Has Collected About 70 Spiritual Statues
Olivia Hussey was just 15 when she won a Golden Globe award for her portrayal of "Juliet" in the 1968 film Romeo and Juliet. She is a spiritual lady, and has about 70 spiritual statues in her home.
By Ken Hall
At age 15, most young women are nurturing dreams of romance. But Olivia Hussey was playing the part, in Franco Zeffirelli's 1968 film version of the Shakespearean classic, Romeo and Juliet.. The movie has become a classic of sorts, too, and it earned young Olivia a Golden Globe award and a pair of Donatellos (Italy's Oscar equivalent). Remarkably, there was no Oscar nomination.
Today, Hussey retains the striking beauty that has sustained her through 35+ years of acting. She attributes her looks to an exotic blend of English and Argentinean roots. Her father is Andreas Osuna (aka Isvaldo Ribo), the renowned Argentine opera and tango singer. Her English mother encouraged her early inclinations for the performing arts, enrolling Olivia in drama class at age 7.
With parents from such disparate cultures, young Olivia had a fairly secular upbringing. But her adulthood has been tied strongly to spirituality, as is evidenced by her extensive collection of statues depicting religious figures like Buddha, Ganesh, Krishna, Quan Ying and Lakshmi. She's got about 70, and they're scattered throughout her home in northern California, where she just moved.
"I'm not necessarily a religious person," Hussey said, "although I belonged to the Church of England when I was young and have always enjoyed the serenity and calm that comes with attending church service. But I am very spiritual. The statues are little reminders that God is everywhere in a person's life, at least my life. They're certainly everywhere in the house -- just about every room!"
Hussey traced her spiritual leanings to a single evening in England, at age 22. "I was at loose ends at the time," she remembered. "My marriage (to the late Dean Paul "Dino" Martin, son of singer Dean Martin) had ended, and I was having trouble sleeping. Someone invited me to a house gathering to hear Swami Baba Muktananda speak. I didn't want to go. It sounded so Eastern and esoteric."
Olivia resisted, but the friend insisted, so she went. "I just kind of lurked in the background all evening, like a wallflower. At the end of the meeting, 'Baba' worked his way through the crowd, and he walked right up to me and said, in Hindi, 'You're not meditating, my child!' A ball of fire went up my spine, my knees buckled and I felt an explosion in my heart. I started laughing and crying, too."
But then everything went calm, and Hussey found herself in a state of absolute bliss. "I began meditating right then and there," she said, "and when I came out of it I said to a friend, 'That was the quietest ten minutes of my life.' And she said, 'Ten minutes? You've been meditating for two hours!' I was astounded. But I knew from that day on that I'd be meditating the rest of my life. And I have."
She became a devotee of Swami Baba Muktananda and the Siddha Yoga Foundation. "Baba (which means 'father') died in 1982," Hussey said, "and I was fortunate to have gotten to know him, both as a spiritual master and friend. Thanks to him, I live spiritually minded every day." Meditation, she says, has allowed her to throw away prescription medicines for agoraphobia and depression.
Hussey's statues are small for the most part and carry little value as collectible items. But they're priceless to her because of the memories and spiritual value they represent. "Some I've picked up in gift shops, others at what I guess you'd call self-actualization centers," she said. "If it's a figure that reminds me of God, I'll buy it. And elephants," she added; "I've got lots of elephants, too!"
As she points to a statues, she tells a bit about what it means. "Ganesh is the elephant God from India," she said. "He has the head of an elephant and the body of a man. He's the remover of obstacles. Quan Ying is the goddess of fertility. And Lakshmi is the Indian goddess of wealth. You see her a lot in Indian shops and restaurants. And, of course, I've got lots of Buddha statues."
Hussey also has a cross that she keeps on a prayer table; a glass heart given to her by Howard Wills, a friend and spiritual mentor; and a fresco painting of the Black Madonna of Poland. "The Black Madonna is famous because it was the only thing left when Nazis burned a church during World War II," Hussey said. "A Polish priest painted a beautiful version of it and gave it to me."
Probably the only item of real dollar value was one she acquired long before spirituality would become an important part of her life: it's the cross she wore around her neck in Romeo and Juliet. "I actually thought about posting it on eBay, just to see how much I could get for it," she said with a laugh. "I know movie memorabilia can be very valuable. I would never think of selling it, though."
Before her breakout role as Juliet, Hussey had starred on the London stage opposite Vanessa Redgrave in The Prime of Miss Jean Brodie, playing "Jenny." Her performance must have impressed Franco Zeffirelli, who saw her at the same time he was casting about for his Juliet. He invited Olivia to audition. She competed against 500 other aspirants, but eventually won the role.
Over the years, Hussey has appeared in numerous film roles, even reuniting with Zeffirelli to do Jesus of Nazareth. Other credits include Death on the Nile (with Bette Davis and Peter Ustinov); The Last Days of Pompeii (with Sir Lawrence Olivier); and Stephen King's It. She also starred in the Hallmark Hall of Fame TV production of Ivanhoe (with James Mason) and Showtime's Psycho IV.
In 1985, Olivia signed on to star with Burt lancaster and Chariots of Fire star Ben Cross in a screen adaptation of The Jeweler's Shop, which was written by Karol Wojtyla (better known as Pope John Paul II). It was never released into general distribution, but it was shown at the Vatican. "I was invited to the screening, as a guest of His Holiness," Hussey said. "What an experience that was!"
For the past ten years, Hussey has worked hard to bring the role of Mother Teresa to the big screen. "Financing for the project is being worked out, and we hope to begin shooting by the end of this year," she said. And who's to play the lead? Why, Olivia Hussey, of course! "With some creative makeup and prosthetics, the transformation is quite amazing," she said. "I really look just like her."
The film's working title is Teresa of Calcutta. Narration for a promotional clip was provided by Richard Harris, who enjoyed renewed fame as Professor Dumbledore in the Harry Potter movies prior his death this year. Martin Sheen has let Olivia know he would like to participate in the project. Sheen, incidentally, took his last name from an early spiritual influence, Bishop Fulton Sheen.
Hussey has been married three times, with each marriage producing one child. With Dean Paul Martin (whose death in a plane crash in the early '70s happened after the two had split), she had Alex, who's now 30 and an actor. Her second marriage, to Akira Fuse, a Japanese singer, resulted in a son, Max, who's 20. And a daughter, India Joy, 9, is a child from her current marriage.
Hussey's husband (and India's dad) is David Glen Eisley, a celebrity in his own right. He played minor league baseball before dedicating his life to music, songwriting and acting. He was a member of the '80s rock band Giuffria and toured worldwide with Deep Purple and Foreigner. As a drummer, guitarist and keyboardist, he did session work with Kiss, Michael Bolton and other acts.
Eisley has released two albums for the European and Asian markets, "Stranger From the Past" and "The Lost Tapes," both on Frontiers Records. He also released an educational-musical CD for young children titled "Dr. Dave's Rockin' Math." He and Olivia plan to develop future film projects through their company, Frozen Flame Enterprises. For more about David, go to davidgleneisley.com.
Fans of Olivia Hussey may visit the star online at http://www.oliviahussey.com/
2003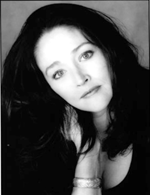 Hussey attributes her good looks to an exotic blend of her Argentinean father and English mother.

Olivia pictured next to Swami Baba Muktananda, her spiritual master and inspiration for the statues.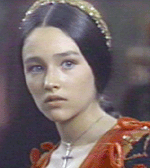 Olivia was just 15 years old when she won a Golden Globe award for her portrayal of "Juliet."
A fresco painting of the legendary Black Madonna was given to Olivia as a gift by a Polish priest.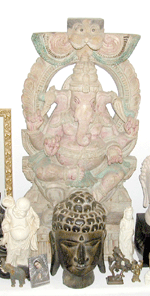 The large piece in this group depicts Ganesh, the elephant god of India and remover of
obstacles.