Houdini Memorabilia Makes Magic
By Mike McLeod
This past Halloween was the 75th anniversary of the death of the master magician, Harry Houdini. The day before, Swann Auction Galleries (www.swanngalleries.com) of New York, conducted a "Sale of Magic" auction featuring the Doug Edwards Houdini Collection. Of the 231 lots offered, 193 sold for a total of $260,625. Leading the list at $17,250 was Houdini's book, Miracle Mongers and Their Methods, signed to his brother, Dash. Houdini's leather wallet hammered at $8,625, and the cloth pocket from the pajama top worn by Houdini (embroidered "HH") after entering the Detroit hospital where he died sold for $3,910.
Contrary to some beliefs, Harry Houdini did not die in his famous "Water Torture" trick as portrayed by Tony Curtis in the 1953 movie, but from peritonitis from a ruptured appendix. Newspaper accounts of the day blame a college student for his death. The student challenged Houdini's claim to being able to withstand punches to the stomach without pain. The student powerfully jabbed him two or three times before Houdini prepared himself by tensing his abdominal muscles. Houdini mentioned that he only felt a little pain after the incident, and then he went on to complete two more performances that evening. Later that night and the next day he complained of intense pain.
The Houdini Historical Center (www.houdinihistory.org) casts doubt on the student's culpability: "Whether or not the blow ruptured his appendix, it did not cause the appendicitis, which is a bacterial infection. Houdini met his untimely death on October 31, 1926."
Although Harry Houdini claimed in his own writing to be born in Appleton, Wisconsin, documents show his birthplace as Budapest, Hungary, on March 24, 1874. His parents brought their son, Ehrich Weiss, to America at age 4. Houdini began his magical career as Eric the Great. Later, he changed his name to Houdini after reading The Memoirs of Robert-Houdin, a great magician of his day.
Houdini was heralded in America and Europe as the "King of the Handcuffs" because of his uncanny ability to escape from them. Houdini developed this talent while serving as an apprentice locksmith. In an autobiographical article written in London, 1910, Houdini explained this career-changing event.
"One day whilst working as an apprentice in a locksmith's close by the police station, one of the young bloods of the town was arrested for some trivial offense. He tried to open his handcuffs with some keys he had on his person, and in the attempt broke off one of the keys in the lock. He was brought to the shop to have the cuff opened or cut off his wrist, and this incident, trivial as it may seem, changed my entire career.
"While the master locksmith was trying to open the handcuff, the whistle blew for the dinner hour. Being a loyal union man, and incidentally, perhaps, having a sharpened appetite, he called me to his side and said, 'Harry, get a hack-saw and cut off this handcuff,' and then went out with the police officer to dine.
"I tried to cut off the cuff, but the steel was too hard, and after breaking half-a-dozen saw-blades, the thought struck me to attempt to pick the lock. I succeeded in doing it, and the very manner in which I then picked the lock of the handcuff contained the basic principle which I employed in opening handcuffs all over the world. Not with a duplicate key, which seems to have been the only way others had of duplicating my performance."
Houdini was also famous for escaping from straitjackets. After mastering the trick, Houdini found audiences unimpressed when he performed it. This led Houdini to add suspense and danger to his performances, such as escaping from a straitjacket while hanging suspended over a city street or a river.
Another of Houdini's suspenseful escapes was from a locked, metal milk can. After being handcuffed, Houdini inserted his 5'5" frame into a milk can measuring less than three feet high. To add suspense, Houdini had milk or water poured in to fill the can. He later explained that he quickly escaped from his fetters while in the can, but he purposely waited and killed time just to add suspense.
Houdini was also a master of the publicity stunt. In 1906, he boasted that he could escape from the Washington, D.C. jail (which had held Charles Guiteau, the assassin of President Garfield). After accepting the challenge, the warden was quite out of sorts when Houdini not only escaped in 21 minutes, but he also released eight other prisoners and moved them to other cells.
As a performance artist, it was almost natural that Harry Houdini gravitated toward that innovative new medium of his day-movies. He acted, directed and produced movies and created his own studio. At the Swann auction, an engraved stock certificate for five shares of the Houdini Picture Corporation sold for $4,370. This stock is quite rare. Houdini acted in Terror Island, The Grim Game, The Man from Beyond, and The Master Mystery, a serialized tale from the screenwriters of The Perils of Pauline, Arthur B. Reeve and Charles A. Logue.
Today, pre-1910 Houdini memorabilia is rare and most sought after by collectors because even though he was famous by 1910, Houdini had not reached legendary status yet. Also, a large part of his effects resides in institutions today. Houdini directed one of his brothers, Theo, to burn his papers and his equipment after his death. However, Theo did not comply, and many of his papers and personal effects are in the possession of the Houdini History Center, the Library of Congress, and other institutions.
It is estimated that Houdini received on average 60 or more fan letters a day, and he was diligent about answering them and signing his name. Houdini often signed photographs, usually with just his last name and a date. These can often sell in the $1,500 range. At the Swann auction, an inscribed and signed photo portrait of a mature Houdini holding a spirit trumpet realized $3,680. In November, a signed photo of a smiling Harry Houdini sold on eBay for $2,025.
Photo post cards at the Swann auction signed by Houdini brought handsome prices-more than $4,000 each. Houdini's signature can also be found on playing cards, posters, books on magic and spiritualism, letters and legal documents. A book authored by Houdini, The Unmasking of Robert-Houdin, brought $3,680 during the Swann auction. It was inscribed to fellow magician Edward Rice and signed twice.
As most know, Houdini dedicated himself to exposing charlatans in the magic trade. On the Library of Congress' website (www.loc.gov), a series of photos of Houdini show how he exposed a fraud called "fingerprinting a spirit," used by so-called mediums. An actual mold is made of a dead person's hand, and during a sťance, "fingerprints of the deceased would appear on a lampblacked trumpet." (In the photos, Houdini uses his own hand to create the mold, not a dead person's.)
In his fraud-exposing book, A Magician Among the Spirits, Houdini explained how lucrative this deception was: "There are two cases on record where fortunes were at stake because of this sort of fraud. In one case five hundred thousand dollars changed hands upon the recognition of the finger prints of a man who had died two years before."
Houdini waged a personal battle against frauds and their tactics of spirit rapping, bell ringing, and slate writing. He exposed the famous fakers of his day, including the Fox Sisters, Eusapia Palladino, Anna Eva Fay, the Davenport Brothers, and Margery, "The Boston Medium." Her trickery almost landed her a $2,250 award (quite a sum in the early 1900s) offered by the Scientific American for anyone who could produce a manifestation outside the realm of science. Houdini caught her ringing a bell with her foot and "levitating" a table with her head.
Today, two museums dedicated to the legendary escape artist, prestidigitator, actor, and author Harry Houdin are located in Niagara Falls, NY, and Scranto, PA.
Houdini collector and sleigh-of-hand artist Doug Edwards said of the sale, "This auction definitely goes to prove that magic collecting is swiftly circling the globe with a force rivaling that of fine art, and its prices aren't far behind."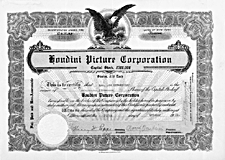 Houdini's movie company stock, $4,370 at auction. (Courtesy Swann's Auction)
2001
"My brain is the key that sets me free." - Harry Houdini
(Courtesy Swann's Auction)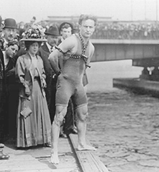 Stunts like this manacled jump/ underwater escape from the Charles River drew crowds...especially to his shows.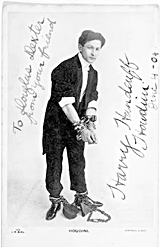 1904 photo postcard inscribed to fellow magician, Douglas Dexter, auctioned at $3,795.
(Courtesy Swann's Auction)
Star of movies, including "Man of Mystery," in which he made several escapes and defeated an evil robot. (Courtesy LOC)
The milk can escape - an immersed Houdini added suspense by escaping handcuffs quickly then holding his breath a long time. (Courtesy LOC)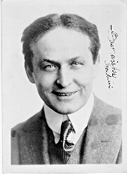 This "Smiling Houdini" signed photo sold on eBay for $2,025.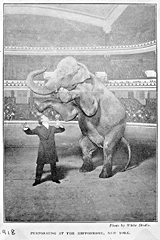 Before David Copperfield appeared, Houdini made 10,000 lb. Jenny disappear, 1918. (Courtesy LOC)
Houdini exposing slate writing fraud. (Look under the table.) (Courtesy LOC)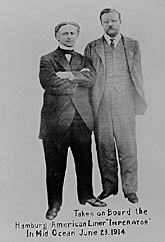 Houdini and Teddy Roosevelt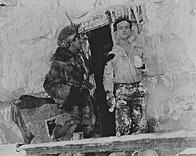 Houdini starring in "Man From Beyond" in which he was frozen in an Artic shipwreck, found and thawed out 100 years later.