The Celebrity Collector
Catherine Hicks is spiritually-minded and
has a nice collection of Madonna figurines
By Ken Hall
To consider Catherine Hicks' professional life, or to visit her at home, one might conclude she is an extremely religious person, or at least spiritually elevated. After all, she is a star on the long-running TV show Seventh Heaven, a squeaky-clean family program on which she plays a minister's wife and mother to seven kids. And her Los Angeles home is filled with her collection of Madonnas.
But Hicks, while admitting that she's a practicing Catholic, denies being either very religious or overly spiritual. "I just try to live a life that is somewhat exemplary and incorporates prayer," she said. "The items I collect -the Madonnas, the statues, the religious icons -- are to me reminders of those in heaven who watch over us. The Madonna, as a symbolic figure, is very reassuring to me."
Hicks' collection wasn't started intentionally. It just sort of happened. "I'd buy a statue here, I'd be given a picture there, and before long I had this group of items that all carried a religious theme," she said. "I don't have much, as collections go, and I'm certainly not into the value of what I have. It's not like Beanie Babies, where I'm saving them up for some big payday that will never come."
The items in Hicks' collection share a common theme but take on many forms. She has a photo of Mother Theresa, being tended to by a group of nuns, hanging on a wall. On another wall is mounted a plain white bust of the Pieta, Michelangelo's masterpiece housed at St. Peter's Basilica in Rome. The full sculpture depicts the dead body of Jesus in Mary's arms after his crucifiction.
"That was a gift from my husband," Hicks remarked of the Pieta bust, and it's worth noting here that her husband, Kevin Yagher, is a Protestant and a Baptist. "I'm always worried that he's going to yell at me for Catholicizing the house," Hicks said with a laugh, "but he's actually been very sweet about it." The two have been married for 14 years and have a daughter, Catie, who's 12.
Hicks' marriage to Yagher, in fact, may have been one of divine intervention. She was in Yugoslavia in 1987, filming a movie, and found herself praying for a husband. "I just felt the time had come for me to settle down and start raising a family," she said. "So I prayed for a husband -- preferably someone who was part Yugoslavian. While there, I fell in love with the country and its people."
Sure enough, not long after returning to the States, Hicks began another project, acting in the film Child's Play, a cult thriller released in 1988. She was introduced to Kevin, a special effects and make-up artist eleven years her junior, and the two fell in love. "I didn't know it at the time, but I found out later, that he's one-third Yugoslavian," she said. "So it's true, prayers do get answered!"
Back to the collection. Contained in an ornate frame is a photograph of Therese of Lisieux, also known as the Little Flower of Jesus. "She was a young mystic who died at age 24 from tuberculosis," Hicks pointed out, "but in her life she defined her path to God as 'The Little Way,' which was basically just loving and trusting in God." Therese lived in France and was canonized in 1925.
A print of a Renaissance painting that looks like it could have been done by Raphael or one of his devotees also hangs from a wall, depicting Madonna and Child with angels in attendance. A round, wreath-like ornament shows the Holy Family -- Mary, Joseph and Jesus -- against a solid backdrop. Another picture shows Our Lady of Medjugorje, dressed in white and looking beatific.
Hicks said most religious objects, including her own, are there as reminders to pray, whether it's on the rosary, using Eastern beads or in whatever manner of spiritual expression. "It's healthy to remember where the trees come from," she said. "I surround myself with Madonnas to stay grounded and focused. The Virgin Mary only appears before poor children. Knowing that is very inspiring."
Catherine Hicks was born in New York City on August 6, 1951. Her mother almost died in childbirth, but it was her father, Walter, who had serious health issues when Catherine was just a child. "The doctors told him he needed to be in a dry climate, and he was advised to choose between Arizona and Spain," she said. So, it was off to Scottsdale, where the family laid roots.
Walter, who died in 1986, enjoyed a long career as an electronics salesman. Catherine's mother, Jackie, will be 90 soon. Hicks remembers riding her bike and skateboard as a child. The family property was lush with grapefruit and orange trees. Jackie made a dessert called Orange Charlottes that were a big hit. Catherine was a cheerleader at Gerard High School in Phoenix.
When time came for college, Hicks enrolled at St. Mary's College (which has since merged with Notre Dame University) in Indiana. She double majored in English literature and theology, but took dramatic arts courses as electives and fell in love with acting. After graduating, in 1969, she won an acting fellowship to Cornell University, where she received a Master of Fine Arts degree.
After graduation, Hicks moved to New York City. Within a week, she landed her first role, as Faith Coleridge on the daytime drama, Ryan's Hope (1975-78). She also got a part in a Broadway play, Tribute, in which she acted opposite Jack Lemmon. In 1980, she was cast as Marilyn Monroe in the HBO bio-pic, Marilyn: The Untold Story." Her performance earned her an Emmy nomination.
Life was good for the rising star. But, as film critic Leonard Maltin wrote in 1994, "An attractive soap opera veteran, Hicks seemed a sure bet for stardom after being Emmy-nominated.....The following year, 1981, she starred in her first feature, Death Valley, which began a maddeningly unrewarding screen career....Leading roles and flashy supporting parts always went to other actresses."
Hicks agrees. "I don't know why, but all I ever seemed to get offered were parts in horror and science-fiction movies," she said. True, her resume includes roles in films like Horror Hall of Fame (1990) and Star Trek IV: The Voyage Home (1986), but she also gave solid performances in Garbo Talks (1984) The Razor's Edge (1984), Peggy Sue Got Married (1986) and Turbulence (1997).
And remember, Maltin penned those words in 1994, two years before the start of the biggest hit ever on the WB, and a hit show by any measure, Seventh Heaven. Now filming for a ninth season, and with re-runs already roaring in syndication on the ABC Family channel, Heaven has secured Hicks' place as a bona fide star in the entertainment industry. For that, she's thankful.
Seventh Heaven gets teased by some critics for being a little too saccharin at times, but it has earned praise nonetheless. TV Guide called it "a warm, coming-of-age drama that could wind up being the best family show on television." The New York Times said Hicks' character "not only relishes her role of housewife, but she is also incredibly skilled at writing, plumbing and carpentry."
As Annie Camden, Hicks portrays a witty and compassionate mother who realizes the need for creative involvement in the lives of her children. "And I am so not like her in real life," she laughs. "My daughter can get anything she wants out of me. My husband is always getting after me about it. Annie, meanwhile, is the stern but fair mother who doesn't budge easily. I budge way too easily!"
As for other projects, Hicks said there aren't any planned, except to keep riding the Seventh Heaven wave all the way to shore. "No, I didn't become a mother until I turned 40," she said. "I want to be here for my daughter. That's a big enough job in itself." Fans of Catherine Hicks may visit the star online at www.catherinehicksonline.com.
2004
Catherine Hicks was born in New York City and raised in Scottsdale, Arizona. She's married with one child.
This print of a Renaissance painting looks like it could have been done by Raphael.
This photograph from the late 1800s is of Therese of Lisieux.
Our Lady of Medjugorje, dressed in white and looking beatific.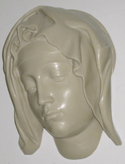 This bust of the Pieta, Michelangelo's masterpiece, was a gift from Hicks' husband.