The Hearst Castle, San Simeon
The Diverse Collection of William Randolph Hearst

By Jana Seely
On arches spanning the room that was once William Randolph Hearst's private study, painted characters enact scenes from folk tales and the Bible. A collection of Gothic and Renaissance sculptures and religious objects is displayed on a ledge below the clerestory windows: the Spanish polychrome reliquary bust of a saint occupies the space adjacent to a stone Madonna and Child from France, which in turn stands next to one of a pair of 15th century Italian rooster-shaped iron brackets. Bookcases filled with volumes, many signed by their authors, line the walls. Display cabinets contain vessels made from silver, ivory, and majolica: a monstrance, tankard, cup and drinking horn. A 16th-century French mantelpiece flanked by Gothic limestone arches covers the greater part of a wall. Examples of the decorative arts are evident everywhere: an elaborate Augsburg clock, brass candlesticks, iron lecterns, Persian carpets.
On a table in the center of the room rests a newspaper. The key location given to this otherwise unremarkable object is fitting, for the room in which this newspaper is found, the Gothic Study, was the hub of William Randolph Hearst's publishing empire when he was at the San Simeon estate (he called "the ranch") in the Santa Lucia Mountains of California's Central Coast. Construction of Hearst Castle, as it is known, began in 1919 on the "Camp Hill" site of Hearst's childhood family camping trips. The family fortune, amassed by father George Hearst through silver mining and subsequent investments, was inherited by William Randolph Hearst from his mother Phoebe Apperson Hearst on her death in the influenza epidemic of 1919, and it provided the financial backing for the venture. The continually evolving design of the estate was a collaborative effort between Hearst and École-des-Beaux-Arts-trained architect Julia Morgan until work finally ceased in 1947.
Almost three decades of building, with innumerable changes along the way, produced an imposing main house and three smaller guest houses in the Mediterranean Revival style of architecture, combining both Spanish and Italian elements. Set among plants and trees also in the Mediterranean vernacular, the remarkable hilltop estate resembles a European village with the towered main house positioned as the central cathedral and the three surrounding guest houses as the other village buildings.
Julia Morgan had encountered the structures that inspired her designs for the San Simeon estate in the course of her travels, especially through Spain and Italy. Another source for the estate's overall tone can perhaps be found in the international expositions that took place in the United States around the time the nineteenth century turned into the twentieth. The popularity of these World's Fairs demonstrated a growing American interest in things cultural and international. In particular, The Panama Pacific International Exposition in San Francisco in 1915, which Hearst helped finance, may have influenced his plan for San Simeon. There was, at this celebration of the opening of the Panama Canal, a preponderance of Spanish-Moorish architecture.
That style comes through clearly in the architecture and the art of Hearst Castle. The buildings' exteriors and interiors were made up from different antique elements, mostly Spanish and Italian, augmented with work by Hearst craftsmen. The integration of antique and modern produced a unique result. Although used in a new way, these historically rich artifacts of art and architecture formed a tangible link with the past traditions of Europe.
Striving for this link was a common theme among newly wealthy American connoisseurs in the late nineteenth and early twentieth centuries. The prestige associated with the acquisition of art has been an established fact since ancient times. Turn-of-the-century millionaires built mansions which housed and enhanced the status of their collections. J. P. Morgan, Isabella Stewart Gardner, and Andrew Mellon acquired works of art that were destined to become the core of the major art museums in the U. S. Many pieces were probably acquired with an eye to eventual incorporation into a museum environment, with more than a passing consideration for long-term preservation, protection and ultimate public display.
Although William Randolph Hearst also provided a considerable amount of art for museums in the United States, through donation or sale, the San Simeon collection as a whole is intact, in situ, as it was at the time of Hearst's residence. There is a vast quantity of fine and decorative art, representing numerous cultures and spanning centuries and continents. Everything was purchased with the intention that it was to be used and enjoyed. Hearst was a voracious collector with diverse interests and areas of acquisition. He bought from the same dealers and auction houses as the other great contemporary collectors, but he bought more. There was frequently fierce competition for the same pieces of art, but Hearst bought eclectically and in quantity.
A contributing factor in the expansiveness of his buying strategy may have been that he had numerous residences to furnish. Different Hearst properties exhibited different characters and called for a wide variety of furnishings: Wyntoon, a village of Bavarian chalets in Northern California, received much of the Germanic collection; silver was often destined for St. Donat's, Hearst's fourteenth-century castle in Wales; and at San Simeon, the focus was on Spanish and Italian works.
William Randolph Hearst's penchant for collecting began at the age of ten on a European visit with his mother Phoebe Apperson Hearst in 1873. On this journey, he bought many small items such as coins, stamps, beer steins and porcelains. It was during this same trip that young Hearst asked his mother to purchase the Louvre. Phoebe Hearst was also a collector and connoisseur of art and undoubtedly influenced her son who, in his thirties, began collecting in earnest, poring over auction catalogues, taking extended trips abroad, and spending lavish sums of money. He collected not only fine and decorative arts, but he also gathered manuscripts, rare books, and autographs into his possession.
Hearst's connection to the printed word was earlier demonstrated when, at the age of 23, he became both publisher and editor of the San Francisco Examiner, owned by his father George Hearst. William Randolph Hearst turned the faltering newspaper around and went on to purchase other papers in major American cities. He also bought or founded numerous magazines. And again, Hearst went on to expand his communications empire by embarking on the production of newsreels, and ultimately, feature films.
This Hollywood connection further highlights the fact that the San Simeon estate was a weekend Mecca not only for members of the moviemaking community, but also for other visitors who included assorted celebrities, politicians, writers and athletes. All the guests at San Simeon occupied rooms furnished with the works of art accumulated by Hearst. They slept in sixteenth-century beds, kept their clothes in seventeenth-century chests of drawers, and watched fires burning beneath five-hundred-year-old mantels. In a Newsweek interview of May 6, 1946, when asked if his pleasure in the art treasures he had acquired equaled the amount of money he had spent on them, Hearst replied that the enjoyment he had received was only second in importance to the enjoyment others obtained from them.
One of the ways William Randolph Hearst ensured others' enjoyment of art was by enlivening mundane domestic items with antique components. Hearst residences were furnished not only with fine antique mantels, but also with antique fireplace equipment such as andirons, pokers and grates. Wrought-iron candlestands were transformed into floor lamps, marble columns were used as sculpture pedestals, iron grilles protected windows, and architectural elements such as ceilings were frequently incorporated into the very fabric of the building, often augmented, sometimes altered, by the work of Hearst craftsmen.
This intense interest in a wide range of objects not traditionally sought by the other great collectors is one of the factors that sets William Randolph Hearst apart and contributes to his reputation as something of a maverick. His purchases included doorknockers, warming pans, tile stoves, musical instruments, pipes, and lanterns in addition to mainstream art such as paintings, sculpture, tapestries and silver.
Many of these more traditional art forms that Hearst purchased are very fine indeed. A collection of 155 Greek vases encircles the room on the cornice of the Hearst Castle library. Classical sarcophagi border the esplanade that curves its way through the gardens. Four Egyptian sculptures of the lion-faced goddess Sekhmet comprise an exterior fountain designed by Julia Morgan. Limestone, marble, granite and bronze sculptures dating from the sixteenth century B. C. to the twentieth century A. D. embellish the gardens and building exteriors.
Inside, these same materials, with the addition of wood which is sometimes polychromed or gilded, are the media that constitute the sculpture in the collection. Bronze river gods recline on tables while marble lions crouch on shelves and stairways. Various saints inhabit the rooms of Hearst Castle, along with figure groups depicting the Madonna and Child and the Holy Family.
Religious themes abound at San Simeon in paintings as well as in sculpture. This is attributable not to any special piety of the collector, but is simply because the majority of Spanish and Italian Renaissance art, which forms the bulk of the collection, has a devotional theme. The Madonna and Child motif is the most prevalent, the earliest example being a fourteenth-century work attributed to the School of Duccio di Buoninsegna. Diptychs and altarpieces from northern and southern Europe decorate several rooms.
Non-devotional paintings are also important components of the collection. Later paintings in the collection include royal portraits by Franz Xaver Winterhalter and Napoleonic scenes by Jean-Léon Gérôme, and elaborately painted ceilings add interest and diversity.
The high quality of the fine art at San Simeon is echoed by the magnificent collection of textiles. Oriental carpets, many inherited from Hearst's mother, cover floors and are used as decorative hangings. Renaissance vestments ­ copes and chasubles ­ adorn the walls. Altar frontals are displayed hanging above fireplaces, beds and other large pieces of furniture.
It is perhaps in the furniture collection, mostly sixteenth- and seventeenth-century Spanish and Italian, that the extent of William Randolph Hearst's buying fervor is most apparent. The size of the estate necessitated the purchase of large numbers of objects to furnish all the rooms: chairs, tables, beds, chests, chests of drawers and armoires. As a result, there are numerous examples of many types of objects. Instead of the four or five seventeenth-century Spanish tables which might be found in many museums, at San Simeon there are forty-five, along with comparable numbers of chairs and chests. This multiplicity has proved an invaluable resource for research into manufacturing techniques and design.
Almost as notable as the Hearst collection that remains at San Simeon are the possessions from various Hearst sources, which were dispersed through auctions and private sales beginning in 1937 as a result of Hearst's financial crisis amplified by the Depression.
Remarkably, many of these items were put on sale to the general public through Gimbel Brother department store in New York, and by the end of the first year, at least $11 million had been generated. The 1941 catalogue for this sale graphically illustrates the enormous diversity and eclectic nature of Hearst's collecting habits. An incredible array of about 20,000 objects was offered for public sale: paintings by van Dyke, crosiers, chalices, Charles Dickens's sideboard, pulpits, stained glass, arms and armor, mirrors, fire screens, George Washington's waistcoat, and Thomas Jefferson's Bible.
Diversity is still the hallmark of Hearst Castle. A Lalique frosted glass bottle shares a room in the Doge's Suite with a sixteenth-century Italian majolica inkwell in the shape of St. George and a black granite Egyptian sculpture dating from between the fourth and the first century B.C. But high-quality examples of fine and decorative arts can be encountered in every room, clearly demonstrating Hearst's philosophy that art should be enjoyed and used.
In 1957, Hearst Castle was given to the State of California by the Hearst Corporation. It is today administered by California's Department of Parks & Recreation as an historic house museum, fulfilling the estate's potential envisioned by William Randolph Hearst when, as early as 1927, he made the statement: "I see no reason why the ranch should not be a museum of the best things that I can secure."
Jana Seely is the Curator of the Hearst Castle collection.
All photos, courtesy and copyright the Hearst Castle.
Griffin-claw drinking horn, German, mid-15th c. Buffalo horn with copper-gilt mounting.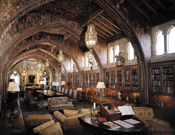 William Randolph Hearst's Gothic Study.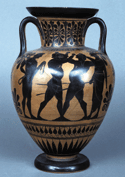 Attic black-figure amphora; Greek, 6th century B.C.,
terracotta.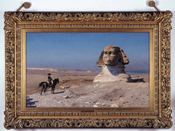 Jean-Léon Gérôme, "Bonaparte Before the Sphinx," French,
c. 1867-68; oil on canvas.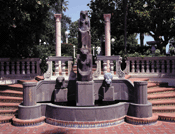 Sekhmet Fountain, designed
by architect Julia Morgan to incorporate four ancient Egyptian sculptures of the lion-faced goddess, 1300-1600 B.C.
Reliquary in the shape of St. John the Baptist. Spanish, 16th c., wood, polychrome, gilding.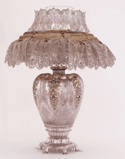 Orchid Vase lamp,
Tiffany & Co., 1889. Enameled silver vase created as an exhibition piece and later transformed into a lamp.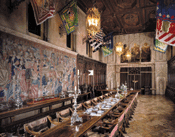 Refectory, or dining hall.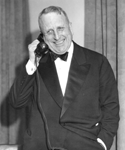 William Randolph Hearst,
c. 1930.
Well head, probably Italian, 16th c., marble.