The Celebrity Collector

Hank Garrett, veteran actor, collects
wardrobe items and celebrity autographs
By Ken Hall
Hank Garrett was prescient when he decided to hang on to some of the wardrobe items he wore for film and television roles ­ notably the murderous mailman in Three Days of the Condor and on the hit TV comedy from the early '60s, Car 54, Where Are You? Celebrity couture is rapidly becoming a hot genre among collectors, but Hank doesn't just own the items ­ he actually wore them!
Let's start with the pair of unassuming brown Adidas he wore in "Condor." They didn't come from central casting. They were suggested by his co-star, Robert Redford, who owned them and wore the same size as Garrett. "The shoes were integral to the plot," Hank pointed out. "When Redford's character saw they were brown and not mailman's shoes, I was exposed as the killer."
When filming ended, Garrett kept the shoes as a remembrance of the part. Redford presumably had to go out and buy himself a new pair. But the fact that they originally adorned his feet adds cache to an already intriguing piece of Hollywood memorabilia. Incidentally, Garrett's gritty 1975 performance in Condor won him a New York Film Critic's Award.
Years earlier, in 1961, Garrett got his first big break when he was cast in TV's Car 54, Where Are You?, starring Fred Gwynn (Herman Munster in The Munsters), veteran stand-up comic Joey Ross, Al Lewis (Grandpa in The Munsters), and black comedian Nipsey Russell. It was an all-star cast, and Garrett ­ who until then was a stand-up comic himself ­ played Officer Ed Nicholson.
"With all those comedians on the set, you can imagine we were constantly cutting up with each other," Garrett recalled, "although Fred Gwynn was a little more quiet and introspective than you might think. In fact, he was a very talented artist. As for Joe E. Ross, his signature line ­ 'Ooh! Ooh!' -- might have been good for laughs, but it was a stall. He did that until he could remember his lines."
One time, the cast was on location, in the Bronx. Hank and Al Lewis were sitting in front of a building, smoking, when a big black Chrysler came to a screeching halt. The driver got out and yelled, "Are you cops out of your minds? I've got a deputy chief inspector in my car and he's going to hang you both!" Lewis calmly said, "Tell him he's a pain in the ass and stop bothering cops on break."
The driver turned beet red when he realized they were actors. Another time, the studio crew did such a great job of making the set look like a police precinct, a couple came storming in one day, telling the "desk sergeant" (an actor) that a man was outside beating up his wife. "Nicholson, you wanna handle it?", the actor deadpanned. "I can't, Sarge," Garrett replied, "I just had my nails done."
Again, red faces, but rest assured, the matter of the man beating his wife was quickly handled by real police. When the series ended after two seasons, Hank decided to keep his cop's hat as a memento ­ again, an object that would be coveted by anyone seeking out '60s TV memorabilia today, but it was just a keepsake to Garrett. "I hated for the series to be over," he said. "We were like family."
The cop hat became the first in a string of wardrobe items that eventually comprised a collection. In 1975, Garrett played a wily KGB agent on an episode of The Dukes of Hazzard (the TV show that later became a movie) and ended up keeping the jacket. From the detective show Paris (1979, with James Earl Jones), Hank kept the crisply tailored suit he wore as a deputy chief inspector.
He's got two items from his role as a detective on the hit show Simon and Simon (1985). One was a belt that has a knife concealed in the buckle ­ very James Bond ­ and the other is an Australian-style hat. It should be noted that Garrett appeared in dozens of TV shows from the era, including Columbo, Knot's Landing, Full House, Nothing Sacred and Max Headroom.
Celebrity autographs are something else Hank collects, but they haven't been gathered indiscriminately, like a star-gazer might do. His generally have a sentimental meaning behind them, like the one of Sammy Davis, Jr., whom he first met at the Apollo Theatre in Harlem, N.Y. (in fact, Garrett was the first white comedian to ever play the Apollo!); and one of fellow comic Jerry Lewis.
At an autograph signing one time, Garrett was there as a guest signer, but also on the bill were several astronauts who had set foot on the moon. "I just had to get their autographs," he said, "so I left my booth to go over to theirs and they were very gracious. In fact, we swapped autographs ­ three or four of them for one of mine! Neil Armstrong and Buzz Aldrin were two of them, I remember that."
Hank Garrett was born Henry Greenberg in Monti-cello, New York He grew up in Harlem, Manhattan's mostly black and Spanish section, and learned to adapt quickly to unfamiliar situations. As a kid he spoke three languages: English, Yiddish and Spanish. His first dream was to become a body builder, and in 1949 he won the New York Power Lifting Champ-ionship title. He wasn't even 20 yet.
In 1950, with the dawn of the television age, Hank became a pro wrestler, grappling under the improbable moniker "The Minnesota Farm Boy" ­ very odd, considering he'd never been out of New York before. That changed in a hurry, though, as Garrett worked the Chicago and Los Angeles circuits at a time when wrestling was enormously popular, both on television and before live crowds.
After five years of being body-slammed to the canvas, Garrett decided to give comedy a try. So he put away his trunks and packed his bags for the Catskills, where he found work initially as social director for the then-famous Brown's Hotel. Buddy Hackett did regular stand-up there. Soon Hank was given his chance. He told stories of his childhood, using various dialects and characters.
The audiences loved him and before long he was an opening act for singers like Tony Bennett, Jerry Vale and Della Reese. One night TV producer Nat Hiken saw Hank's act and promptly invited him to audition for the part on Car 54. The rest, as they say, is history. To this day, Garrett performs stand-up comedy, although his audiences are now private organizations and corporate crowds.
Hank has also appeared in numerous major motion pictures, not just TV shows. Aside from Three Days of the Condor, his credits include Death Wish, Johnny Dangerously, Serpico, The Producers, Exorcist II: The Heretic, The Amityville Horror and Firepower. In Firepower, one scene called for him to have his head slammed into the hood of a car by none other than O.J. Simpson.
"I told him to just hold my head and I would do the slam, but instead he slammed my head down full force ­ unintentionally, of course ­ and it knocked me out cold," Garrett recalled. "When I came to, I look up and who do I see cradling me in her arms but the star of the movie, Sophia Loren. She's calling out, 'Someone, quick, get an ambulance!' and I start shouting, too ­ 'But take your time!"
Hank Garrett lives in Encino, California, not far from Los Angeles, with his cat, Tigger, and Pug dog, Bogie. He has been married and divorced twice and has a son, Reid, 23, who is a manager at a Los Angeles sports club. Hank is a martial arts enthusiast and holds a black belt in karate. He keeps busy doing stand-up comedy, voice-over work, autograph shows and occasional movie and television work. He is also active on behalf of the Disabled Veterans of America, a not-for-profit organization.
Fans of Hank Garrett may write to the star care of Living Legends, Ltd., P.O. Box 5290, Santa Rosa, CA 95402. The e-mail address is livinglegendsltd@juno.com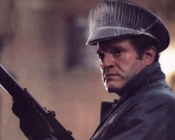 Garrett's performance in Three Days of the Condor earned him induction into the prestigious International Hall of Fame in London.
Hank co-starred with
James Earl Jones on the 1979 detective series Paris.
Hank Garrett with his
beloved Pug "Bogie."
Garrett (far right) was part of a wonderful ensemble cast on TV's Car 54, Where Are You? Can you spot Al Lewis (Grandpa Munster)?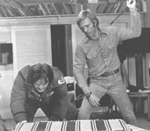 Hank with Robert Redford
in a pivotal scene from
Three Days of the Condor.
Hank prepares to take a right cross to the chin from Kirk Douglas in A Lovely Way to Die. Douglas was supposed to miss ­ he didn't!