Mount Vernon was the place George Washington called home. As a child, he spent five years living there, from age three through eight. As a teenager, anxious to enhance his social and professional opportunities, young George moved to Mount Vernon to live with Lawrence Washington, his older half brother. After his military service, he returned to Mount Vernon and inherited it after Lawrence's early death. In 1759, at the age of 27, George married Martha Dandrige Custis, a widow. They settled at Mount Vernon with his new bride and her two young children.

After two terms as President, Washington returned to Mount Vernon for his final days. Despite his 65 years, he embarked on many new projects, including a successful distillery. On Dec. 14, 1799, the young nation was cast into mourning at the dawn of a new century with the death of the illustrious George Washington. Two hundred mourners came to Mount Vernon to say good-bye to their leader.

The Mount Vernon property was owned by the Washington family for seven generations-from 1674 when King Charles II granted the land to John Washington, George Washington's great-grandfather, until 1858 when John A. Washington, III, George's great-grandnephew, could no longer afford to keep Mount Vernon running. To save the home of our first president, the Mount Vernon Ladies' Association formed and purchased the home and 200 acres. Today, Mount Vernon welcomes over one million visitors a year.

For more information, call (703) 780-2000 or e-mail: mvinfo@mountvernon.org.

" I can truly say I had rather be at home at Mount Vernon with a friend or two about me, than to be attended at the seat of government by the officiers of State and the representatives of every power of Europe." -- George Washington

Come Take a Tour

The Mansion

When Washington inherited the estate, the house consisted of four rooms, the central passage on the first floor and three bedrooms on the second. The long process of enlarging and improving the house began in the years before his marriage, when Washington raised the Mansion from one and a half stories to two and a half stories and extensively redecorated the interior.

The house is constructed of pine, but is rusticated, an exterior decorative treatment that gives the appearance of stone. Washington himself designed the stunning two-story piazza overlooking the Potomac River and the Maryland shoreline. Here family and guests would gather in warm weather and enjoy the breeze off the river. Washington also added the cupola and, after the war, the beautiful "dove of peace" weathervane.

Prior to the installation of a modern drainage system around the foundation of the Mansion, archaeologists excavated a trench four feet wide to record the layers of soil and recover the artifacts. Thousands of small artifacts (straight pins, buttons, broken ceramic and glass sherds, fish bones, tobacco pipes) were swept out into the grass especially near the doorways.

Excess moisture in the Mansions basement was a concern for George Washington. A series of brick drains installed about 1775 were part of an elaborate system to channel water away from the house.

Large Dining Room
This two-story room is the largest in the house. Comprising the entire north wing of the Mansion, it was a perfect area for entertaining a large number of guests or for dancing.
Washington, ever practical, did not place a dining room table in the room. Instead, boards were placed on sawhorses, set with fine linen and china, and guests never knew they were seated at a makeshift table. After dinner, the temporary table could be easily cleared away to make room for dancing or other entertainments.
Visitors to the room were left with no doubt as to the General's interests. He personally selected decorative plaster ornamentation of crops and tools that reflected his love of farming. The stunning green color was also a favorite of Washington's, and the design of the magnificent Palladian window was adapted from a popular architectural book of the day.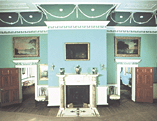 To complete the decor, Washington ordered two sideboards and 24 chairs from Philadelphia cabinetmaker John Aitken. The landscapes and scenic paintings adorning the walls were chosen by Washington and reflected his life-long love of nature and the frontier.
The room was also the site of significant beginnings and endings in American history. The American presidency began here when, on April 14, 1789, Charles Thompson, Secretary of Congress, informed George Washington that he had been unanimously elected first president of the United States. Ten years later a nation mourned while Washington's body lay here for three days after his death on December 14, 1799, before being buried in the family vault at Mount Vernon.
Little Parlor
Music played an important part in the life of the Mount Vernon household, as in the typical genteel Virginia home of the period. The music master would travel from home to home, instructing the young, and his presence often inspired lively social gatherings at which music and dancing were the principal recreations. Although Washington could not play an instrument, he did love music. He purchased a spinet for his step-daughter Pasty Custis and a violin and German flute for her brother Jacky. Years later, he purchased a fine harpsichord and English guitar for his step-granddaughter, Nelly Custis.
Front Parlor
Before the completion of the large dining room, the west parlor, was considered by George Washington to be "the best place in my house." The elegant room was a public space, where guests to the home enjoyed the company of the Washington family. As the principal parlor, this room received much use. It was here that tea and coffee were customarily served during the winter months and on rainy days, and where the family gathered in the evenings to read and discuss the latest political news.
The architectural elements of this room make it one of the most interesting and finest surviving examples of colonial Virginia architecture. The design of the mantel was adapted from a popular 18th-century book, The British Architect, by Abraham Swan. The mantel combined with the two Palladian door frames and fully paneled walls, make the Front Parlor one of the most architecturally significant rooms in the home. In 1787, changes were made to update the room, and the very fashionable and expensive Prussian blue paint was used. The ceiling was also replaced and decorated in the neo-classical style. Throughout the room, one can find evidence of the Washington family, from the family portraits that adorn the walls to the Washington family coat-of-arms in the carved mantel and the family crest on the decorative fireback.
Study
This room, part of the south wing expansion begun in 1774 and completed in 1776, was Washington's private sanctuary. Upon his return to Mount Vernon in 1783 at the end of the Revolutionary War, the study became the place where he retired from ever-present family and guests to tend to business without distraction. No one was allowed in without specific invitation.
It was from this room that he directed the management of his estate. He received the reports of his overseers, made daily entries in his diary, and posted his accounts.
Throughout the room personal objects reflect the varying interests of Washington, including an impressive library of 884 books. This room served not only as an office, but also as a chamber where he bathed, dressed and kept his clothes. Each day, he would rise between 4 am and 5 am and go down to the study using the private staircase leading from the master bedroom. If the weather was cold, he lit his own fire and prepared for the day with little assistance from his body servant.
He used the quiet time to write letters or review reports until breakfast at 7am. He then generally rode out to his farms. In the evening, unless he had a social obligation, he would often return to his study to read or confer with his secretary until he retired at about 9 pm.
Master Bedroom
Located directly above the study in the private south wing, it was the sanctuary of Mrs. Washington and provided a quiet retreat from family and many guests. Designed with suggestions from Mrs. Washington, the room is simple with functional closets for the storage of linens and clothes. It was here that she planned her schedule, wrote letters to friends and family members, and kept careful watch over the operations of the house and kitchen staff. According to her grandson, she also spent an hour each day reading the Bible.
Portraits of her grandchildren adorn the walls, and it was in this room that she assisted with their school lessons. A Chinese lacquered dressing glass and a French mantle clock, purchased in Philadelphia during the presidency and brought back to Mount Vernon, provided elegant touches in the otherwise tasteful but simply decorated room.
Although this room was associated most closely with Martha Washington, history has tied it indelibly to George Washington. It was here that he died on December 14, 1799 of a severe throat infection diagnosed by his doctors as quinsy. Upon his death, Mrs. Washington closed the master bedroom for the remainder of her life and retired to a room on the third floor. It seems she did not wish to remain in a part of the house that held so many memories of her life with George Washington, her husband of 40 years.
Secretary

This neo-classical secretary and desk was at the forefront of new furniture forms in the Federal period. Washington purchased it, along with other furnishings, from John Aitken in Philadelphia, at the end of his presidency.

Porcelain

President Washington, aware that the world was watching for signs that America's new government would not last, took pains to see that official furnishings reflected decorum and stability. He asked Governor Morris to buy this fashionable pair of bisque porcelain cherubs (possibly Niderville, c. 1789) for him in Paris, along with a mirrored plateau on which they were placed.

0000
0000
Burling Chair

Washington purchased this "uncommon" chair from Thomas Burling in 1790. The circular seat revolves on a central spindle with four rollers made of bone. Thomas Jefferson admired it and had Burling make one for Monticello.

Mahogany side chair

Following Washington's election to the presidency in 1789, Congress acquired for his executive residence a large quantity of furnishings, including this Chippendale style side chair, one of 68 mahogany chairs purchased through Thomas Burling of New York. One visitor described the rooms in the executive residence as "furnished in the most elegant manner."

Washington letter

After her husband's death, Martha Washington burned the letters they had written to one another during their long marriage. Only two letters survived, hidden behind the drawers in her desk. In this short, autographed note, written as he was about to leave Philadelphia to take command of the army at Boston (June 23, 1775), he reassured her: "I retain an unalterable affection for you, which neither time or distance can change."

Federal Sideboard

Federal sideboard, mahogany, tulip poplar and yellow pine, 1797. Along with the 24 chairs, Washington ordered from John Aitken of Philadelphia two large sideboards for Mount Vernon's Large Dining Room. They are in the Hepplewhite style. As with other furnishings Washington selected, they are fashionable without ostentation.

Harpsicord

Washington ordered this double manual harpsichord with 61 notes from England for Martha's grand-daughter, Nelly. It was shipped from London to Philadelphia in 1793 and returned to Mount Vernon following the presidency. Nelly's brother, Washy, recalled how his sister would "play and cry and cry and play" as she practiced. (See small parlor photo.)

Washington portrait

Charles Willson Peale painted this portrait in 1789 for Elias Boudinot, president of the Continental Congress, and friend of George Washington. Washington wears a blue ribbon indicating his rank as Commander-in-Chief of the Continental Army. He is shown at Princeton, New Jersey, where his January 1777 raid marked the first time in open combat that American troops broke a British line. He had ridden at the head of his troops, in direct fire, seemingly invincible. Washington's stance and bearing express an unshakable confidence in America's cause.

Kitchen Midden

Before the garbage man made weekly visits, trash was discarded about the yard. George Washington's trash was thrown into shallow depressions near the mansion. One of these was recently excavated and yielded over 75,000 artifacts dating from the time before the American Revolution. Ceramics, glass, toys, tobacco pipes, wig curlers, scissors, oyster shells, animal bones, and crab claws provide excellent information about the diet and daily life of the Washington family.

Prior to the installation of a modern drainage system around the foundation of the Mansion, archaeologists excavated a trench four feet wide to record the layers of soil and recover the artifacts. Thousands of small artifacts (straight pins, buttons, broken ceramic and glass sherds, fish bones, tobacco pipes) were swept out into the grass especially near the doorways.

Argand Lamp

Always interested in technological advances, Pres. Washington ordered 14 new oil lamps from France in 1790. It was reported that the lamps (invented by Swiss chemist Aimé Argand and patented in England in 1784), "consume their own smoke, do no injury to furniture, give more light, and are cheaper than candles." The lamps were later brought back to Mount Vernon.
His Famous Teeth
Washington's natural courtesy and attention to detail did not fail him even when dealing with painful false teeth. Contrary to popular myth, his dentures were not made of wood. John Adams later commented that Washington attributed the misfortune of his toothlessness to "cracking of walnuts in his youth." Washington wrote to Dr. John Greenwood in 1797: Sir: I must again resort to you for assistance-The teeth herewith enclosed have, by degrees, worked loose; and, at length, two or three of them have given away altogether-I would thank you for returning them as soon as possible for although I now make use of another set, they are both uneasy in the mouth and bulge my lips out in such a manner as to make them appear considerably swelled."

Chinese Flower Pot
The Washingtons first bought blue and white Chinese porcelain in 1764. The patterns on what Martha Washington called "...the blew and white china in common [everyday] use" varied widely because additional purchases were made thoughout Washington's lifetime. This hexagonal flower planter, c. 1775 features a landscape scene in blue underglaze.
Wedding Shoes
Few details are known about the wedding ceremony of George Washington and Martha Custis on Jan. 6, 1759. Martha wore a gold damask dress, trimmed in lace.
According to family tradition, she also wore these brightly-colored slippers imported from England, c. 1758.
Covered in an aubergine silk, the slippers are trimmed in metallic lace composed of sequins and metal threads. They are lined with a combination of kid leather, linen, and woven silk.
Surveyor's Compass
At the age of 16, Washington embarked on his first career as a surveryor of uncharted western lands. One of the most important tools of the trade was a compass that would typically be mounted on a Jacob's staff or tripod in the field. Also known as a circumferentor, the magnetic compass was used by Washington to determine a bearing on boundary lines.
Surveying gave Washington a job in which he was paid in cash rather than commodities. His earnings enabled him to begin purchasing land, a practice he would continue throughout his life. By the time he was 19, he owned over 1,400 acres beyond the Blue Ridge Mountains.
Bastille Key
In 1789, a Paris mob sparked the French Revolution by storming the Bastille, a hated political prison and symbol of absolute monarchy. The next year, Lafayette ordered its demolition and sent an original key to the Bastille to his former commander.
Washington displayed the key and an accompanying drawing prominently in the Presidental mansion and later at Mount Vernon.
---
Thanks to the Mount Vernon Ladies Association for this article.
For more information and pictures go to http://www.mountvernon.org/.
2002