The Celebrity Collector
Michael Gross, his family tree and
his collections are rooted in the railroad
By Ken Hall
When you scan Michael Gross' resume -- Yale graduate, early awards for repertory theatre and Broadway work, successful film and television career -- words like "blueblood" or "silver spoon" might come to mind. But Gross actually was raised in a blue-collar neighborhood in Chicago. He went through a "gang-and-greaser" phase in his mid-teens before finally coming to in high school.
In short, nothing was handed to Michael. He earned his stripes, first in the theatre, then on the iconic '80s TV show "Family Ties" (in which he played a liberal father to conservative son Michael J. Fox and daughter Justine Bateman) and most recently as the star of a series of quirky films in the horror-comedy genre called "Tremors". "Tremors 4" is due in video stores this Christmas.
Actually, Gross was handed something while growing up: train memorabilia, most of it given to him by his grandfather, Chester Gross, who worked for the fabled Acheson, Topeka & Santa Fe for 56 years. His father before him worked the rails, too. These grizzled trainmen had stories to tell and items to dispense, and Michael -- who was very close to his grandfather -- happily took it all in.
"The first thing I remember were the dishes we had in the house," Gross recalled. "They were rejects, actually, from the dining cars. We'd get them because they were chipped or cracked, or because the image on the plate was faded. But even in their condition, they still held a special significance to me because they had ridden the rails. It was like they'd been blessed by the Pope."
Most of the dishes were in one of two patterns: California Poppy (an off-white pattern with a picture of three orange-yellow California poppy flowers); and Mimbreno (the good stuff, used only on the "Super-Chief" dining cars and featuring an ancient Indian design with symbolic-looking animals set against a white background). These were the main two patterns, although there were others.
The Mimbreno set is displayed (and used) at Gross' residence in Santa Fe, N.M. The California Poppy is kept in a cabinet in his California home. "I like to eat off both patterns, especially at breakfast," he said. The Santa Fe home is where the bulk of his railroad memorabilia is housed. He described the decor there as "a mixture of Spanish, Native American and early railroad."
Some of the railroad-related items there include:
An Art Deco-style overstuffed armchair, taken from one of the "smokers" (or lounge cars).
Genuine lighting fixtures from the old Santa Fe coaches.
An oak station bench, with arms, capable of seating five.
An old baggage cart.
Silverware, from the Santa Fe Railroad, most of it marked and most of it hotel-grade (to include a soup tureen, coffee pot and other accessory pieces).
A walnut desk once belonging to a Santa Fe vice president that Gross bought at auction in Topeka.
Much paper, including tickets, timetables, blotters, stationery and brochures.
Posters (much of it promoting the West and Western culture), advertising art and calendars (featuring some wonderful Southwestern painters).
The "piece de resistance," said Gross, "is a beautiful old wall clock once owned by the chief time inspector of the entire Santa Fe rail system, whose office was in Topeka. It has a four-foot walnut case with a mercury pendulum (rare, as most have disc pendulums). I bought it from a Santa Fe clock aficionado who restores and repairs Santa Fe clocks. I paid about $4,000 for it, ten years ago."
Items given to Gross directly by his grandfather include:
A pocket watch -- a "Bunn Special" -- made by the Illinois Watch Company. ("Having the correct time was critical, of course, and the trainmen's watches were regularly inspected by the railroads," Gross said. "They had to be within certain tolerances, which were recorded on an inspection card. I also have that card.").
A railroad lantern.
A "Brotherhood of Railroad Trainmen" wallet.
A safety award and a lifetime pass, entitling Chester to ride the rails free for life.
"By far the most ridiculous thing I've done is become a partner in an actual railroad," Gross said with a chuckle. "It's the last eighteen miles in the short line leading into New Mexico on the Acheson, Topeka & Santa Fe line. It was going to be abandoned because of a lack of freight passengers. So a group of us decided to save the thing and run it, too. It's fun, but a lot of work."
Gross admitted he's not "hands-on" with his investment because of acting obligations, but he did say the line runs freight and passengers most days of the week, from Larny, N.M. (named for a Catholic bishop who once lived there) to Santa Fe. "This is the first train I haven't had to put away after Christmas," he said with a sigh. "It's not much of a money-maker, but I'm glad we saved it."
Michael Gross was born June 21, 1947 in Chicago and graduated with honors from Kelvyn Park High School. He played guitar with a folksinging group before deciding to pursue acting. He attended the Yale School of Drama, where Meryl Streep was a classmate, graduating in 1973. His stage credits have included a Drama-Logue Award, a Drama Desk Award nomination and an Obie.
His big break came in 1982, when he was cast as "Steven Keaton" on the sitcom "Family Ties" (1982-89). While auditioning, he encountered resistance from a casting director who didn't want Gross because he lacked name recognition. Her name was Elza, and she went on to become Mrs. Michael Gross. They've been married 20 years; Gross is the stepfather to her two daughters.
The same year "Ties" concluded its run, Gross accepted a part in a relatively low-budget film called "Tremors," a tongue-in-cheek horror film about a small mining town in Nevada (Perfection) that is terrorized by giant killer sand worms. "Universal released the film into the theatres and marketed it as a horror movie, which it really isn't," Gross said. "As a result, it didn't do well at all."
But when "Tremors" hit the video store shelves, it gained a substantial cult following. A TV series of the same name was launched on the Sci-Fi channel, also starring Gross. When the decision was made to produce a "Tremors 2" movie, executives figured if the original grew legs on video store shelves, the sequel would probably do well there, too. "3" and "4" have since been made.
Antique weapons enthusiasts will be interested to learn that "Tremors 4: Original Showdown" (a prequel, due in stores soon and set in the Wild West) uses authentic weaponry from the period, to include: a Colt single-action revolver; a Sharps hunting rifle and Sharps "Pepperpot" (four-barrel derringer); a Remington 45/120; a Henry Repeater; an actual Gattling Gun; and a replica of a "Punt."
Michael Gross lives in California and Santa Fe, N.M., with Elza and her two children from a prior marriage, Katie (35) and Theo (33). His sister is "Saturday Night Live" alum Mary Gross. You may write to Michael c/o Prairie Rose Productions, 16633 Ventura Blvd. #1450, Encino, CA 91436.
2003
"Family Ties" cast : Michael J. Fox, Michael Gross, Meredith Baxter, Justine Bateman, Tina Yothers.
Baggage wagon marked "AT&SF" (Atcheson, Topeka & Santa Fe), outside Gross's Santa Fe home.
Gross loves this beautiful wall clock, once owned by the chief time inspector of the Santa Fe line.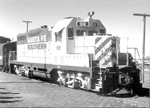 Gross is part owner of a functioning railroad: an 18-mile leg of the Atcheson, Topeka & Santa