70 Years Later, 'Scarlett Fever' Still Raging Around the World
By John Wiley, Jr.
Seventy years ago, on June 30, 1936, the "great American novel" was published.
Written by Margaret Mitchell, a former Atlanta newspaper reporter, Gone With the Wind is a story of the American Civil War told from the Southern point of view. The book, published by The Macmillan Co. of New York, took the country by storm, with more than 1 million copies in print by Christmas. The following year, Mitchell's story won the Pulitzer Prize for fiction, and in late 1939, the motion picture version that premiered in Atlanta proved an even bigger blockbuster.
But through the years, this most American of stories also has been incredibly popular around the world. To date, the story of Scarlett O'Hara and Rhett Butler has been translated into almost 40 languages in nearly 50 countries. These include French, German, Japanese and Spanish, of course, but also Amharic (Ethiopia), Arabic (Egypt and Lebanon), Farsi (Iran), Burmese (Myanmar) and Catalan (Spain). One of the most recent translations is in the Kannada language in India.
The author ­ whose husband once reassured her, "Don't worry. You and I have so many cousins, we'll sell at least 5,000 copies in Georgia alone!" ­ was stunned by her book's success overseas. In a Sept. 6, 1945, letter to Malcolm Cowley, who was gathering information for a proposed literary history of the United States, Mitchell wrote: "It never occurred to me Gone With the Wind would be translated into any foreign language. When it appeared in so many languages and had such astoundingly good reviews, I was breathless, and still am."
Mitchell's readers were left breathless, too, by her storytelling ability and the book's theme, which she described simply as "survival."
"What makes some people able to come through catastrophes and others, apparently just as able, strong and brave, go under? It happens in every upheaval. Some people survive; others don't. What qualities are in those who fight their way through triumphantly that are lacking in those who go under? I only know that the survivors used to call that quality 'gumption'. So I wrote about the people who had gumption and the people who didn't."
Technically, the first "foreign" edition of Gone With the Wind also was released on June 30 in Toronto by The Macmillan Co. of Canada Ltd. At that time, the United States was not a signatory to the Berne Convention for the Protection of Literary and Artistic Works, and only by simultaneously publishing a book in a member country, such as Canada, could American publishers ensure copyright protection overseas.
Three months later, on Sept. 29, 1936, Macmillan's "British cousin" company, Macmillan & Co. Ltd., published Gone With the Wind in London. The first printing was a cautious 3,000 copies, compared to the American first printing of 10,000 copies. However, British readers ­ including a young stage actress named Vivien Leigh, who eventually would play Scarlett O'Hara on the screen ­ were swept up by the story, too, and the book went on to sell more than 150,000 copies in England over the next two years.
At about the same time, Macmillan and Mitchell began receiving requests from overseas publishers interested in translating the novel. Macmillan, claiming it was not set up to handle such requests, turned over the responsibility for coordinating foreign rights to the author. For the remaining 13 years of her life, Mitchell, her husband, John Marsh, and her brother, Atlanta attorney Stephens Mitchell, spent countless hours dealing with publishers around the world. As she noted four years later: "I certainly never thought when I finished the last galley proof of my book and sent it off to the press that I would be skirmishing in many foreign countries."
In August 1937, both Norway and Sweden published the book, the Norwegian edition (Tatt av Vinden) in three volumes and the Swedish (Borta med Vinden) in two. The following month, Denmark (Borte med Blaesten) brought out its edition, and in October, the book was published in Germany (Vom winde Verweht). By the end of the year, the novel was on sale in Finland (Tuulen Viemaa) and Italy (Via col Vento), and the first of two volumes had appeared in Czechoslovakia (Jih Proti Severu).
Sales were astounding. In Germany, for example, more than 360,000 copies were sold by July 1941. Another 165,000 copies were purchased in France, and nearly 25,000 Italians bought the story of "Rosella O'Hara" through May 1941.
However, Mitchell was not able simply to sit back and count her royalties; she also faced several piracy problems. One particular case occupied her time and energy for the better part of a decade. In November 1937, she learned a Dutch publisher was releasing her novel in Holland (Gejaagd Door de Wind) without her permission. The company claimed the May date in a first edition of Gone With the Wind proved the book had been published earlier in the United States and not simultaneously in a Berne member country. (As book experts know, a true first edition of Gone With the Wind is dated May 1936. However, Gone With the Wind's original publication date was delayed until June after the novel was chosen as the Book-of-the-Month Club's July selection.)
With affidavits from officials at Macmillan of Canada and Macmillan in New York attesting that no copies were sold before publication day, Mitchell went to battle. She failed to stop the release of the book ­ a handsome, three-volume edition ­ but several years later, in February 1941, the Dutch equivalent of the Supreme Court sent the case back to a lower court for retrial. On the recommendation of her attorney, Mitchell was prepared to settle, but Pearl Harbor and the United States' declaration of war on Japan and Germany precluded that. It was not until Sept. 17, 1945 that the case finally ended, with the Dutch publisher becoming the official printer after agreeing to pay past royalties.
(He apparently harbored no hard feelings over the matter: For years after Mitchell's death, the publisher sent tulip bulbs to be planted on her grave.)
By the time World War II began in September 1939, Gone With the Wind also had been published in France (Autant en Emporte le Vent), Hungary (Elfujta a Szel), Latvia (Vejiem Lidzi), Poland (Przeminelo z Wiatrem) and Romania (Pe Aripile Vantului). As the Nazis rolled across Europe, readers in the occupied countries were as fascinated by Scarlett's story as Americans were. Many could relate to the heroine whose homeland was invaded and occupied by a hated enemy.
At first, German officials reportedly encouraged the continued publication and reading of the novel, as they felt the book painted a less-than-flattering portrait of American "Yanks." But eventually it became obvious that the European resistance movement was finding inspiration in the South's reaction to the Federal occupation, so, late in the war, the Nazis banned Gone With the Wind. As The (New York) Journal American reported in March 1944: "The massive adventures of Scarlett and Rhett are now bootlegging for $60 a copy in France, and for almost that figure in Holland, Norway and Belgium. Persons have been shot for possessing it. Orders have gone out from Germany to seize all copies."
When reports reached Mitchell that the book was being distributed through the French Underground and passed from reader to reader, she noted: "It made me proud and happy to know that something I wrote could give pleasure and comfort to French people during the occupation."
It was Scarlett's fight for survival that seemed to strike a universal chord. As Mitchell wrote in her 1945 letter to Cowley:
"I found it very interesting, too, that while many critics in the United States based their criticism upon the love story or the narrative, European critics evaluated it on a different basis. In practically every European country critics wrote at length of the 'universal historical significance.' Each nation applied to its own past history the story of the Confederate rise and fall and reconstruction. French critics spoke of 1870 (the Franco-Prussian War), Poles of the partitioning of their country, Germany of 1918 and the bitterness which followed, Czechs wrote not only of their troubled past but of their fears of the future, and I had letters from that country just before it went under (Nazi domination), saying that if the people of the South had risen again to freedom the people of Czechoslovakia could do likewise."
During the war, Mitchell lost contact with many of her publishers, but several attempted to pay her past-due royalties when the hostilities ended. Unfortunately, some of these contacts were short-lived when the Soviet Union's Iron Curtain descended over Eastern Europe in the mid- to late-1940s.
As the continent began to rebuild, the author realized publishing rights to her novel "have turned out to be more valuable, potentially, since the war than before." In a March 31, 1947, letter to Wallace McClure, a U.S. State Department official who had helped Mitchell with many of her overseas dealings, she noted: "Every country has had its recent experience with war and occupation and defeat, and people in each country apply the experiences of the characters of Gone With the Wind to themselves."
Mitchell battled additional piracy cases in China, Greece and Japan. Technically, the Japanese editions were not pirated because of an obscure 1905 treaty that gave Japanese and U.S. publishers the right to publish each other's works without paying royalties. In the late 1930s, at least half a dozen Japanese publishers released various editions of the book; returning visitors reported sales in the hundreds of thousands. In 1939, one of the publishers sent Mitchell a silk kimono and a large Japanese doll and asked that she pose with the figure for publicity photos. The author, who nicknamed the doll "Madame Oh-So-Solly," declined and noted: "A nation with so much gall certainly should go far."
But not all of her overseas correspondence involved problems. She was pleased with the 1939 French edition of her novel and took note of the "delightful sea changes" many of her Southern expressions had undergone in translation. "I was especially amused when Gerald O'Hara ejaculated 'Oo, la la,' " she wrote. In a letter to Alexander May, a reader in Berlin, she reported that several friends had teased her that the artwork of Scarlett on the German dust jacket resembled her. "But I was never that sweet and pretty looking," the author said. And just weeks before her death in August 1949, Mitchell was made an honorary citizen of Vimoutiers, France.
In Gone With the Wind, Mitchell gave a battered world a message of hope ­ an eternal tomorrow. And readers around the globe wrote to thank her and share their personal stories of struggle and hardship. In a July 26, 1949, letter, Mitchell told McClure:
"As I look back I realize I have had a box seat at the world's biggest show from 1936 until now. I do not know anyone in government service, or not a war correspondent, who has had the privilege of knowing about as many foreign countries and having as many kind and appreciative letters from those countries as I have. I realize now that my book has taken me to many countries and made many friends for me."
Three weeks later on Aug. 16, Mitchell died of injuries sustained when she was struck by a speeding automobile while crossing Peachtree Street.
The author was proud of her personal collection of foreign editions. In a color photograph on the cover of the Dec. 14, 1947 edition of The Atlanta Journal Magazine, she is shown seated on a footstool in front of bookshelves in her apartment that hold dozens of translations of her story. These books were willed to the Atlanta Public Library by her husband, who died in 1952.

Interestingly, most foreign editions of the book have been printed in multiple volumes, probably because of its length, 1,037 pages in the original American format. Two-volume editions are the most common, but through the years, there have been a four-volume Italian edition, five- and seven-volume Japanese editions, and a 12-volume Icelandic (A Hverfanda Hveli) edition, all paperbacks. In addition, most foreign editions published after World War II have included artwork from the film version on the cover.
Two Atlanta-area museums currently feature displays of foreign editions of Gone With the Wind: the Road to Tara Museum in Jonesboro and the Marietta Gone With the Wind Museum: Scarlett on the Square. The Margaret Mitchell House & Museum plans to exhibit some foreign editions from the collection of the Atlanta History Center beginning this summer. In addition, the Atlanta-Fulton Public Library on Margaret Mitchell Square in downtown Atlanta has some of the author's foreign editions on display in its Special Collections Department on the fifth floor.
---
John Wiley Jr. of Midlothian, Va., is the publisher/editor of "The Scarlett Letter" (www.thescarlettletter.com), a quarterly newsletter for Gone With the Wind fans and collectors. He also owns the largest private collection of foreign editions of Margaret Mitchell's novel, more than 600 volumes.
A Classic in Any Language
By John Wiley, Jr.
Author Margaret Mitchell took the title of her best-selling novel from an 1896 poem by British poet Ernest Dowson. Titled, "Non Sum Qualis Eram Bonae Sub Regno Cynarae", but known simply as "Cynara", the third stanza begins:
I have forgot much, Cynara! gone with the wind,
Flung roses, roses riotously with the throng,
Dancing, to put thy pale, lost lilies out of mind.
"I just lifted the phrase from its context because it had the far away, faintly sad sound I wanted," Mitchell explained.
But while Gone With the Wind is one of the most famous titles in world literature ­ and a phrase that has become part of American culture ­ other languages usually do not have an exact translation for those four simple English words. As a result, foreign titles, such as those below, often end up focusing more on a physical sense of movement:
Dutch: Gejaagd Door de Wind (Taken by a Storm)
French: Autant en Emporte le Vent (So Much the Wind Carries)
German: Vom Winde Verweht (Blown Away by the Wind)
Portuguese: E Tudo o Vento Levou (And Everything the Wind Took Away)
Spanish: Lo Que el Viento se Llevo (What the Wind Took Away)
Whatever the title, the story of Gone With the Wind continues to enthrall readers around the world. Seventy years after its publication, Mitchell's book remains, as the Road to Tara Museum has dubbed it, "...a classic in any language."
(Author's note: Special thanks to Rogelio Ocampo for his help translating the
foreign language titles.)
The Danish edition - the Nazis
encouraged reading it at first,
then banned it.
GWTWs from: (clockwise, top l.) 2004 India, 1974 Viet Nam and 1970s Iran. (Group photos: Doug Buelein Photograph.)
The Margaret Mitchell House where Gone With the Wind was written.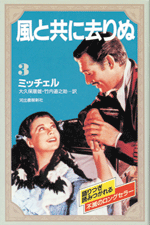 Mitchell fought pirating of her novel in Japan and worldwide.
Eastern Europe editions: (clockwise from top l.) Russian, Polish (1948), Polish (2003) and 2 Czechs (1938).
The Portuguese edition: "And Everything the Wind Took Away."
The Turkish edition, 1958.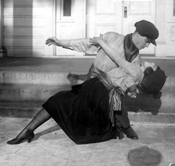 Margaret Mitchell dancing the scandalous Apache Dance at a Junior League Ball.
(Photo: Atlanta Fulton Library.)
Margaret Mitchell at the typewriter.
(Photo, Atlanta Historical Society.)