Gavels and Paddles
Recent Antique & Collectibles Auction Results From Around the World
by Ken Hall
Updated January 2017

Chinese imperial firearm, $2.46 million, Sotheby's
The first Chinese firearm with an imperial reign mark ever to be offered at auction sold for $2.46 million at an auction held Nov. 9 by Sotheby's in London. The gun—a brilliantly designed and exquisitely crafted musket—was created for the Qianlong Emperor (1711-1799) of the Qing Dynasty, arguably the greatest collector and patron of the arts in Chinese history. Incised on the breech of the barrel were Chinese characters denoting the musket's peerless ranking: "Supreme Grade, Number One." The price is inclusive of the buyer's premium.
---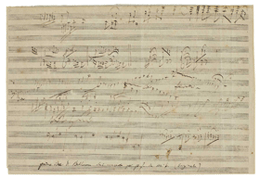 Beethoven concerto, $452,400, Bonhams
The sketch-leaf for Ludwig Van Beethoven's Fifth Piano Concerto in E Flat Major (Op. 73), the Emperor concerto, one of the earliest sketch-leafs of this work and possibly containing Beethoven's first draft of its famous themes, sold for $452,400 at an auction held Oct. 20 by Bonhams in London. The concerto was dedicated to Archduke Rudolf of Austria (1788-1831), brother of Francis II, Holy Roman Emperor and Beethoven's friend, patron and pupil. It is one of only a handful of the sketch-leafs known. The price is inclusive of the buyer's premium.
---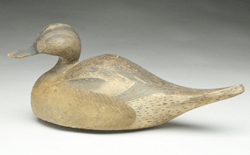 Ward Brothers pintail hen, $201,250, Guyette & Deeter
A Ward Brothers "humpback" style pintail hen sold for $201,250 at a Fall Decoy & Sporting Art Auction held Nov. 10 by Guyette & Deeter (based in St. Michaels, Md.) at Talbot County Community Center in Easton, Md. It was a new world auction record for a Ward Brothers decoy. Also, a bufflehead drake by Elmer Crowell (Cape Cod, Mass.) soared to $143,750; a ruddy turnstone shorebird by Obediah Verity (Seaford, N.Y.) made $57,500; and a canvasback hen by John English (Florence, N.J.) rose to $51,750. Prices include a 15-percent buyer's premium.
---
Pegasus clockwork engine, $12,600, Philip Weiss Auctions
A Pegasus clockwork tin train engine, made by Stevens & Brown and patented by E. C. Phelps in 1874, one of only a few known surviving examples, sold for $12,600 at an auction held Nov. 19 by Philip Weiss Auctions in Lynbrook, N.Y. Also, a Butting Ram mechanical bank, attributed to Wagner & Zwiebel Machine Shop in Wisconsin and patented in 1895, brought $4,320; and a circa-1876 nickel-plated cast-iron still bank ("Liberty Proclaimed July 4, 1776," "Birthplace of American Independence") made $4,080. Prices include the buyer's premium.
---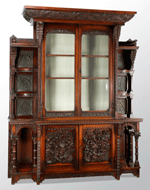 Cincinnati carved cabinet, $7,380, Great Gatsby's
A Cincinnati art carved cabinet by William H. Fry sold for $7,380 at an estates auction held Oct. 14-16 by Great Gatsby's Auction Gallery in Atlanta, Ga. The sellers were Herbert Broadfoot II and his wife, Nancy. The cabinet was commissioned as a wedding present in 1876 for Mr. Broadfoot's great-great aunt Mary Boyd and had been passed down in the family ever since. Remarkably, the buyer was Laura Fry of Tulsa, Oklahoma, the great-great granddaughter of William H. Fry, the cabinet's maker. The selling price includes a 23-percent buyer's premium.
---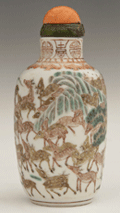 Chinese snuff bottle, $5,842, Crescent City
A 19th century Chinese porcelain snuff bottle, 4.75 inches tall, sold for $5,842 at a multi-estates auction held Nov. 12-13 by Crescent City Auction Gallery in New Orleans, La. Also, a 13-piece, 19th century Royal Vienna cobalt porcelain tea set rose to $4,920; a German World War II helmet, circa 1944, brought $4,305; an oil-on-canvas painting by Alexander J. Drysdale (New Orleans, 1870-1934) titled, Moss Draped Oaks, garnered $4,612; and a 19th century American rococo mahogany full tester bed made $3,998. Prices include the buyer's premium.
---
Vintage Chinese table and chairs, $16,250, Bruneau & Co. Auctioneers

A vintage Chinese hardwood peach-form table and chairs set sold for $16,250 at an Antiques & Fine Art Auction held Oct. 29 by Bruneau & Co. Auctioneers in Cranston, R.I. Also, a French bronze equestrian group of Louis XIV, after a model by Martin van den Bogaert (1637-1694), fetched $15,000; an Impressionist painting of a nude by Charles Hawthorne (1872-1930) knocked down at $9,375; and a landscape painting by Robert Van Boskerck (1855-1932) titled, Lazy River, went to a determined bidder for $2,500. Prices are inclusive of the buyer's premium.
---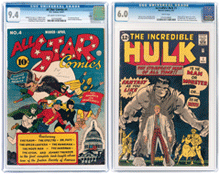 Pair of vintage comic books, $42,148, Hake's Americana
A copy of All Star Comics #4 from March/April 1941, featuring the first adventure for the Justice Society of America, NM, Larson pedigree, sold for $21,275, and a copy of Incredible Hulk #1 with the first appearance of Hulk went for $20,873, for a combined $42,148 at an auction held Nov. 15-17 by Hake's Americana in York, Pa. Also, the wool-collared leather jacket worn by actor Richard Boone as "Palladin" in the 1957-1963 hit TV series Have Gun, Will Travel finished at $14,421. Prices include a 15-percent buyer's premium.
---
Tupac Shakur 4-page letter, $172,750, Goldin Auctions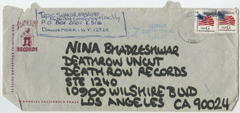 A four-page letter, handwritten from a prison cell by the late rapper Tupac Shakur in 1995 to Nina Bhadreshwar of Deathrow Records, sold for $172,750 at an October Legends Auction held Oct. 29-30 by Goldin Auctions in Runnemede, N.J. Also, the glove worn by Bill Buckner of the Boston Red Sox in the 1986 World Series when he let Mookie Wilson's roller skip through his legs, allowing the Mets to win Game 6, brought $106,575; and a 1952 Topps #311 Mickey Mantle rookie baseball card hit $82,075. Prices include a 21-percent buyer's premium.
---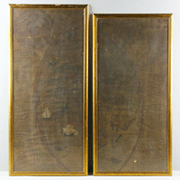 Matteo Ricci derivative maps, $24,000, Kaminski Auctions
A pair of dark, ripped panels (produced for the Korean market) of Mateo Ricci's derivative map of the world, the 1708 edition based on the 25 hand-printed color copies reportedly done between 1605 and 1608, sold for $24,000 at an auction held Oct. 1 by Kaminski Auctions in Beverly, Mass. Also, a 19th century Italian classical marble sculpture of a male torso, unsigned, fetched $14,400; and a large collection of drawings, paintings and correspondence pertaining to the Boston Symphony Orchestra made $7,200. Prices include a 20-percent buyer's premium.
---
Meissen 2-pc. centerpiece, $49,450, Bunch Auctions

A Meissen two-part figural centerpiece depicting Neptune and Aphrodite sold for $49,450 at a Fall Decorative & Fine Arts Auction held Sept. 20 by Bunch Auctions in Chadds Ford, Pa. Also, a pair of Minton Louis Solon decorated pate-sur-pate vases with covers sold for $31,625; a Native American-carved polychrome kachina doll hit $2,760; an allegorical oil-on-wood painting by Gregory Gillespie titled, Insects, fetched $41,400; and an ink-on-paper work by Nancy Grossman titled, Two Heads, went for $19,550. Prices are inclusive of the buyer's premium.
---
Julia M. Cameron albumen print, $106,250, Swann Auction Galleries
An albumen print from 1866 by Julia Margaret Cameron titled, Portrait of Kate Keown, one of the first in Cameron's series of life-size heads, sold for $106,250 at an auction titled, Art & Storytelling: Photographs and Photobooks, held Oct. 25 by Swann Auction Galleries in New York City. Also, a set of 14 first editions by Ed Ruscha, some signed, gaveled for $45,000; and a portfolio with 15 silver prints by Yousuf Karsh, from 1941-1970 and printed in 1973 titled, Karsh, Fifteen Portraits, sold for a record $87,500. Prices include a 20-percent buyer's premium.
---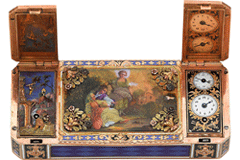 Gold and enamel snuff box, $62,500, Heritage Auctions
A Piguet & Capt three-compartment gold and enamel snuff box with concealed automaton and timepiece, made circa 1800, sold for $62,500 at a Watches & Fine Timepieces Auction held Oct. 27 by Heritage Auctions (based in Dallas, Tex.) in New York City. Also, a Rolex Ref. 6263 Gold Oyster Superlative Chronometer with Sigma dial, circa 1980, fetched $46,250; a Cartier platinum Art Deco diamond, onyx and seed pearl watch, circa 1915, rose to $42,500; and a 1979 Rolex Steel Cosmograph Daytona hit $33,750. Prices include the buyer's premium.
---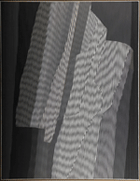 Julian Stanczak artwork, $93,750, Rago Arts & Auction
An artwork by Julian Stanczak titled, Walking Shadows, sold for $93,750 at a Fine Arts Auction held Nov. 5 by Rago Arts & Auction Center in Lambertville, N.J. Also, Mexican artist Miguel Covarrubias's Bathing in the River soared to $40,650; Lorraine Shemesh's Exhale, from the Allan Stone Project, went for $46,875; an untitled sculpture by Ousmane Sow also realized $46,875; illustrations by author Chris Van Allsburg fetched $53,125 and $40,625; and M.C. Escher's Castle in the Air finished at $36,250. Prices are inclusive of the buyer's premium.
---
Paul Newman chronograph, $231,250, Freeman's Auctions
A rare Rolex 14kt gold "Paul Newman" chronograph bracelet watch (named after the actor, not owned or worn by him), Cosmograph Daytona circa 1969, sold for $231,250 at a Jewelry & Watches Auction held Nov. 7 by Freeman's Auctions in Philadelphia, Pa. Also, a 5.13-carat diamond and platinum ring with guard rose to $106,250; a diamond and platinum clip-brooch by Van Cleef & Arpels realized $62,500; and a fancy, intense yellow diamond, platinum and 18kt gold ring changed hands for $50,000. Prices include a 25 percent buyer's premium.
---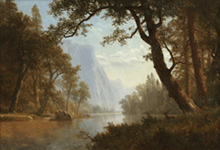 Albert Bierstadt work, $660,000, John Moran
An early painting of Yosemite Valley by Albert Bierstadt (N.Y., 1830-1902) titled, El Capitan, Yosemite (1866), sold for $660,000 at a California and American Fine Art Auction held Oct. 25 by John Moran Auctioneers in Monrovia, Calif. Also, an atmospheric scene of a shepherd leading his flock down a country lane by Granville Redmond (Calif., 1871-1935) titled, Going Home, brought $114,000; and a traditional still life painting by Severin Roesen (Pa., 1815-1872) went for $27,000. Prices include a 20-percent buyer's premium.
---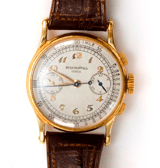 Patek Philippe wristwatch, $276,000, Eldred's Auction
A Patek Philippe 18kt gold chronograph wristwatch sold for $276,000 at a Fine & Decorative Art Auction held Oct. 29 by Eldred's Auction in East Dennis, Mass. Also, a Black Forest carving of a stag on a wall mount went for $1,800; a lovely and colorful 19th century Baccarat paperweight gaveled for $2,640; a Tiffany Furnaces lamp in the Art Deco pattern, 14.5 inches tall, hammered for $1,200; and an unsigned Dutch oil on panel harbor scene measuring 7.25 inches by 9.25 inches (sight), finished at $2,160. All prices include a 20-percent buyer's premium.
---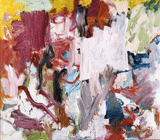 Willem de Kooning oil, $66.3 million, Christie's
An oil-on-canvas painting by Willem de Kooning (1904-1997), Untitled XXV, painted in 1977, sold for $66.3 million at a Post-War and Contemporary Art Sale held Nov. 15 by Christie's in New York City. Also, a 1961 oil on canvas by Jean Dubuffet (1901-1985) titled, Les Grandes Arteres, finished at $23.8 million; an oil on canvas by Gerhard Richter (b. 1932) titled, Abstraktes Bild (809-2), painted in 1994, brought $22.1 million; and a 1999 oil on canvas by John Currin (b. 1962) titled, Nice 'n Easy, rose to $12 million. Prices include the buyer's premium.
---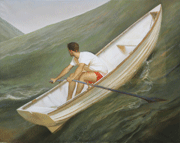 Bo Bartlett painting, Lifeboat, $296,000, Clars Auction Gallery
A painting by Bo Bartlett (Am., b. 1955) titled, Lifeboat, which previously graced the interior of the yacht The Maltese Falcon, formerly owned by the late San Francisco venture capitalist Thomas J. Perkins, sold for $296,000 at an auction held Nov. 12-13 by Clars Auction Gallery in Oakland, Calif. It was a new auction record for a work by the artist. Also, three silkscreens from Andy Warhol's Sunset series sold for a total of $111,925; and an 1874 painting by Jasper Francis Cropsey (Am., 1823-1900) brought $84,700. Prices include the buyer's premium.
---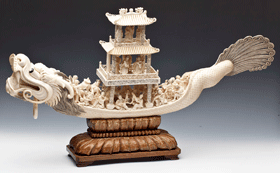 Ivory wedding dragon boat, $7,670, Cordier Auctions
A Japanese pre-ban carved ivory wedding dragon boat from the Meiji Period (1868-1912) sold for $7,670 at an Antique & Fine Art Auction held Aug. 13 and 14 by Cordier Auctions & Appraisers in Harrisburg, Pa. Also, a pair of Russian portrait oklad icons found a new owner for $5,428; a Japanese Okimono of a performer with monkeys hammered for $3,304; two pottery pieces by George Ohr rose to $3,422; and a large and beautiful Victorian watch chain with slide went for $2,478. Prices include an 18-percent buyer's premium.
---
Shenandoah Valley valentine, $22,230, Jeffrey S. Evans & Assoc.
A Shenandoah Valley (Virginia) cut-work/scherenschnitte valentine, dated 1856, sold for $22,230 at an Americana & Fine Antiques Auction held Nov. 12 by Jeffrey S. Evans & Associates in Mt. Crawford, Va. Also, a Shenandoah Valley embroidered show towel, dated 1854, commanded $12,870; a wineglass cooler from the Andrew Jackson-Franklin Pierce pattern White House service, knocked down for $14,040; and an 18th century American pipe tomahawk hit $9,360. Prices include a 17 percent buyer's premium.
---