Gavels and Paddles
Recent Antique & Collectibles Auction Results From Around the World
by Ken Hall
Updated April 2017

Picasso two-handled vase, $37,200, Weiss Auctions
A white earthenware two-handled vase by Pablo Picasso, executed in 1952 as one in an edition of 400, sold for $37,200 at an auction held Jan. 29 by Weiss Auctions in Lynbrook, N.Y. Also, a lithograph from 1916 by George Bellows, titled Splinter Beach, signed and numbered (9/70) realized $11,100; a Martin Brothers salt-glazed tobacco jar, a dog model dated 1895, went for $18,080; and a KPM plaque, circa 1880, with artwork after a painting by Peter Paul Reubens, made $8,050. Prices include the buyer's premium.
---
R. J. Horner hall bench, $28,320, Ahlers& Ogletree
A monumental R. J. Horner figural hall bench (or settle) sold for $28,320 at a Signature Estates Auction held Jan. 14-16 by Ahlers& Ogletree in Atlanta, Ga. Also, a GIA-certified 6.77-carat Champagne diamond ring slipped onto a new finger for $31,000; a French carved oak barley twist tray on stand climbed to $2,596; a 126-piece Christolfe "Perles" flatware service for 12 brought $9,920; and a ladies' Rolex Oyster Perpetual Datejust wristwatch with diamonds made $8,260. Prices include the buyer's premium.
---
1909 Russo-Chinese banknote, $17,400, Archives International
A 1909 Russo-Chinese banknote for 3 KupingTaels sold for $17,400 at an auction held Feb. 7-8 by Archives International Auctions in Fort Lee, N.J. Also, an 1855 issue Chinese Ch'ing Dynasty Year 5 banknote fetched $4,800; three1907-1908 Sin Chun Bank of China private notes brought $15,000; a 1913-1917 Russo-Asiatic Bank "Kuld'sha, Chuguchak & Kashgar" rarity made $12,000; and a 1920 All Russian Central Union of Consumer Societies specimen note rose to $8,100. Prices include the buyer's premium.
---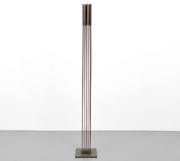 Harry Bertoia sculpture, $58,420, Palm Beach Modern
A sculpture by Harry Bertoia (Am., 1915-1978), titled Somnambient and made from beryllium, copper and brass, 55 inches tall, sold for $58,420 at an auction held Feb. 4-5 by Palm Beach Modern Auctions in West Palm Beach, Fla. Also, a signed Keith Haring (Am., 1958-1990) artist's proof titled Three Lithographs: One Plate went for $50,800; and a bronze sculpture by Angel Botello (Puerto Rican, 1914-1986), titled Girl Dancing (circa 1965), changed hands for $35,560. Prices include a 27 percent buyer's premium.
---
Mickey Mantle rookie card, $134,750, Goldin Auctions
Mickey Mantle's 1952 Topps #311 rookie card, graded SGC 86 NM+ 7.5, sold for $134,750 at a Winter Auction that closed the weekend of Jan. 28-29 at Goldin Auctions, based in Runnemede, N.J. Also, a 1997-98 Michael Jordan game-used Chicago Bulls road uniform went for $73,200; a 1984-87 Walter Payton game-used Chicago Bears road uniform made $50,400; and a Hillerich & Bradsby bat used by Ty Cobb during the final eight years of his baseball career hit $47,775. Prices include a 21 percent buyer's premium.
---
Henry lever action rifle, $23,000, Rock Island

An engraved New Haven Arms Company Henry lever action rifle sold for $23,000 at a Regional Firearms Auction held Feb. 16-19 by Rock Island Auction Company in Rock Island, Ill. Also, a Gustloff-Werke "bcd/4" code model 98 bolt-action sniper rifle in 'long rail' configuration rang out at $13,800; an AMC Auto Mag semi-automatic pistol hit the mark for $8,050; and a scarce Colt model 1855 artillery-style revolving percussion carbine went to a determined bidder for $10,350. Prices include the buyer's premium.
---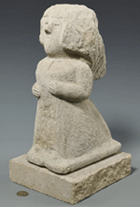 William Edmondson sculpture, $129,800, Case Antiques Auctions
A carved limestone sculpture of a nurse by William Edmondson (Am., 1874-1951), titled Nursing Supervisor, sold for $129,800 at an auction held Jan. 21 by Case Antiques Auctions & Appraisals in Knoxville, Tenn. Also, a Virginia Federal Pembroke table with unusual "guttae" feet rose to $27,140; a 1980s acrylic on canvas by Carroll Cloar (Am., 1913-1993), titled The Watering Detail, brought $22,420; and an abstract oil by Louis Le Brocquy (Irish, 1916-2012), hit $16,520. Prices include the buyer's premium.
---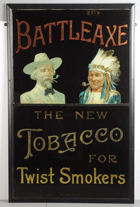 Battle Axe Cigar glass sign, $73,800, Morphy Auctions
A Battle Axe Cigar reverse glass advertising sign sold for $73,800 at a Gold Rush & Native American Sale held Jan. 19 by Morphy Auctions in Denver, Pa. Also, a pocket watch with accessories in gold quartz gaveled for $45,510; a Philadelphia Bowie knife by Shively finished at $43,050; a California's Golden Jubilee advertisement brought $41,820; a silver mounted Bowie knife by Samuel Bell changed hands for $39,975; and an early Howard & Davis gold scale went for $36,900. Prices include a 23 percent buyer's premium.
---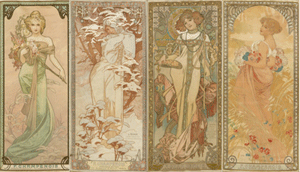 Alphonse Mucha panels, $35,000, Swann Auction
A set of four decorative panels on silk by Alphonse Mucha, titled The Seasons (1900), sold for $35,000 at a sale of the Harry C. Meyerhoff Collection held Jan. 26 by Swann Auction Galleries in New York City. Also, a complete set of five volumes published in Paris, 1896-1900, titled Les Maitres de l'Affiche, gaveled for $47,500; Confetti by Henri de Toulouse-Lautrec (1894) climbed to $35,000; and Adolfo Hohenstein's Elixir de "Kempenaar" (circa 1900) went for $18,750. Prices include the buyer's premium.
---
Bulgari 18kt and diamond choker, $8,740, Direct Auction Galleries
An exquisite Marina B. (Bulgari) 18kt and diamond choker sold for $8,740 at an auction held Jan. 10 by Direct Auction Galleries in Chicago, Ill. Also, a Seaman Schepps18kt and pearl seahorse pin breezed to $4,025; seven pieces of Chinese carved jade, some of it white, sold as one lot for $1,840; a large abstract painting signed by the Mexican muralist Rufino Tamayo (1899-1991) brought $2,300; and a lithograph by Keith Haring from 1989, signed and numbered, rose to $2,185. Prices include a 15 percent buyer's premium.
---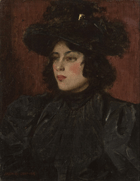 Joseph DeCamp portrait, $12,200, John Moran
A portrait painting by Boston artist Joseph DeCamp (1858-1923) titled Lady in a Black Hat made $12,200 at a Studio Art Auction held Jan. 24 by John Moran Auctioneers in Monrovia, Calif. Also, a work by Pablo Picasso (Sp., 1881-1973), titled Viva la Paix, made $10,980; a San Jacinto desert landscape by Santa Barbara painter Peter Ellenshaw went for $4,270; Mt. Eccles,Cordova, Alaska by Jules B. Dahlager (Am., 1884-1952) hit $3,050; and Study by Elmer Greene fetched $4,880. Prices include a 20 percent buyer's premium.
---
Paul Flato pendant necklace, $72,600, Kodner Galleries
A circa 1960s Paul Flato 104.5-carat emerald, sapphire, ruby, diamond, pearl and 18kt yellow gold pendant necklace sold for $72,600 at an auction held Dec. 14 by Kodner Galleries in Dania Beach, Fla. Also, a 100-carat diamond and platinum necklace, bracelet and earring set rose to $108,900; a 35-carat diamond, 22-carat Burma ruby, platinum and 18kt yellow gold bracelet fetched $41,140; and a Patek Philippe power reserve Moonphase 5085/1A stainless steel watch hit $16,940. Prices include the buyer's premium.
---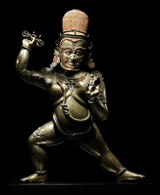 13th c. Tibetan sculpture, $6.35 million, Bonhams
A monumental 13th century brass alloy Tibetan figure of Canada Vajrapani sold for $6.35 million at an Images of Devotion Auction held Nov. 29 by Bonhams in Hong Kong, China. Also, a copper composite figure of Vajrapani and Kubera by the Tenth Karmapa Choying Dorje (1604-1674) soared to $1.94 million; a large gilt copper figure of Avalokiteshvara (Nepal, 10th century) realized $2.02 million; and a gilt copper alloy shrine to Vajrabhairava (Tibet, 18th century) sold for $520,000. Prices include the buyer's premium.
---
English shooting trophy, $21,800, Fairfield Auction
An English parcel-gilt sterling shooting trophy sold for $21,800 in an online auction held Nov. 11-16 by Fairfield Auction in Monroe, Conn. Also, a pastel on silk landscape painting by Elizabeth O'Neill Verner, measuring 14 inches by 18 inches, changed hands for $10,200; a Sioux beaded and quilled pipe bag coasted to $3,600; a Connecticut bonnet top highboy with carved fan and pinwheel earned $3,840; and a Rolex Submariner men's watch slipped onto a new wrist for $10,200. Prices include the buyer's premium.
---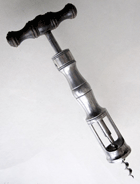 Langenhan spring corkscrew, $25,500, CollectorCorkscrews.com
A well-marked and Langenhan spring corkscrew, made in 1878 by Valentin Langenan (a Thurungian manufacturer), in near-mint condition, sold for $25,500 in an online-only auction held Nov. 4-20 by CollectorCorkscrews.com. Also, a tri-color half-stocking German figural "ladies legs" corkscrew made $4,790; a figural shape corkscrew advertising Old Crow Kentucky whiskey brought $1,650; and a decorative French tool with multiple knives and a corkscrew rose to $1,600. Prices are hammer, exclusive of a buyer's premium.
---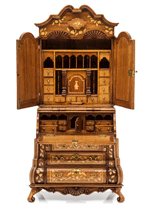 Dutch secretary bookcase, $2,750, Leslie Hindman
A Dutch-style marquetry secretary bookcase sold for $2,750 at an auction held Nov. 14 by Leslie Hindman Auctioneers in Chicago, Ill. Also, an American diorama finished at $3,750; a group of four Arts & Crafts-style furniture pieces gaveled for $6,875; four Persian-style silk and wool blend needlepoint rugs changed hands for $1,625; a William & Mary-style burlwood lowboy by John J. Hodgson hammered for $1,625; and an American room box knocked down for $2,500. Prices are inclusive of the buyer's premium.
---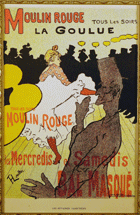 Toulouse-Lautrec lithograph, $300,000, Poster Auctions Int'l
The first lithograph from Henri de Toulouse-Lautrec, titled Moulin Rouge / La Goulue (1891), sold for $300,000 at an auction held Oct. 30 by Poster Auctions International in New York City. Also, Theophile-Alexandre Steinlen's billboard for his printer Verneau, titled La Rue (1896), brought $102,000; Mucha's Four Arts went to a determined bidder for $48,000; Cheret's Loie Fuller finished at $8,400; and Charles Loupot's Philipposian & Co. (1920) changed hands for $16,800. Prices include the buyer's premium.
---
1785 Immune Columbia coin, $129,250, Heritage Auctions
A silver 1785 Immune Columbia US coin with a Nova Constellatio reverse, made prior to the beginning of the US Mint and graded AU53 by NGC, sold for $129,250 at an auction of US coins held Feb. 16-19 in Long Beach, Calif., by Heritage Auctions, based in Dallas, Tex. Also, a 1652 Pine Tree shilling, graded MS65 by NGC, coasted to $111,625; a 1785 InimicaTyrannis Americana piece realized $105,750; and a New Jersey Copper, Running Fox before legend went for $99,875. Prices include a 17.5 percent buyer's premium.
---
John Dilley yellowlegs decoy, $40,250, Guyette & Deeter, Inc.
The only known turned head yellowlegs decoy by John Dilley sold for $40,250 at a Sporting Art Auction held Feb. 18 by Guyette & Deeter, Inc. (based in St. Michaels, Md.) in Charleston, S.C., in partnership with the Southern Wildlife Exposition. Also, a rare pre-brand widgeon, made in the 1890s by the renowned Massachusetts carver Elmer Crowell, changed hands for $37,375; and a pinched breasted pintail drake by the equally noted Ward Brothers hit $20,125. Prices include a 15 percent buyer's premium.
---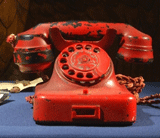 Adolf Hitler's red telephone, $243,000, Alexander Historical
Adolf Hitler's red-painted telephone sold to a phone bidder, appropriately, for $243,000 at an auction held Feb. 18-19 by Alexander Historical Auctions in Chesapeake City, Md. The phone, a customized Siemens model, was inscribed with the Nazi leader's name and a swastika symbol. It was retrieved from Hitler's bunker in Berlin by Russian officers. Also, a porcelain Alsatian dog statue, made by slave laborers at Dachau concentration camp and likely presented to Hitler, made $24,300. Prices include the buyer's premium.
---
Patek Philippe watch, $227,000, Antiquorum
A Patek Philippe Ref. 5971 perpetual calendar man's wristwatch with baguette diamond bezel sold for $227,000 at a sale of Important Watches & Jewelry held Feb. 23 by Antiquorum in New York City. Also, a Franck Muller Calibre 97 minute repeater perpetual calendar watch in platinum and diamonds made $221,000; and a Chopard Ref. 4250 Imperiale Tourbillon baguette diamonds watch with matching ring, cufflinks and ballpoint pen went to a determined bidder for $197,000. Prices include the buyer's premium.
---