Gavels and Paddles
Recent Antique & Collectibles Auction Results From Around the World
by Ken Hall
Updated March 2017

Automaton musical clock, $998,250, Fontaine's Auction
A very rare 18th century English-made pagoda form automaton musical clock, produced for the Chinese Qing Imperial Court, sold for $998,250 at an Antique & Fine Arts Auction held Jan. 21by Fontaine's Auction Gallery in Pittsfield, Mass. Also, a Joseph Jennens oak Horner 9-tube grandfather clock chimed on time for $25,410; an E. Howard (Boston, Mass.) floor standing regulator clock realized $24,200; and a French industrial animated steam pump clock finished at $20,570. Prices include a 21 percent buyer's premium.
---
Chippendale tea table, $912,500, Sotheby's
A Chippendale carved and figured mahogany scalloped-top tea table with open ball and talons sold for $912,500 at Americana Week, a series of auctions held Jan. 18-21 by Sotheby's in New York. Also, a Queen Anne carved and figured mahogany block-and-shell kneehole bureau table topped out at $672,500; and a previously unrecorded autograph draft of Pacificus Essay No. VI by the founding father Alexander Hamilton, the subject of the successful Broadway musical, made $262,500. Prices include a 20 percent buyer's premium.
---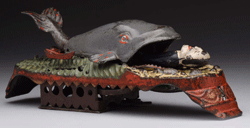 "Jonah the Whale" bank, $119,925, Morphy Auctions
A "Jonah the Whale" cast iron mechanical bank by J. & E. Stevens sold for $119,925 at a Mechanical & Still Bank Sale held Jan. 14 by Morphy Auctions in Denver, Pa. Also, an unmarked cast iron "Seek Him Frisk" mechanical bank featuring a playful cat and dog gaveled for $48,000; a Charles A. Bailey "Wishbone" mechanical bank earned $39,000; and a "Little Red Riding Hood" mechanical bank by W. S. Reed huffed and puffed and finally knocked down for $33,210. Prices include a 23 percent buyer's premium.
---
Three-stone diamond ring, $37,200, Nadeau's Auction
A platinum three-stone diamond ring set with three emerald-cut diamonds, each one 1.8-1.9 carats, sold for $37,200 at a New Year's Day Auction held Jan. 1 by Nadeau's Auction Gallery in Windsor, Conn. Also, a Patek Philippe minute repeater chronometer in an 18kt closed face case changed hands for $32,500; an oil portrait painting by Thomas Prichard Rossiter (Am., 1818-1871) brought $20,400; and a yellow 1966 Thunderbird with 51,659 original miles sped off for $15,600. Prices include a 20 percent buyer's premium.
---
1837 U.S. Treasury banknote, $28,800, Archives International
An 1837 interest-bearing $100 U.S. Treasury proof banknote sold for $28,800 at a two-session auction held Dec. 6 and 13 by Archives International Auctions in Fort Lee, N.J. Also, a U.S. Department of the Interior 1894 Federal related Cherokee Nation Bond, for the purchase of the Cherokee Outlet in Oklahoma Territory hit $1,620; a Central Bank of China, 1949 Gold Yuan issue essay specimen pair hit $1,440; and a 1925 Ningpo Commercial Bank, Shanghai issue rose to $2,400.Prices include a 20 percent buyer's premium.
---
1959 Chevrolet Corvette, $78,775, Stevens Auction
A red 1959 Chevrolet Corvette sports car with the original 283 c.i. engine and four-speed transmission, in like-new condition, roared away for $78,775 at an auction held Jan. 7 by Stevens Auction Company in Aberdeen, Miss. Also, a circa-1860 pair of period rococo gold mirrors with cupids, 7 feet 4 inches tall, brought $23,000; a two-piece rosewood Victorian bedroom suite attributed to Pottier & Stymus fetched $19,550; and a 10-saw cotton gin made circa 1905 went for $17,250. Prices include a 15 percent buyer's premium.
---
Mardi Gras Rex ducal badges, $9,963, Crescent City Auction
A group of four Mardi Gras Rex ducal badges (from 1888, 1894, 1907 and 1912) sold for $9,963 at an estates auction held Jan. 14-15 by Crescent City Auction Gallery in New Orleans, La. Also, a ladies' 14kt white gold dinner ring with a round 2.12-carat diamond went for $9,840; a French carved walnut bookcase, circa 1900, brought $3,444; and a Confederate Naval cutlass attributed to Thomas Griswold (New Orleans, circa 1861), with embossed eagle pommel, fetched $2,214. Prices are inclusive of the buyer's premium.
---
Apulian red-figure amphora, $43,020, Artemis Gallery
An oversize Apulian (Magna Gaecia, southern Italy) red-figure amphora, 39 inches tall, sold for $43,020 at an auction of antiquities, Asian and ethnographic art held Jan. 18-19 by Artemis Gallery in Boulder, Colo. Also, a Romano-Egyptian plaster mummy bust of a young man, circa 1st century BCE to 1st century CE, 15.75 inches tall, fetched $13,145; and a Chavin (northern coastal Peru) artwork replicating a jaguar's paw, circa 1400-400 BCE, also hammered for $13,145. Prices are inclusive of the buyer's premium.
---
Set of English delftware plates, $24,000, Cowan's Auctions
A set of six English delftware Merryman plates sold for $24,000 at an Americana Auction held Dec. 10 by Cowan's Auctions in Cincinnati, Oh. Also, an Adirondack fall landscape scene by the Scottish-American artist James McDougal Hart (1828-1901) realized $19,200; a hunting scene by Arthur Fitzwilliam Tate (Am., 1819-1905) titled, Setters and Quail, fetched $22,800; a cigar store Indian figure went for $16,800; and a New England Federal sewing table brought $10,800. Prices are inclusive of the buyer's premium.

---
Diamond pendant necklace, $14,000, Cordier Auctions
A 10.6-carat total weight white and cognac diamond pendant necklace sold for $14,000 at a Fine Jewelry & Sterling Auction held Dec. 3 by Cordier Auctions & Appraisals in Harrisburg, Pa. Also, a 14kt 2.27-carat diamond ring went for $7,000; a14kt Dudley Masonic pocket watch finished at $4,600; a 14kt white gold and 3.48 carat total weight diamond bracelet made $4,000; and a 64-piece set of Stieff Rose repousse flatware was tops in the silver category by gaveling for $1,300. Prices are hammer, exclusive of the buyer's premium.
---
Fine Asian jade table screen, $100,300, Michaan's Auctions
A fine Asian jade table screen crafted from a thick plaque of semi-translucent pale celadon jade and carved in high relief on both sides with landscape scenes sold for $100,300 at a Fine Asian Art Auction held Dec. 18 by Michaan's Auctions in Alameda, Calif. Also, a richly colored tall Chinese cloisonné enamel vase, covered in stylized motifs and with a neck encircled by figures of smiling boys also fetched $100,300; and a large huanghuali altar coffer hammered for $50,150. Prices include a 17 percent buyer's premium.
---
Edward Seago painting, $106,250, Freeman's
A painting by British artist Edward Seago (1910-1974) titled, The John Biscoe in Pack Ice, sold for $106,250 at a sale of The Forbes Collections (Dec. 14) and The Brewster Collection (Dec. 15) at Freeman's in Philadelphia. Also, a painting by the French painter Jules Achille Noel (1815-1881) titled, Plage du Treport, rose to $106,250; 19 lots of silver and silver-gilt by Stuart Devlin went for a combined $111,903; and a painting by Eugene Louis Boudin (Fr., 1824-1898) made $87,500. Prices include a 25 percent buyer's premium.
---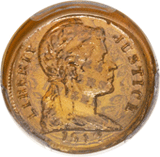 Experimental '42 glass cent, $70,500, Heritage Auctions
The only known surviving intact experimental all-glass cent coin, manufactured in 1942 as an alternative to copper, which was urgently needed during World War II, sold for $70,500 at an auction held Jan. 6 in Fort Lauderdale, Fla., by Heritage Auctions (based in Dallas, Tex.), as part of the annual Florida United Numismatists (FUN) convention. Made of tempered, yellow-amber transparent glass by the Blue Ridge Glass Company (Kingsport, Tenn.), the coin is one of only two known. The other one is broken in half.
---
1598 map, Southeast Asia, $31,200, Swann Auction
A double-page map of Southeast Asia by Petrus Plancius titled, The Spice Map (London, 1598), sold for $31,200 at a Maps & Atlases Auction held Dec. 8 by Swann Auction Galleries in New York City. Also, a map by Robert Laurie and James Whittle titled, The Complete East-India Pilot, or Oriental Navigator (London, 1797), gaveled for $81,250; and a first state engraved chart by Joseph Frederick Wallet Des Barres titled, The Coast of New England, (London, 1776), made $25,000. Prices include a 25 percent buyer's premium.
---
1966 Jaguar XKE coupe, $60,500, Hess Auction

A 1966 Jaguar XKE Series I two-door coupe with a 4.2-liter, 265 hp, dual overhead cam, inline 6-cylinder engine roared away for $60,500 at an Antiques & Americana Auction held Dec. 3 by Hess Auction Group in Mannheim, Pa. Also, an oil portrait of George Washington by Jacob Eichholtz, after Gilbert Stuart, commanded $37,760; a Lancaster (Pa.) Chippendale walnut architectural schrank realized $15,730; and a marine watercolor of yachts by Montague Dawson made $9,440. Prices include the buyer's premium.
---
James Buttersworth painting, $348,500, Doyle New York
A marine rendering by James Buttersworth (1817-1894) titled, Yacht Racing Off Sandy Hook, sold for $348,500 at a sale of the Nelson Doubleday, Jr. Collection held Jan. 11 by Doyle New York in New York City. Also, a pair of circa 1775 George II giltwood pier mirrors earned $75,000. Prices include the buyer's premium.
---
Tripod censer painting, $20,000, Clars Auction
A Chinese painting of a tripod censer sold for $20,000 at an auction held Jan. 14-15 by Clars Auction Gallery in Oakland, Calif. Also, a woodcut print in colors by Chiura Obata (Am./Jap., 1885-1975) titled, Before the Rain: Mono Lake, High Sierra, realized $10,890, a new auction record for the artist; an orotone by Edward Sherriff Curtis (Am., 1868-1952) titled, Out of the Darkness, finished at $10,710; and a collection of 37 works by Czech artist Jan Saudek (b. 1935) made $32,700. Prices include a 19 percent buyer's premium.
---
Large famille rose dish, $118,750, Christie's
A very large Chinese famille rose dish from the Yongzheng Period (1723-1735) sold for $118,750 at a sale of Chinese Export Art held during Americana Week, Jan. 18-20, by Christie's in New York City. Also that week, a painting by Richard Clague (1821-1873) titled, North Shore of Lake Pontchar train at Mandeville, went for $1.6 million (a new auction record of the artist); and an early 20th century 14kt gold flatware service with the mark of Reed & Barton (Taunton, Mass.) hit $189,900. Prices include the buyer's premium.
---
Chinese "Lime Green" vase, $87,500, Kaminski Auctions
A Chinese "Lime Green" vase of globular form, just 8.25 inches tall and on its original 18th century wood stand, sold for $87,500 at an auction held Jan. 15 by Kaminski Auctions in Beverly, Mass. Also, a Chinese Sang-de-Boeuf "Yuhuchun" vase with a pear-shaped form and covered in a deep red glaze with the Qianlong mark on the vase's base climbed to $18,750; and a mobile by the Argentinian artist Julio Le Parc titled, Continental Lumiere No. 23 1968, gaveled for $13,750. Prices are inclusive of the buyer's premium.
---
Important Paul Evans cabinet, $382,000, Rago Arts & Auction
An important cabinet by Paul Evans sold for $382,000 at a Design Auction held Jan. 21-22 by Rago Arts & Auction Center in Lambertville, N.J. It was a new auction record for the Delaware Valley Modernist. Also, a ribbon-handled vase by George Ohr went for $87,500; a sculptural metal wall-hanging cabinet by Paul Evans brought $112,500; a Murrine a Dama vase by Paolo Venini achieved $46,875; and a large Sonambient sculpture by Harry Bertoia finished at $56,250. Prices are inclusive of the buyer's premium.
---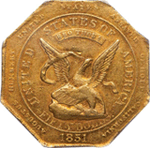 1851 Humbert $50 gold coin, $61,687, Legend Rare Coin
An 1851 U.S. $50 gold coin, issued by Augustus Humbert as California Assayer of Gold, graded PCGS AU50, sold for $61,687 at Regency Auction XX held Jan. 26 by Legend Rare Coin Auction in Lincroft, N.J. Also, an 1864 U.S. $1 coin, graded PCGS PR66, finished at $47,000; an 1881-S U.S. $1 "Freckles" coin, graded PCGS MS66, brought $23,500, a new world auction record; and an 1885-O U.S. $1 "Screaming Wow" coin, graded PCGS MS66+, hit $19,387, also a record. Prices include a 17.5 percent buyer's premium.
---