Pearl Buck
Answer to Name This Famous Person Game - September 2012
by Mike McLeod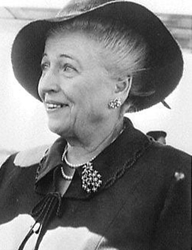 The author Pearl Buck was identified by Mary Paquette, Ted Carlton and Sherron Lawson who wrote: "Pearl S. Buck…visited and spoke at my high school in 1961. I was a senior at Seoul American High School in Seoul, South Korea. I think she wore the same hat!"
Pearl Buck is the author of The Good Earth, a novel set in China after WWI and before WWII about the fictional character of Wang Lung. From the Pearl S. Buck International website (www.psbi.org), The Good Earth:
•Was published on March 2, 1931.
•Was the bestselling book of both 1931 and 1932.
•Sold nearly two million copies its first year in publication.
•Earned well over $100,000 (about $1.5 million today) in the first 18 months of publication.
•Won the Pulitzer Prize in 1932.
•Was part of Pearl Buck's collective works which won The Nobel Prize for Literature in 1938. (She was the first American woman to win the Nobel Prize and the first to win both the Nobel and the Pulitzer. She held that distinction until 1993.)
•Buck wrote it in the 12-foot square attic of her Nanjing home.
•She wrote the book in three months. She typed two copies; the second is unaccounted for.
A prolific writer with more than 50 fiction and nonfiction books, hundreds of juvenile books and articles, and 30 plays (that she authored or collaborated on) to her credit, Pearl Comfort Sydenstricker was born on June 26, 1892, in Hillsboro, Va. Her parents, Absalom Sydenstricker and Caroline Stulting, were Presbyterian missionaries in China, and Pearl grew up there among the people, learning the culture and speaking Chinese. She had six siblings, most of whom died early from different diseases. Home schooled by her parents and a Confucian scholar, Pearl read the family's collection of Charles Dickens' books every year, starting with Oliver Twist at the age of seven.
In 1910, she returned to America to attend the Randolph-Macon Woman's College in Lynchburg, Va. After graduating with a degree in philosophy and after teaching psychology there for one semester, Pearl returned to China to care for her mother who was ill.
In 1917, she married John Lossing Buck, an agricultural missionary working in China. It was not a happy marriage. They took up housekeeping in a small village and eventually ended up teaching at the University of Nanjing (which was established in 258 A.D.). Pearl taught English literature there.
Pearl Buck and her family were living in China during the Boxer Rebellion (1900-1901) and the Nanking Incident (March 1927) in which foreigners were targeted by Chinese soldiers for their power and influence in China. Both situations required gunboats to quell the fighting and evacuate the foreign nationals. Among them were Pearl Buck and her family who feared for their lives and were rescued.
She later wrote in My Several Worlds: A Personal Record (1954, p. 208) about the Nanking Incident: "We had not, I think, ever committed even a mild unkindness against a Chinese, and certainly we had devoted ourselves to justice for them, we had taken sides against our own race again and again for their sakes, sensitive always to injustices which others had committed and were still committing. But nothing mattered today, neither the kindness nor the cruelty. We were in hiding for our lives because we were white." 1
Yet, even this dire situation did not dampen her spirit. "There is something to be said for losing one's possessions, after nothing can be done about it. I had loved my Nanking home and the little treasures it had contained, the lovely garden I had made, my life with friends and students. Well, that was over. I had nothing at all now except the old clothes I stood in. I should have felt sad, and I was quite shocked to realize that I did not feel sad at all. On the contrary, I had a lively sense of adventure merely at being alive and free, even of possessions. No one expected anything of me. I had no obligations, no duties, no tasks. I was nothing but a refugee, someone totally different from the busy young woman I had been. I did not even care that the manuscript of my novel was lost. Since everything else was gone, why not that? (P. 218) 2
In 1920 while in China, Pearl and John had a daughter Carol Grace who was afflicted with phenylketonuria (PKA), which causes mental retardation. Pearl's concern about her daughter's care motivated her to begin writing. Her first book, East Wind West Wind, was rejected by all publishers except Richard Walsh, President of the John Day Company. Pearl Buck followed it with The Good Earth. Its success launched the House of Earth trilogy with Sons (1932) and A House Divided (1935).
In 1935, Pearl and John divorced, and later that year, she and Richard Walsh married. Because of her great concern and care for children in need, during her two marriages, Pearl and her husbands adopted seven children and fostered ten.
In 1949, Pearl established Welcome House Adoption Program, an adoption agency for bi-racial and Asian children. At the time, bi-racial children were considered unadoptable, but her attitude was, "Parenthood has nothing to do with color, race or religion. It has to do with far deeper likeness of mind and heart and soul."
Today, Welcome House has found homes for nearly 7,000 children from 18 countries. Those interested can learn how to adopt or sponsor a child on the Pearl S. Buck Foundation website, www.psbi.org.
Pearl Buck's books about China helped the world to better understand the Chinese people. Yet, Zhou Enlai, the first Premier of the People's Republic of China, denied her a visa to visit China with the Nixon delegation in 1972 because she had openly criticized Mao Zedong and communism. Not being allowed to the country that was dear to her heart was a great disappointment to her. The next year on March 6th, she passed away from lung cancer. She is buried in Bucks County, Penn.
The Pearl S. Buck International website has an "Artifact of the Month" page (www.psbi.org/page.aspx?pid=435) which regularly features items from her collection acquired over the years. There, you can see: her Ediphone (an early dictation recording machine by Thomas Edison); rice china porcelain plates (which are embedded with rice that burn off in the firing process, the plates end up with translucent rice designs around the borders); a Zitan chair; American maple ladder back open chairs; a lacquered wood Japanese Shibayame screen from the Late Mejii Period; a soapstone carving; sculptures by Pearl Buck of some of her children (she was also a talent sculptor); a Currier & Ives print; a Chinese bride's box measuring 10.8 x 7.75 x 6 inches (once married, a woman lived with her husband's family and stored memories of her family in a box like this); a scholar's ink stone (used for calligraphy); a Jifu (dragon robe); her 1938 Nobel Prize Medal for Literature; golden lotus slippers for women with bound feet; and more items.
Pearl Buck stridently opposed prejudice wherever she found it, and she championed the Civil Rights Movement and equal rights women and all people as the means for harmony and peace between all nations
To learn more about her, read Pearl Buck In China by Hilary Spurling.
---------------------------------------
1 http://en.wikiquote.org/wiki/Pearl_S._Buck
2 Ibid.
Learn about more Famous People
---