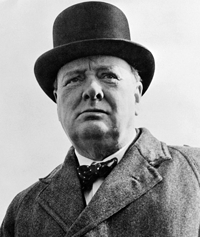 Sir Winston Leonard Spencer-Churchill was born on Nov. 30, 1874 in Blenheim Palace in Oxsfordshire, England. Some interesting facts about him are:
*His mother Jennie Jerome was an American, a wealthy New York socialite.
*He won the Nobel Prize for Literature for his book, The Second World War, and other books he had written. A noted author of many historical books and one novel, Churchill also wrote World in Conflict about World War I, History of English-speaking Peoples, and books about his ancestors, including the Duke of Marlborough.
*He was related to Diana (Spencer), Princess of Wales, through the Duke of Marlborough.
*In addition to his military career, he also worked as a reporter for newspapers and magazines, usually as a war correspondent.
*He was an accomplished painter of landscapes, portraits and flowers; many of his about 500 works are held by the UK's National Trust.
*He bred butterflies.1
*His wife Clementine Hozier and he were the parents of four daughters and a son.
*He was instrumental in the development and use of airplanes and tanks in World War I.
*After World War II and his great leadership in defeating the Nazis, he and his party were voted out of office. It is said that he was thought to be a leader for war rather than for peace. However, he did serve as Prime Minister again from 1951 to 1955.
Winston Churchill is without question regarded as one of the greatest Britons ever born—if not the greatest. His inspiring speeches and never-quit attitude is credited with stiffening spines and upper lips and ensuring the British success in the Battle of Britain. Until America entered the war, Britain fought alone against the Nazi's blitzkrieg war machine after it captured virtually all of Western Europe.
"We shall fight on the beaches, we shall fight on the landing grounds, we shall fight in the fields and in the streets, we shall fight in the hills, we shall never surrender." –June 4, 1940
While said to suffer from depression at times, he also had a great sense of humor.
Nancy Astor: "If I were married to you, I'd put poison in your coffee."
Churchill: "If I were married to you, I'd drink it." (Viscountess Nancy Astor was the first female Member of Parliament and the wife of Waldorf Astor, grandson of John Jacob Astor III. She served when Churchill was Prime Minister.)
"Dogs look up to you, cats look down on you. Give me a pig! He looks you in the eye and treats you as an equal."
"There are a terrible lot of lies going about the world, and the worst of it is that half of them are true."
Photographer: "I hope, sir, that I will shoot your picture on your hundredth birthday."
Churchill: "I don't see why not, young man. You look reasonably fit and healthy."
"I am a man of simple tastes—I am quite easily satisfied with the best of everything."
My words cannot do justice in describing the integrity, wit, strength and heroism of Winston Churchill, but his words can:
"An appeaser is one who feeds a crocodile, hoping it will eat him last."
"Those who serve supreme causes must not consider what they can get but what they can give."
"Never in the field of human conflict was so much owed by so many to so few."
"Happy are the painters for they shall not be lonely. Light and colour, peace and hope, will keep them company to the end, or almost to the end, of the day."
"A lie will gallop halfway round the world before the truth has time to pull its breeches on."
"Can a people tax themselves into prosperity? Can a man stand in a bucket and lift himself up by the handle?"
"A pessimist sees the difficulty in every opportunity; an optimist sees the opportunity in every difficulty."
"There is no doubt that it is around the family and the home that all the greatest virtues, the most dominating virtues of human society, are created, strengthened and maintained."
Winston Churchill died on Jan. 24, 1965 after a series of strokes. He was buried near his place of birth. Representatives from more than 100 countries and Queen Elizabeth II herself and the Queen Mother attended the state funeral that was watched on television by hundreds of millions of people.2
"You make a living by what you get; you make a life by what you give."
Where are the Winston Churchills of today?
* * *
Ted Carlton of Utah, Julie Kimbrel of The Old School Antique Mall in Sylva, N.C., Dr. Scott and Carolyn Brown of Montgomery, Ala., Perry Burrows of Blue Goose Collectibles, Gus Mallol, Jr. of Bradenton, Fla., Doug Tyler of Marietta, Ga., Sherron Lawson of Roswell, Ga., correctly identified Winston Churchill.
--------------------------------
1 Theguardian.com, "Winston Churchill's butterfly house brought back to life," by Martin Wainwright, Aug. 19, 2010.
2 BBC.co.uk, "The State Funeral of Sir Winston Churchill."
All quotes are from www.churchillcentral.com.
Learn about more Famous People
---