Jesse Owens
Answer to Name This Famous Person Game - August 2013
Photo, courtesy of the Alabama Sports Hall of Fame.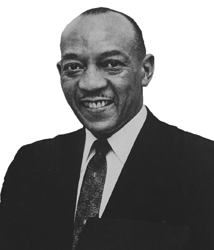 "Jesse" was not the birth name of James Cleveland Owens. The last of ten children born to Henry Cleveland Owens and Mary Emma Fitzgerald in Oakville, Ala., on Sept. 12, 1913, the family moved to Cleveland, Ohio, when J.C. (as he was called by the family) was nine. There, his teacher misunderstood his Alabama-accented pronunciation of "J.C." to be "Jesse." Rarely does one get an opportunity to rename a future legend, even if accidentally, but this teacher did (while her name seems to be unrecorded on the Internet). J.C. remains Jesse to this day, it being the name carved on his headstone.
He was correctly indentified by Scott and Carolyn Brown of Memories Flea An'Tique Mall in Prattville, Ala., Randy Chase of The Antique Chasers, David Parham and Ted Carlton of Utah.
Even though Jesse had poor health as a young child, in junior high school he excelled in gym class, and his gym teacher guided him to the track team. At East Technical High School, Jesse matched the world record for the 100 yard dash with a time of 9.4 seconds. This caught the attention of many colleges who made offers to him, but Jesse chose Ohio State, even though it had no scholarships for track. Jesse worked his way through college at various low-paying jobs and at the same time, supported his wife Ruth and his daughter Gloria. (They later had two other daughters, Marlene and Beverly.)
"One chance is all you need."
Of all the many awards and achievements Jesse Owens earned, two top the list. In May of 1935, Jesse Owens broke three world records and tied a fourth—all within 45 minutes—at a Big Ten track meet in Ann Arbor, Mich. He broke the world running long jump record with a leap of 26 ft. 8.25 inches (which stood until 1960), the 220-yard sprint with a time of 20.3 seconds, and the 220-yard low hurdles in 22.6 seconds. He tied the 100-yard dash record with a time of 9.4 seconds. All of this was accomplished while he was recovering from a back injury.
"A lifetime of training for just ten seconds."
His second greatest achievement was earning four gold medals (100 meters, 200 meters, long jump and 100-meter relay) in the 1936 Olympics in Berlin in front of Adolf Hitler. (This record was unequaled in track and field until 1980 when Carl Lewis also won four gold medals.) Hitler planned to use the Olympics to show the world the superiority of the Aryan race.
Much has been made of Hitler's refusal to shake Owens' hand after his victories, but upon his return, President Franklin Delano Roosevelt did not invite him to the White House.
Jesse later said of this, "Hitler didn't snub me—it was FDR who snubbed me. The president didn't even send me a telegram."
It has been said that FDR feared losing the Southern vote if he honored Jesse Owens.
Jesse did receive a tickertape parade in New York City after his triumphant return, and it is recorded that a man ran up to his car and threw a bag inside. At the end of the parade, Jesse opened the bag to find $10,000.
This was the only financial boon he received from his Olympic performance because afterwards, Jesse Owens was stripped of his amateur status. He had planned to make money to support his family by accepting offers to promote products and businesses, and upon learning of this, officials deemed him a professional. He could no longer compete in amateur events, which killed most of those financial offers. The 1936 Olympics were his last achievements in the sport of amateur track and field.
The following years were tough for his family and him. He ran races against horses and cars to entertain crowds and make money. With others, he started another Negro baseball league, but it quickly folded. He worked in a gas station, had a drycleaners and was with the Harlem Globetrotters for a while, but he ended up in bankruptcy in 1966.
"The battles that count aren't the ones for gold medals. The struggles within yourself—the invisible, inevitable battles inside all of us—that's where it's at."
Jesse Owens was not a quitter. He went on to find success in public speaking and marketing. He lectured throughout the country.
Jesse Owens was honored by President Dwight D. Eisenhower in 1955 who chose him as an Ambassador of Sports from the United States, and he traveled to countries throughout the world. He was finally invited to the White House by President Gerald Ford who awarded him the Medal of Freedom. President Jimmy Carter honored him with a Living Legend award in 1979, and in 1988, President George H.W. Bush presented his widow Ruth with a Congressional Gold Medal for his accomplishments in track and as a humanitarian. For much of his life, he reached out to underprivileged kids and motivated them to do their best.
"If you don't try to win, you might as well hold the Olympics in somebody's backyard."
Jesse Owens died of lung cancer on March 31, 1980. He was a pack-a-day smoker for more than half his life. He is buried in Chicago.
His legacy lives on in the Jesse Owens International Trophy, the highest award in track and field, which is given to the athlete who exemplifies the characteristics of its namesake. Past winners include: Edwin Moses, Carl Lewis, Mary Decker, Joan Benoit, Florence Griffith-Joyner, Gail Devers and Michael Johnson. Also, the Jesse Owens Foundation (www.jesse-owens.org) provides educational scholarships to underprivileged youths as an ongoing memorial to Jesse and Ruth Owens and to prove, as Jesse liked to say,
"There is no such thing as an average kid."
---------------------------
Jessie Owens' quotes are from Brainyquote.com.
Learn about more Famous People
---