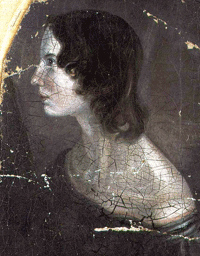 Emily Brontë's only novel, Wuthering Heights, is considered to be one of the greatest literary accomplishments by a British author. Yet, when it was published in 1847, it was not well received by the critics due to its dark theme of revenge for unrequited love and its challenges to Victorian morals.
Paterson's Magazine in 1848 reviewed the book saying: "We rise from the perusal of Wuthering Heights as if we had come fresh from a pest-house. Read Jane Eyre is our advice, but burn Wuthering Heights…." Graham's Lady's Magazine that same year didn't hold back: "How a human being could have attempted such a book as the present without committing suicide before he had finished a dozen chapters, is a mystery. It is a compound of vulgar depravity and unnatural horrors…."1
Emily Brontë did in fact die the year after her book was published—but not from suicide. She succumbed to tuberculosis, as did her four sisters: Charlotte, Anne, Maria and Elizabeth. The first two born, Maria and Elizabeth, contracted the airborne disease at a boarding school and probably brought it home with them. They died at about the ages of 10 and 12. Emily died of it at age 30, Charlotte and Anne at 39 and 29, respectively. Three months prior to Emily's passing, their only brother Branwell probably died of tuberculosis, too.
Emily, Charlotte and Anne were all authors, and all three sisters published their first novels at about the same time. Charlotte's first book, The Professor, was not accepted for publication, but Emily's Wuthering Heights and Anne's Agnes Grey (based on her experiences as a governess) were accepted, but only after making the rounds of several publishers. However, Charlotte quickly submitted a second novel, Jane Eyre, and it was an almost instant success.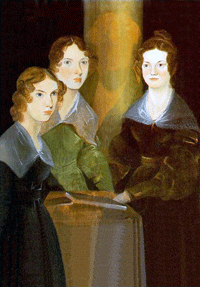 Due to the prejudice against women authors at the time, all three chose to publish under pseudonyms: Currer Bell (Charlotte), Ellis Bell (Emily), and Acton Bell (Anne). As you see, all three used the first letters of their real names in choosing a pen name. "Bell" was the middle name of Charlotte's future husband, Arthur Bell Nichols.
Looking back, it was a wise decision on Emily's part to publish as Ellis Bell—imagine if the reviewers and the general public knew that "depraved" Wuthering Heights was written by a woman!
Even if she had attached her real name to her book, it is highly doubtful that anyone would have believed that quiet, reserved, not-look-you-in-the eye Emily Brontë could be the source of such a powerful and shocking novel. A family friend, Ellen Nussey, described Emily at age 15 in her book Reminiscences of Charlotte Brontë: "Emily Brontë had by this time acquired a lithesome, graceful figure. Her hair, which was naturally as beautiful as Charlotte's, was in the same unbecoming tight curl and frizz…. She had very beautiful eyes—kind, kindling, liquid eyes; but she did not often look at you; she was too reserved. She talked very little." 2
Yet, Emily had a will of steel. While suffering from tuberculosis, she refused to see a doctor until on her deathbed. She most likely saw the same symptoms in her sisters who died from it and possibly knew nothing could be done. (Drugs for treating tuberculosis were not available until after World War II.) Charlotte said Emily was, "Stronger than a man, simpler than a child, her nature stood alone."3
Emily's father Patrick Brontë was a clergyman. Her mother Maria died of cancer when Emily was three. At that time, an aunt came to live with the family and care for them. Growing up, the Brontë girls spent much of their childhood making up stories in fantasy worlds they created with their brother. No wonder that all three—and also their father—were authors.
Emily Brontë was born on July 30, 1818 in Thornton, Yorkshire, England, and she died in Yorkshire on Dec. 19, 1848. She ventured away from home but rarely. She never married, and Emily Brontë never knew during her life that her only novel would become a classic.
"If I could, I would always work in silence and obscurity, and let my efforts be known by their results."
It seems she received her wish. In 2007, a first edition of Wuthering Heights sold for £114,000 at Bonhams London.4
Emily Brontë was correctly identified by Ted Carlton of Utah.
---------------------------------------
1 The Reader's Guide To Wuthering Heights, www.wuthering-heights.co.uk .
2 Https://brontecountry.wordpress.com.
3 Biographical notice of Ellis and Acton Bell by Charlotte Brontë, 1850.
4 The Guardian, "Copy of Wuthering Heights sells for six figures," by Michelle Pauli, Nov. 13, 2007, www.theguardian.com/books/2007/nov/13/emilybronte.
Learn about more Famous People
---