Ted Geisel, aka Dr. Seuss
Answer to Name This Famous Person Game - July 2012
by Mike McLeod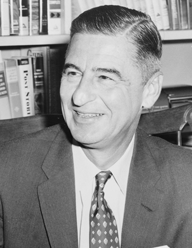 "Today you are You, that is truer than true. There is no one alive who is Youer than You."
After writing about Joan of Arc's recantation last month, I feel I should announce a spoiler alert before I write about Ted Geisel, aka Dr. Seuss. If you have him on a mental pedestal, as I did, there is a spoiler alert warning below.
Those who recognized his famous face were: Sherry Blanton of The Old School Antique Mall in Sylva, N.C.;
Theodor Seuss Geisel was born on March 2, 1904 to Theodor Robert Geisel and Henrietta Seuss in Springfield, Massachusetts. His parents were German immigrants, which is probably why he hated the Nazis and drew political cartoons against them, the Axis powers and Americans favoring isolationism in WWII, like Charles Lindberg. He was, however, a supporter of Stalin and his war effort. Despite being anti-discrimination, Geisel was very vocal in favor of the internment of Japanese-Americans during the war. Afterwards, he seemed to have reversed these feeling because he dedicated Horton Hears A Who (which definitely has an anti-discrimination theme) to a Japanese friend.
Geisel was a writer and an artist, and while at Dartmouth, he served as editor of the college's humor magazine. After being caught drinking at a party in the dorm (during Prohibition), he was forbidden by the dean from all association with the magazine. This led to his using a pen name so he could continue to write for it. In 1927, The Saturday Evening Post was the first to publish one of his cartoons under the name of "Seuss."
This was the same year he married Helen Palmer who later became a published author of children's books. They had no children together.
Geisel earned a living by submitting cartoons and humorous articles to magazines and newspapers and as an advertising copywriter and illustrator. His most famous ad was for an insecticide for Standard Oil titled, "Quick, Henry, get the flit!" He also created ads for NBC and General Electric.
"You have brains in your head. You have feet in your shoes. You can steer yourself in any direction you choose. You're on your own. And you know what you know. You are the guy who'll decide where to go."
During WWII, Geisel was too old to fight, but he volunteered and worked with Director Frank Capra (It's A Wonderful Life) in the U.S. Army Air Force First Motion Picture Unit. During the war, the unit created about 400 films, many of which were released in theaters, but others were for instructional use only for the military. It also created animated movies for the troops, including a series featuring Frank Capra's character, Private Snafu. Geisel wrote many of the episodes for the series, and he also worked with Fritz Freleng, Mel Blanc (the voice of Bugs Bunny and Private Snafu—Bugs actually did a guest appearance in one of the Snafu cartoons), Chuck Jones and others while in the unit.
Geisel's first children's book, And to Think That I Saw It on Mulberry Street, was published in 1937—after being rejected by 27 publishers. (The number of rejections recorded varies greatly; 27 is the least amount mentioned by Geisel.) As the story goes, Geisel was on his way home to throw the manuscript in an incinerator after rejection #27 when he bumped into a college friend—who just got a job that day with Vanguard Press. In the following years, Geisel became the most lucrative author for Vanguard. Over his career, he wrote and illustrated 46 children's books, which sold half a billion worldwide—more than the Harry Potter series (which was at 450 million as of June 2011).
"Think left and think right and think low and think high. Oh, the things you can think up if only you try!"
The Cat in the Hat is his most successful book, and it came about after Geisel was asked by book publisher Houghton Mifflin to write a children's book with 348 important words that would help first graders learn to read. In 1954, illiteracy was a great problem, and it was thought primers were too boring to interest children in reading. Geisel produced The Cat in the Hat in nine months using 250 of those words. It was a huge success, and 11 million copies have been printed in 12 languages.
But not all of his books were bestsellers. In 1939, his first book for adults, The Seven Lady Godivas—about Lady Godiva and her six sisters who all walk around naked all the time—failed. It was revived in the '80s, and thanks to his fame by that time, it saw some success. A signed original copy of it has been sold for $510 by PBA Auctions, including buyer's premium, but unsigned copies are relatively cheap.
Some of Geisel's animation work, like How The Grinch Stole Christmas, is well known. Other work is not, like Gerald McBoing-Boing, about a boy who can only speak in sound effects. For this, Geisel won an Academy Award for Animated Short Film. You can watch it at: www.youtube.com/watch?v=JrfNf9SMS4Q&feature=related.
| | |
| --- | --- |
| | Dr. Seuss on a stamp with all his characters that we know and love. |
"I like nonsense, it wakes up the brain cells. Fantasy is a necessary ingredient in living. It's a way of looking at life through the wrong end of a telescope. Which is what I do, and that enables you to laugh at life's realities."
Stop reading here if you want to keep Dr. Seuss on your pedestal.
In 1954, Geisel's wife Helen developed cancer and suffered great pain from it for many years. On Nov. 9, 1967, she committed suicide with drugs. About eight months later, Geisel married Audrey Dimond. She and her husband were friends with the Geisels, and both couples had gone on outings together.
In 2000, the New York Times reported: "Audrey Dimond was married with two children when she fell in love with Ted Geisel. Mr. Geisel, 18 years her senior, was also married. In the wake of their affair, Mr. Geisel's wife, Helen, committed suicide, causing, as Mrs. Geisel puts it, 'a rather large ripple in the community of La Jolla.' Mrs. Dimond divorced her husband to marry Mr. Geisel, 64, and when she did, her daughters, 9 and 14, were sent away to school.
"'They wouldn't have been happy with Ted, and Ted wouldn't have been happy with them. He's the man who said of children, 'You have 'em and I'll entertain 'em.'
"'Ted's a hard man to break down, but this is who he was. He lived his whole life without children and he was very happy without children. I've never been very maternal. There were too many other things I wanted to do. My life with him was what I wanted my life to be.''1
I have decided to follow the rationale of Frankie Anon who wrote on her blog after reading the above: "It is possible to be both charmed by the work and disturbed by the life."2
On Sept. 24, 1991, Theodor Geisel died of throat cancer. Audrey Geisel oversees his legacy of books, movies and characters today.
"Don't cry because it's over. Smile because it happened."
----------------
1 New York Times, "PUBLIC LIVES; Mrs. Seuss Hears a Who, and Tells About It," November 29, 2000.
2 www.objectwisdom.blogspot.com, December 20, 2009 posting
Learn about more Famous People
---