Frederick Douglass
Answer to Name This Famous Person Game - April 2012
by Mike McLeod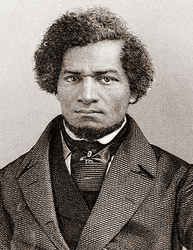 PHOTO RIGHT: Frederick Douglass in his younger years. (Engraved by J.C. Buttre from a daguerreotype, 1855.)
Many readers recognized Frederick Douglass: Julie Kimbrell at The Old School Antique Mall in Sylva, N.C.; Scott and Carolyn Brown of Memories Flea An'Tique Mall in Prattville, Al.; Ted Carlton of Las Vegas, Nev.; Teresa P. Blank of New York City; Jeanne Waters of Smyrna, Ga.; Robert Bernier; and Jean Ficht of Big Cano, Ga., who has a display in the Antiques & Treasures Mall in Jasper, Ga.
Frederick Douglass, the great ex-slave abolitionist orator, was not born with the name of Frederick Douglass. His real name is Frederick Augustus Washington Bailey. He assumed the name of Douglass after he escaped to freedom and feared his previous slavemaster Thomas Auld would send slave catchers to bring him back.
Born near Tuckahoe, Maryland, Frederick Douglass did not know exactly when he was born since no one took note of the day, but he surmised it was in February of 1818. He later celebrated his unknown birthday on Feb. 14th. He was separated from his mother as a baby, which was a custom on plantations in Maryland, but he reports she did lay with him at night after he had gone to bed. She would be gone before he awoke. Douglass did not who his father was, but some said he was the plantation owner. He did know that his father was white.
The turning point came in Douglass' life when he was sent to serve Auld's brother and wife, Howard and Sophia Auld. Sophia taught young Frederick the alphabet and the rudiments of reading, which was against the law. She stopped teaching him when her husband warned her teaching slaves to read would make them desire to be free. Douglass later wrote this was his first lesson in abolitionism.
With a burning desire, Douglass taught himself to read by looking at newspapers and other publications left around the house, watching others write, and with the help of neighborhood kids. When he was hired out to another plantation owner, he held classes and taught other slaves how to read using the Bible. When the owners from the surrounding plantations found out, they stopped the classes with violence.
Anna Murray-Douglass,
his first wife.

Douglass with his second wife Helen Pitts (seated) and Eva, her sister.

Frederick Douglass, circa 1879
Douglass suffered horrible mistreatment and abuse as a slave—beatings, whippings, hunger, hate. He attempted to escape a few times, but was unsuccessful until 1838. While being hired out as a ship caulker, Douglass met Anna Murray, a freewoman laundress who did the wash of sailors. They fell in love, and Anna provided him with a sailor uniform and money, and a free black sailor gave him identify papers. With their help, Frederick Douglass escaped on a train going north posing as a free black merchantman.
Anna soon joined him in New York. A few days after their reunion, they were married, and they assumed the last name of Johnson—not Douglass yet—to avoid slave catchers. They soon moved to New Bedford and changed their name to Douglass. There, Douglass began attending abolition meetings, and once, he was called upon to speak. Nervous at first, his oratory skills became evident, and Douglass went on to become the most famous black abolitionist of all time.
He traveled extensively speaking out against slavery. His speaking ability was so eloquent and refined that many anti-abolitionists proclaimed that he could never have been a slave. To dispel this falsehood, Douglass wrote his autobiography and published it in 1845, Narrative of the Life of Frederick Douglass, An American Slave Written By Himself. It was highly successful, selling 30,000 copies in several reprintings.
Fearing capture by slave catchers after this success made him famous, Frederick left for Great Britain and spent almost two years in Ireland, England and Scotland speaking in churches and at abolitionist meetings. While there, he met Thomas Clarkson, the abolitionist who co-founded the Committee for the Abolition of the Slave Trade, which successfully lobbied Parliament to make the slave trade illegal in the British Empire. One of the people who joined this committee was Josiah Wedgwood.
Douglass wrote of the singular experience there of being accepted as an equal, being able to walk in the front door instead of the servants' entrance, and dining in a restaurant with other patrons. Friends he made in Britain collected more than $700 (about $29,000 today) for him to purchase his freedom when he returned.
Frederick Douglass' was an advisor to several Presidents: Abraham Lincoln, Ulysses S. Grant, Rutherford B. Hayes, and James A. Garfield. He was appointed as a consul to Haiti and chargé d'affaires to the Dominican Republic.
In 1882, Anna Douglass died of a stroke. After mourning for nearly a year, Frederick married Helen Pitts, a Caucasian woman who had served as his secretary. Neither of their families was happy, and most people in Washington, D.C., where they lived, were outraged. This did not daunt the couple who toured Europe together for a year and remained happily married until Douglass' death.
On February 20, 1895, Frederick Douglass died of a heart attack at home after attending a meeting of the National Council of Women. All of his life, Douglass advocated equality for all people, including Indians, Irish, Chinese and all immigrants, and he strongly supported women's suffrage.
Frederick Douglass wrote in his autobiography: "I have observed this in my experience of slavery, that whenever my condition was improved, instead of its increasing my contentment, it only increased my desire to be free, and set me to thinking of plans to gain my freedom. I have found that, to make a contented slave, it is necessary to make a thoughtless one. It is necessary to darken his moral and mental vision, and, as far as possible, to annihilate the power of reason. He must be able to detect no inconsistencies in slavery; he must be made to feel that slavery is right; and he can be brought to that only when he ceased to be a man."
Learn about more Famous People
---