Grandma Moses
Answer to Name This Famous Person Game - March 2013
by Mike McLeod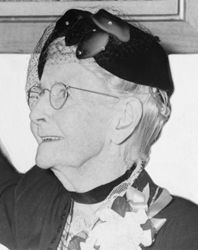 The artist Grandma Moses was correctly identified by: Peggy Milton of Franklin, N.C., who picks up Southeastern Antiquing Magazine at Whistle Stop Antique Mall in Franklin; Scott and Carolyn Brown of Memories Flea An'Tique Mall in Prattville, Ala.; Ted Carlton of Las Vegas, Nev.; Pat Kimbrell of Old School Antique Mall in Sylva, N.C.; and Mitchell Bistany of East Chesterfield Antiques, in Sudbury, Mass.
Anna Mary Robertson was born before Abraham Lincoln was elected president in the fall of 1860, and she died in 1961 while John F. Kennedy was in office. In all, her life spanned the administrations of twenty Presidents of the United States.
Her longevity was remarkable, but she is heralded in history for her artistic ability, and also by when she first picked up a paintbrush—at about the age of 75 in 1935. During the next 26 years, Anna Mary created about 1,600 paintings, mostly landscapes of the New England countryside and farm life. That's about 60 works of art per year, and they were all painted from memory.
Anna Mary Robertson priced her original paintings at $2-$3 for a small artwork and $5 for a larger one. In 2006, her 1943 "Sugaring Off" winter landscape of making maple syrup sold for $1.2 million.
Anna Mary was born in Greenwich, N.Y., and grew up working hard on a farm. At 12, she was hired by a neighboring family to do household chores. There, she met Thomas Moses, a hired hand, and at the age of 27, she married him. They moved to a farm in the Shenandoah Valley of Virginia where Anna Mary bore ten children, five of which survived childhood. In about 1905, the family returned north and bought a farm in Eagle Ridge, N.Y.
Thomas died in 1927, and Anna lived with her children soon thereafter.
Anna was a hands-on creative person, being known for her embroidery and her jams and canned fruit. When arthritis in her hands made needlework too painful, a daughter recommended that she paint, and thus began the career of one of the most famous self-taught artists of all time.
Some might say serendipity was how Grandma Moses was discovered, but it was not how she became world-famous. In 1938, Eric Caldor, an engineer for the New York Water Department, drove through nearby Hoosick Falls and saw her work on display in a drugstore window. Caldor was a collector of primitive art, and he bought all of her paintings on display. He then inquired about her residence, went there and bought all the artwork she had on hand. It was through Eric Caldor's great appreciation of her talent and his determination that Grandma Moses' work was eventually exhibited in New York.
But Grandma Moses herself was the reason the media finally took note of her talent. During an interview after an exhibit of her work at Gimbels' department store, her wit and personality captured their hearts, and Grandma Moses' career skyrocketed.
Galerie St. Entienne, the licensed distributor and an early exhibitor and appreciator of her work, documented her road to notoriety: "The dawning age of mass communications gave the public unprecedented access to Grandma Moses and her work. In addition to traveling exhibitions, books and greeting cards, people could enjoy posters and even mural-sized reproductions, china plates, drapery fabrics and a number of other licensed Moses' products. By live-remote broadcast—then a technological marvel—Moses' voice was beamed out from her home in Eagle Bridge to the larger world. A rare use of color television was made to show Moses' paintings when she was interviewed by Edward R. Murrow in 1955. Lillian Gish even portrayed the artist in one of the first televised docu-dramas."1
Grandma Moses had many highlights in her career: she was featured on the covers of "Time" and "Life" magazines; she was friends with Norman Rockwell, who lived nearby, and he included her image in his painting, "Christmas Homecoming," for the "Saturday Evening Post" in 1948; she was a guest of President Harry Truman and his wife at the White House in 1949, and the U.S. Postal Service commemorated her work with a 6¢ stamp in 1969. In 2004, her 1942 painting, The Checkered House, was valued at $60,000 on the "Antiques Roadshow." Videos of her can be seen on YouTube.
It was a national event when reached her 100th birthday on Sept. 7, 1960 and again in 1961 when she celebrated birthday 101. A few months later on Dec. 13th, she passed away. President John F. Kennedy commemorated her life with these words:
"The death of Grandma Moses removed a beloved figure from American life. The directness and vividness of her paintings restored a primitive freshness to our perception of the American scene. Both her work and her life helped our nation renew its pioneer heritage and recall its roots in the countryside and on the frontier. All Americans mourn her loss."2
------------------------------
1 Galerie St. Etienne,
www.gseart.com/Artists-Gallery/Moses-Anna-Mary-Robertson-Grandma/Moses-Anna-Mary-Robertson-Grandma-Biography.php
2 "New York Times," "On This Day," Dec. 14, 1961.
Learn about more Famous People
---