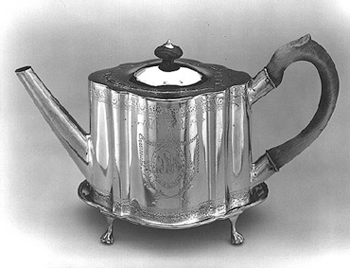 Paul Revere was the famous silversmith who made this teapot. He was correctly identified by Teresa P. Bland, Ted Carlton of Utah, and Sherron Lawson of Roswell, Ga.
Born on Jan. 1, 1735, Paul Revere should actually be referred to as Paul Revere, Jr., because his father Apollos Rivoire, who was born in France, changed his name to Paul Revere after coming to America. Paul, Sr., taught Paul, Jr., the art of the silversmith trade, and the son took over the business a year or so after his father's death in 1754 and after he served in the French and Indian War.
The silver business was profitable at times, and Paul trained many apprentices and employed other workers. However, the turmoil before, during and after the Revolutionary War put a damper on the economy and his business. Paul Revere often tried new businesses or expanded his line of goods to improve sales and make it through the hard times. In addition to silver, he also crafted pewter and copper, was an iron monger (making hundred of church bells and equipment for the military and the USS Constitution), opened a hardware store and was a part-time dentist. His wiring of a fake tooth allowed him to positively identify a friend's body buried on a Revolutionary War battlefield a few years after he was killed there, like a real crime scene investigator.
Did Paul Revere really call out, "The British are coming!" during his ride on April 18, 1775? He later wrote that his correct words were, "The Regulars are coming out."1 With British troops stationed in the area, it would not have been wise to use the former phrase.
Paul Revere, 1768, by John Singleton Copley,
Museum of Fine Arts, Boston.
Although part of Paul Revere's ride was alone, part of it was with two other riding companions. In fact, the British captured Paul Revere at a checkpoint before he reached his destination of Concord, Mass. He was later released, and one of his companions finished the ride to warn the citizens there. But Paul Revere did warn many people for much of his ride, and as he did so, other riders headed in other directions to warn those in the countryside. Many people rode and carried warnings on that night.
Paul Revere was active in politics, and he was a patriot. He risked his life for the cause of independence more than once, including while taking part in the Boston Tea Party.
In the succeeding years, his business did well, and his ledger books documenting his many day-to-day transactions are in the hands of the Massachusetts Historical Society. He advanced the industrialization of the metalworking industry by purchasing a rolling mill for flattening metals into sheets. Looking at the teapot here, you can see how it is barrel-shaped from rolled silver plate. The rolling mill expedited his work and saved workers from pounding silver into sheets for manufacturing.
The Metropolitan Museum of Art features several examples of Paul Revere's silverwork: a pair of matching sauceboats, ca. 1765; a silver and ivory hot water urn, 1791; a tankard, ca. 1795; four silver beakers, 1795; two teapots, 1792 and 1796; a 9-inch spoon, 1790; and a sugar bowl with lid and matching creamer, 1790-1800. Almost all are engraved.
Paul Revere was an engraver and a printer. He printed currency for the local government, and he engraved many pictures used in books and papers. Paul Revere is particularly well known for the engraving, "The Bloody Massacre," a historically-incorrect picture of the Boston Massacre similar to a drawing by Henry Pelham. Printed in 1770, it enflamed the colonists for war.
Paul Revere died on May 10, probably of natural causes at the age of 83, which was ancient in 1818. He was married twice and fathered 16 children.
------------------------------
1 Paul Revere, Paul Revere's Three Accounts of His Famous Ride.