1770 Harrington Commode
Answer to Name This Famous Antique Game - July 2015
By Mike McLeod



The circa 1770 Harrington Commode is famous for two reasons:
1. It sold in 2010 for just under $6 million (including buyer's premium), making it the most expensive piece of English furniture ever sold; and
2. It was "almost certainly" made by Thomas Chippendale (as described in Sotheby's auction listing), which is why it sold for such a high price—that is, in addition to its exquisite workmanship.
The Harrington Commode is gilt-lacquered rosewood with a serpentine-shaped tulipwood-banded top and marquetry. It measures 2 feet 11 inches by 4 feet 7 inches by 2 feet 1.5 inches. It was originally estimated at £600,000-£1,000,000 but sold for £3,793,250, five times the low estimate.
Owned by the estate of the Earls of Harrington, how it entered their collection is a bit of a mystery. No provenance or records of its original purchase exist. However, it is believed the commode was purchased by either Jane Fleming, the Countess of Harrington and wife of Charles Stanhope, the 3rd Earl of Harrington or by her mother and her second husband. At the death of Jane Fleming's father, she inherited £100,000 from his estate, a king's ransom at the time. When she married Charles Stanhope, he had many debts, which his new wife resolved for him. Due to his lack of funds, it is believed that Charles probably did not purchase the commode.
After Jane's father passed away, her mother, also named Jane, married Edwin Lascelles who is documented as having been a great patron of Thomas Chippendale. It is possible that they commissioned/purchased the commode, and then Jane inherited it later.
Not knowing exactly who originally purchased the commode did not deter the bidders from this work of art. The commode remains today as the most expensive piece of English furniture ever sold.
However, the Harrington Commode does not hold the title for the most expensive piece of furniture ever sold. The Badminton Cabinet holds that distinction with its sale for $36.7 million in 2004. Purchased by the Liechtenstein Museum in Vienna, Austria, this 12-foot-tall cabinet made with ebony, gilt-bronze and pietra dura, was originally commissioned in the early 1700s in Florence Italy, by 19-year-old Henry Somerset, the 3rd Duke of Beaufort. He paid a total of £594 for it, including taxes.1 The cabinet received its title from the Earl's home, Badminton House in Badminton, Gloucester, England.
In second place in the "Furniture Hall of Fame" is fashion designer Yves Saint Laurent's Dragons Chair that sold for $28 million in 2009. Hand carved from wood and upholstered in leather, it was created by French designer Eileen Gray between 1917 and 1919. The Dragon Chair's lacquered frame is in the shape of two intertwined dragons.
The Harrington Commode was correctly identified by Ted Carlton of Utah.
---------------------------------
1 "Top 9 Most Expensive Furniture in the World," https://knowledgesearch.wordpress.com.
The Harrington Commode.
(Photo, courtesy of Sotheby's.)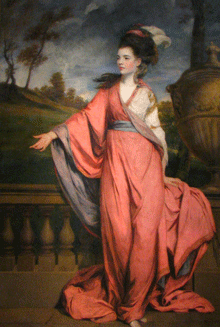 Jane Fleming, the Countess of Harrington
Charles Stanhope, the 3rd Earl of Harrington