The Hope Diamond
Answer to Name This Famous Antique Game - July 2013
by Mike McLeod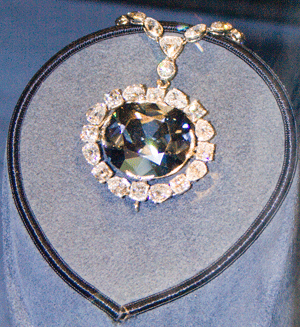 The Hope Diamond was correctly identified by: Julie Kimbrell of Old School House Antique Mall in Sylva, N.C.; Marilyn Hardison of Mt. Pleasant, Tenn.; Scott and Carolyn Brown of Memories Flea An'Tique Mall in Prattville, Ala.; Bob and Page Craig of Eastbrook Flea Market and Antique Mall in Montgomery, Ala.; Tony Bonn.; Ted Carlton of Utah; and Teresa Bland.
The Hope Diamond was mined in India sometime in the1600s, and it originally weighed 112-115 carats, or just over three-quarters of an ounce. Today, it weighs 45.5 carats, or less than one-third of an ounce, and is the size of a walnut. Its dark blue color is caused by boron in its crystalline structure, and after being exposed to ultraviolet light, the Hope Diamond glows red for quite a while. Spooky.
In the 1660s, Jean-Baptiste Tavernier acquired the stone—by purchase or by theft, depending on which source you believe. He sold it and other diamonds he acquired in India in 1668 or 1669 to King Louis XIV of France for a huge sum, reportedly 323 pounds of gold and a patent of nobility, which made him part of the nobility. King Louis's jeweler cut the blue diamond down to 69 carats with a sun figure carved in it for the Sun King, his chosen emblem.1 It was "…known as the 'Blue Diamond of the Crown,' or the 'French Blue.' It was set in gold and suspended on a neck ribbon which the king wore on ceremonial occasions. 2
French Blue passed into the hands of Louis XV and then to his son, Louis XVI and his wife Marie Antoinette. After Louis and Marie were deposed in the French Revolution, their crown jewels, including French Blue, were looted by the mob.
A blue diamond next appeared in London in the possession of a merchant, Daniel Eliason. It was slightly smaller than French Blue and missing the sun emblem, but it was believed to be Louis XVI's diamond. King George IV of England was the next owner, but his spendthrift habits and massive debts forced him to sell it.
Edward Beale McLean and Evalyn Walsh McLean; Harry Winston purchased all of Mrs. McLean's jewelry, including the Hope Diamond, after her passing.

The Hope Diamond in its new setting.
(Photo: Observer 31)
Henry Philip Hope next possessed it in 1839, and his name has stayed with this famous diamond since then. From him, it passed to: Henry Thomas Hope (his nephew); Lord Francis Hope (Henry's grandson); Adolph Weil (a jewel dealer); Simon Frankel, (a diamond dealer in New York City); Selim Habib (a Turkish diamond collector/dealer); C.H. Rosenau (a jewel merchant of Paris); Pierre Cartier; Mrs. Evalyn Walsh McLean (a mining heiress and socialite); and Harry Winston, who donated it to the Smithsonian in 1958. Incredibly, Winston delivered the multi-million-dollar Hope Diamond to the Smithsonian via registered mail for $145.29 in postage.3 In the early years, the owners of the Hope Diamond often sold it to pay off debts. Other times, it was bequeathed or sold for profit.
A superstitious curse has been said to follow the Hope Diamond because of owners incurring debts which forced its sale or because of loved ones lost. Evalyn Walsh lost a nine-year-old son in a car accident, her alcoholic husband left her for another woman and eventually died in a sanitarium, the Washington Post newspaper which her husband owned folded, and her daughter died from an overdose of sleeping pills. Even so, she expressed this in 1936 about the so-called curse: "What tragedies have befallen me might have occurred had I never seen or touched the Hope Diamond. My observations have persuaded me that tragedies, for anyone who lives, are not escapable."
Today, the Hope Diamond is valued at more than $350 million. Yet, it is not the largest diamond in the world; many others are larger and more valuable. The largest faceted diamond is the Golden Jubilee at 545.67 carats (about 3.8 oz.), but because of its color and quality, it is only valued at $4-$12 million. The two diamonds designated the most valuable in the world—the Koh-I-Noor (105 carats, just under three-quarters of an ounce) and the Sancy Diamond (55.23 carats)—have not been valued. The Hope Diamond usually comes in fourth on the list behind the Cullinan Diamond (530.4 carats, 3.7 oz.; the original stone it was cut from weighed 3,106 carats or 1.35 lbs.). The Cullinan Diamond is in the British royal scepter and valued at $400 million.
The 3,106-carat original diamond from which the
Cullinan Diamond was cut.

: The 105-carat Koh-I-Noor, the most valuable
diamond in the world.
The most valuable diamond in the world, the Koh-I-Noor ("Mountain of Light"), was discovered in India and owned by rulers there for hundreds of years. It was acquired after the Sikh War in 1849, along with the Sikh Empire in Punjab, by the East India Company, which forced the ruler to give it to Queen Victoria. This diamond is now in the crown of Queen Elizabeth.
----------------------------------------
1 Elena Steingrad (www.louis-xiv.de): "Louis XIV chose the sun as his emblem. The sun was associated with Apollo, god of peace and arts, and was also the heavenly body which gave life to all things, regulating everything as it rose and set….The regularity of his work habits and his ritual risings and retirings were another point of solar comparison.
2 Encyclopedia Smithsonian, www.si.edu/Encyclopedia_SI/nmnh/hope.htm.
3 Ibid.