Navy Medal of Honor made by Tiffany's
Answer to Name This Famous Antique Game - June 2015
By Mike McLeod



This antique is a Navy Medal of Honor that was used between 1911 and 1946, and it was made by Tiffany's.
Charles Lewis Tiffany was born on Feb. 5, 1812 in Connecticut, and his family owned a cotton mill. At the age of 25 and with $1,000 borrowed from his father, Tiffany and John Young opened a stationery store that also sold gifts. At first, business was slow, but in the coming years, the partners expanded to sell the finest porcelain, glassware, silverware and jewelry. During the Civil War, Tiffany's sold swords, flags, capes, kepi hats, surgical equipment, silver pistol grips and so on to their discriminating military clients.
10 Things Most People Don't Know About Tiffany's and Its Founder
1. Tiffany's created in 1845 America's first retail sales catalog, the "Blue Book."
2. Each year, Tiffany's creates the Vince Lombardi Trophy which is awarded to the winner of the Super Bowl. It also creates NASCAR's Sprint Cup trophy and has created two World Series rings.
3. Tiffany's purchased a 287-carat yellow diamond that was mined in 1879 and cut it to a 128-carat, cushion-shaped gem to make the Tiffany Yellow Diamond. Never sold, it has been displayed in the Smithsonian and worn by Audrey Hepburn to publicize the movie, Breakfast at Tiffany's. The second largest yellow diamond in the world, it was originally purchased for $18,000 (about half a million dollars in today's money); its value was set at $12 million in 1983.1
4. Tiffany's became known as the "King of Diamonds" after being one of the first to introduce that gem to the American market: "Tiffany's reign of diamonds began in 1848 with the abdication of King Louis-Philippe of France and founder Charles Lewis Tiffany's purchase of diamonds from fleeing aristocrats."2 Mrs. Joseph Pulitzer was one of the buyers of Tiffany's royal diamonds.
5. Tiffany's created the famous "NY" logo used by the New York Yankees baseball team starting in 1909; it was originally created for a police medal of honor in 1877.
6. Charles Lewis Tiffany worked with Thomas Edison in creating footlights for theaters.
7. Lady Bird Johnson hired Tiffany's to create china service for the White House in 1964.
8. In the 1980s, Tiffany & Co. marketed its own perfume, Tiffany for Women, selling it for $220 per ounce. It later introduced Tiffany for Men.
9. Tiffany & Co. was purchased by Avon in 1984 for more than $100 million; it was later sold to an investment group and finally went public in 1987.
10. In 2008, Tiffany's created ten cell phones covered with diamonds that sold for about $1 million each.
Charles Lewis Tiffany died on Feb. 18, 1902. His legacy spans the globe with stores in dozens of countries and a name that is recognized by all.
------------------------------------------------
1 The Israeli Diamond Industry, "Company of the Month," www.israelidiamond.co.il.
2 http://press.tiffany.com, "About Tiffany."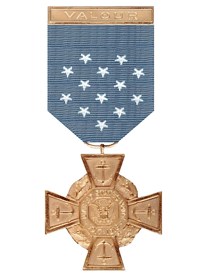 Tiffany Medal of Honor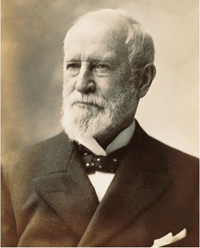 Charles Lewis Tiffany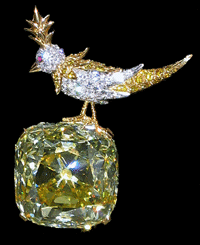 The 128-carat Tiffany Yellow Diamond was originally 287 carats.