Tamerlane and Other Poems by Edgar Allan Poe
Answer to Name This Famous Antique Game - February 2016
By Mike McLeod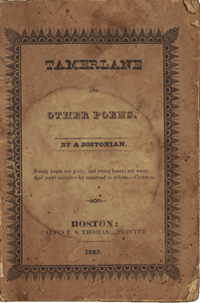 Tamerlane and Other Poems "by a Bostonian" is a 40-page booklet of poems written by Edgar Allan Poe. It was his first (self) published work. Tamerlane, the character in the poem, is a conquering man of war who bemoans leaving his first love. Unnoticed by the literary world and the public in general, only 50 or so copies were published. However, now it is known as a missing masterpiece as the whereabouts of only about twelve are known.
Published in 1827 while Poe was just 18 years old and serving in the army (to avoid starving since he had no other means of support), it has since become somewhat of a literary holy grail, selling for $662,500 in 2009 at Christie's. Before 1900, a copy bought from a 10˘ table at a bookshop was resold for $1,000. Then another copy was found in a trunk of full of books at a yard sale in the 1950s and resold for $10,000. Next, a copy sold for $198,000 in 1990; it was also discovered mixed in with other books; the whole lot was purchased for a few hundred dollars.1
In the description for its December 2009 auction, Christie's revealed what inspired the discovery of this copy of Tamerlane: "The present copy was first discovered in 1926 or 1927, in the New York area, and is one of only a few copies that have been discovered outside of New England. It is one of a group of five or so copies which surfaced as a result of the popular article by Vincent Starrett, "Have You a Tamerlane in Your Attic," published in the Saturday Evening Post in 1925; and one of only seven surviving copies with both wrappers preserved."
The question His death was a double mystery—he was found in the street in need of assistance and wearing someone else's clothes, it was later determined. He was taken to a hospital where he died a few days later. s now are: do you have a Tamerlane in your attic or storage unit or under your bed? How much will the next one sell for at auction?
In 1829, Poe published Tamerlane again with other poems in Al Aaraaf, Tamerlane and Minor Poems. He revised the poem from the first printing. If you come across a copy of Tamerlane, beware that there were facsimiles produced, and according to the Edgar Allan Poe Society of Baltimore (www.eapoe.org) the original had no table of contents.
| | |
| --- | --- |
| | |
| Edgar Allan Poe | Poe's wife Virginia. |
A few tidbits about Edgar Allan Poe:
*Both his parents were actors.
*At age 9, his father left the family, and his mother died a year later.
*Edgar was then taken in by John Allan, who gave Poe his middle name.
*At age 26, Poe married his 13-year-old cousin Virginia Clemm. She died 11 years later of tuberculosis.
*Poe is credited with creating the first detective story.
*The Mystery Writers of America annually give the Edgar Award in honor of Poe for the best mystery fiction novel, non-fiction book, television program, movie and theater play
Edgar Allan Poe was born on January 19, 1809 in Boston, and he died 40 years later on October 7, 1849. His death was a double mystery—he was found in the street wearing someone else's clothes and taken to a hospital where he died a few days later. The cause of his death is unknown at this time; all paperwork concerning it was lost.
Ted Carlton of Utah and Scott and Carolyn Brown of Memories Flea An'Tique Mall in Prattville, Ala., correctly identified Edgar Allan Poe as the author of Tamerlane.
----------------------------------------
1 PBS.org, "Missing Masterpieces," www.pbs.org/wgbh/antiquesfyi/missingmasterpieces.