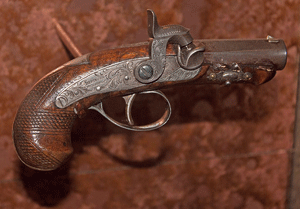 The Deringer1 pictured here was owned by John Wilkes Booth and was used to assassinate President Abraham Lincoln. It is on display at Ford's Theater at 511 Tenth Street, Washington, D.C., along with: the boot Dr. Samuel Mudd cut from Booth's swollen, broken ankle; one of the spurs worn by Booth on the night of April 14, 1865; Booth's 1864 pocket diary; his compass; life masks made of Abraham Lincoln in 1860 and 1865; and clothing (frock coat, waistcoat, trousers) and boots worn by the President in the theater the night of his assassination.
In the pocket diary, Booth wrote: "Our country owed all her troubles to him, and God simply made me the instrument of his punishment." He also recorded his feelings for the first seven of the twelve days he was on the run from 2,000 Union soldiers: "After being hunted like a dog through swamps, woods, and last night being chased by gun boats…with every man's hand against me, I am here in despair…. I think I have done well, though I am abandoned, with the Curse of Cain upon me…. To night I try to escape these blood hounds once more…. I have too great a soul to die like a criminal …spare me that and let me die bravely." Finally, quoting Macbeth: "'I must fight the course.' Tis all that's left me."2
| | |
| --- | --- |
| | |
| John Wilkes Booth's .44 caliber Deringer. (Photo: Wkight94.) | John Wilkes Booth, circa 1865. |
Booth dropped his single-shot Deringer in the theater box after firing at the President from behind. Drawing a knife, he stabbed the advancing Major Henry Rathbone who was also in the box with his fiance attending the play. The percussion-cap fired, .44 caliber Deringer, weighing about eight ounces, was retrieved from the scene after the assassination.
It is not believed the Booth broke his leg jumping from the theater box. Witnesses did not report him limping off the stage after shouting, "Sic simper tyrannis!" (Thus always with tyrants.) The broken ankle is thought to have happened later when his getaway horse fell.
Booth's plans also called for the assassinations of Vice President Andrew Johnson and Secretary of State William Seward, the two successors to the presidency. But Booth's co-conspirators failed: one did not attempt to attack the Vice President (he went drinking instead), and the other stabbed the Secretary of State several times, but did not kill him.
| | |
| --- | --- |
| | |
| Currier & Ives lithograph Assassination of Abraham Lincoln showing (l.-r.) Major Henry Rathbone, his fiancée Clara Harris, Mary Todd Lincoln and the President. | The private box in Ford's Theater where President Lincoln was assassinated. |
After a twelve-day manhunt, Booth was surrounded in a barn on William Garrett's farm in Virginia. David Herold, the drinking accomplice assigned to kill Andrew Johnson, was also in the barn, and he surrendered. Booth did not, so the Federal troops set the barn on fire. Still, he did not give up. Union soldier Boston Conger reported shooting Booth through a wall of the barn, hitting him in the neck and paralyzing him—despite orders to bring the assassin back alive. (His assertion was later contested by other witnesses.) Booth died a few hours later.
John Wilkes Booth sought fame and glory as a stage actor, and he achieved it at a young age. He died two weeks before his 27th birthday. The question is, did John Wilkes Booth assassinate the President more for his own glory or, as he expressed, to give the Confederacy—that had surrendered five days before on April 9th, 1865—one more chance?
Ted Carlton of Utah, Sherron Lawson of Roswell, Ga. and Scott and Carolyn Brown of Montgomery, Ala., correctly identified this famous antique.
-----------------------------------
1 In 1825, Henry Deringer created the small pistol that bears his name. The pistols that were made by his company are spelled with a capital "D" and only one "r". Later, any small pistol was called a "derringer;" those are spelled without the capital letter and only one "r."