Sherry Blanton, Scott and Carolyn Brown of Memories Flea An'Tique Mall in Prattville, Ala., Jim Pruett of Eastbrook Flea Market in Montgomery, Ala., and Ted Carlton of Utah, and Sherron Lawson, Roswell Ga., correctly identified Abraham Lincolnís hat, a prized possession of the Smithsonian.
President Lincolnís hat size was 7 1/8, and his stovepipe hat added another seven or eight inches to his 6-foot 4-inch height. Even without the hat, he overshadowed the average man of his day by nine or ten inches. With it on, he appeared to be a giant.
ďCharacter is like a tree and reputation like a shadow. The shadow is what we think of it; the tree is the real thing.Ē
It is said that Lincoln kept papers in his hat since it was so large.
This stovepipe hat held by the Smithsonian is the one Pres. Lincoln wore to Fordís Theater on April 14, 1865. It was afterwards given to the War Department and then to the U.S. Patent Office and finally to the Smithsonian. Thinking it might cause an uproar or draw massive crowds if displayed, Smithsonian Secretary Joseph Henry had the Presidentís hat stored in the basement. There it remained until 1893 when it was loaned out for a Lincoln memorial exhibit.
President Lincoln wrapped a mourning band around his hat in memory of his son Willie (William Wallace) who died on Feb. 20, 1862, probably from typhoid after drinking infected water. Their sonís death caused both parents deep sorrow as evidenced by the silk mourning band remaining on the hat for three years until the Presidentís own death. Willie was the Lincolnís second son to die young. Eddie died Eddie 12 years before on Feb. 1, 1850, about a month before his fourth birthday. Eddieís death has been attributed to tuberculosis or thyroid cancer.
ďNearly all men can stand adversity, but if you want to test a man's character, give him power.Ē
Abraham Lincolnís hat became an icon for the President, and it still is today. In fact, it was too recognizable. Once, a would-be assassin shot a stovepipe hat off the Presidentís head while he was riding a horse across the countryside near the White House. President Abraham Lincoln did not need a stovepipe hat to stand tall in his life, but his has become the symbol of all he stood for.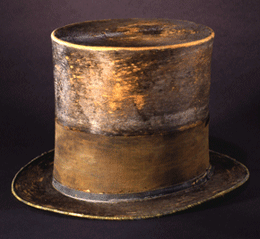 Abraham Lincolnís hat
worn to Fordís Theater.
(Photo, courtesy of the Smithsonian.)
The mourning band on the
Presidentís hat was in memory of his son Willie who died at 12.