Name These Famous Stamps
Answer to Name This Famous Antique Game - February 2013
by Mike McLeod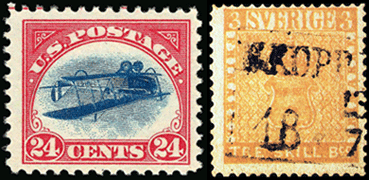 Two of the most valuable stamps in the world were correctly identified by Julie Kimbrell and Pat Kimbrell of Old School House Antiques in Sylva, N.C., and Ted Carlton of Utah.
The Inverted Jenny may be the most easily recognized stamp in the world, but is it not the most expensive. Sweden's Treskilling, or Three Skilling Banco, a yellow stamp printed in 1855, holds that honor with a 1996 selling price of $2.3 million. It has since been sold in a private auction, and while the figure was not released, it is postulated that the stamp is sold for more than $3 million.
The Treskilling stamp's value comes from it being printed on yellow paper by accident. Yellow was used for the 8 skilling stamp; three skilling stamps in 1855 were printed on green paper.
The Inverted Jenny is not the second most valuable stamp in the world, but with one selling (of the many that are in existence) for $977,500 in 2007, it takes the number 3 position. However, a block of four Jenny stamps has sold for $2.97 million.
In 1918, the Post Office printed this 24¢ stamp for its new airmail service featuring the JN-4 "Jenny" airplane which was used in World War I as a trainer. The 24-cent price was equivalent to about $4.02 today. A regular stamp at that time was 3¢, or 50¢ today, which is almost the same price as a first class stamp now.
Although only one sheet of 100 Inverted Jenny stamps slipped through the hands of the inspectors at the Bureau of Engraving, seven others were caught and destroyed. From that one sheet, there are many Inverted Jenny stamps in circulation, relatively speaking for a rare stamp; yet, they still bring a premium price, almost always in the six-figure range.
The Inverted Jenny came about because the preparation to print the sheets was a multi-step process, and in addition, each sheet had to pass through the press twice, first to print the blue airplane and clouds and then to print the red border. So actually, the airplane is right-side up.
Knowing about this two-step printing process and the possibility of a mistake, stamp collectors were on the lookout. One collector, William Robey, a 29-year-old cashier, hit the jackpot on May 14, 1918 at a post office in Washington, D.C.1 A clerk handed him a sheet of Inverted Jenny stamps, and he bought it for $24.
Postal inspectors soon learned of the Inverted Jenny stamps being sold, tracked down Robey, and then attempted to pressure him into returning the sheet to them. They failed.
The clerk who unfortunately sold the sheet later explained his mistake, "A fellow asked for a sheet of airmails and I handed him one without looking at it. And anyway, how was I to know the thing was upside down? I never saw a plane before." 1
Six days later, Robey sold the entire uncut sheet of Inverted Jenny stamps for $15,000, which is equivalent to $251,387.96 today. Robey made the sale as quickly as he could because he was afraid more "inverts" would be found. In turn, the new buyer sold the sheet almost immediately for $20,000.
The Jenny still flies high today, but other stamps are also at its elevation. The top stamps worldwide are: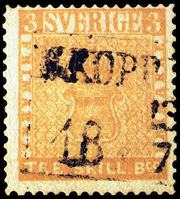 1. Treskilling, $3 million or more, probably.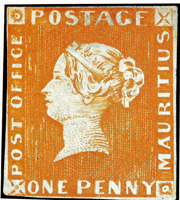 2. First Two Stamps Mauritius, orange and blue. Issued in 1847, these are the first two stamps issued by a British colonial government. They get their value from their age (the very first stamps were issued in Britain in 1840), their rarity, and from a possible mistake. The stamps have the words "Post Office" on them, and a later version has "Post Paid." There is a belief the first version was an error. The orange and blue stamps have sold for $ 1,072,260 and $1,148,850, respectively.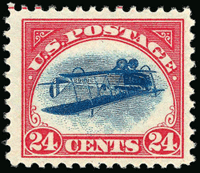 3. Inverted Jenny, $977,500.
4. British Guiana 1 Cent Magenta. Sold in 1980 for $935,000 it is the only known example in the world. In 1856, this stamp was ordered from a local printer when the post office ran out of stamps and the new supply of official stamps had not arrived by boat; consequently, it is one of the worst printed stamps ever, if not the worst.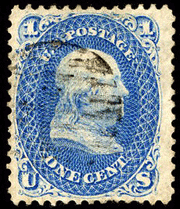 5. Franklin Z-Grill. Issued in 1867, this stamp is rarer than the Inverted Jenny; only two examples are known. A Z-Grill stamp sold in 1988 for $930,000. "Z-Grill" refers to an embossing on the stamp that allowed ink to be absorbed to prevent canceling ink from being washed off and the stamp reused.
----------------------------
1 Siegel Auctions, www.siegelauctions.com.
---