The Celebrity Collector:
Cassandra Peterson ("Elvira")
By Ken Hall
Cassandra Peterson has done such a great job at playing her sexy-spooky alter ego, "Elvira," it's a little difficult picturing her as anything or anyone else. After all, she's been at it for over 20 years. But Cassandra is also a wife -- to Mark Pierson, who manages her career and produces her movies -- and the mother of their daughter, Sadie, 8. To the rest of the world, though, she's "Elvira."
It hasn't always been that way, however, not by a long shot. Peterson is 51 now; if you do the math it isn't hard to figure out she endured lean times to get to where she is today. "I was your typical struggling actress," she said. "I went to every audition, took a million acting, dancing and singing lessons and spent years wondering where my next meal was coming from. It was hard, hard work."
But her world was turned upside down like a sleeping bat in 1981 when she auditioned to be the horror hostess of a new TV show in Los Angeles. Just a local gig, nothing big, but she got the part. "The other gals were taking it seriously and trying to act scary, but I just decided to have some fun with it," she remembered. "My character was more vampy, sort of Valley-Girlish. They loved it."
The show, titled "Elvira's Movie Macabre," was an instant hit and propelled Peterson into the local spotlight. "I refined the character as I went along," she said. "The wig was flatter in the beginning and the costume less revealing. My reading got better." Audiences responded to the Elvira persona. Before long the show was syndicated and reaching 85 percent of the nation's households.
Beginning around 1982, little gifts began coming in, all with a ghoulish or ghostly theme. "The first item came from Jerry Jackson, the director of the Folies Bergere revue in Las Vegas," Peterson said. "He gave me this wonderful devil-head tobacco holder, with German writing on it. Later on, he also gave me an Austrian bronze, depicting a black cat stabbing another cat. It's very macabre."
Before you can say boo, a collection was born. "It dawned on me that this Elvira thing was going to last for more than a year or so, and I got swept up in the spirit and tide of it," Peterson said. "At the time, we were living in this turn-of-the-century, Craftsman house, with mahogany and copper walls, glass hutches and Stickley furniture. It was perfect for displaying all these scary little items."
Fans sent her little skulls and other things along the way, but Peterson was slowly building a nice collection of Austrian figurines from the '20s, '30s and '40s, mostly depicting black cats with arched backs. "One time I dreamed that the devil was riding on the back of a black cat," she said, "and the very next day, in New Orleans, I saw in a shop an orange devil riding on a cat's back."
She got the shivers, then bought the piece. "It was in the early '80s and the figure is no bigger than the tip of your finger," she said, "but it cost $400, which is a lot of money, then or now! The figures I like have become very expensive. They're old, nicely detailed and come from Europe. And there aren't a lot of them. Not good ones, anyway. I suppose I've collected a dozen or so, all cats."
Peterson also has an actual skeleton of a vampire bat given to her by the actor (and friend) Nicholas Cage. "He got it at a little store in New York called Mandible that specializes in animal skeletons. It's mounted in a glass cage, with a wooden frame. It appears to be suspended in mid-air inside the case, and it's quite large, actually. As you can imagine, it's quite the conversation piece."
Another item, this one sent by a fan, is a doll called "Tragedy Ann" (a takeoff on the popular doll, Raggedy Ann). "Its lips are sewn together, its dress is all in tatters -- the doll is a mess, and my daughter carries it with her everywhere," Peterson said with a laugh. (For the record, incidentally, daughter Sadie's career goal is to split her time between being an orthodontist and the next "Elvira").
Being Elvira has accorded Peterson the luxury of traveling the world, both for pleasure and to make professional appearances. When she's abroad, she keeps an eye out for items to add to the collection. From Japan she's picked up masks, from Italy skull figures. "France has almost nothing macabre," she said, "but much of what I have seems to come from Germany. It's amazing."
In England, Peterson bought an ashtray with a spider web in it. It's one of her favorite pieces. "The web is made of wires, the spider is bronze and the ashtray is carved wood with a brass bowl," she said. "It's quite beautiful, and interesting to look at." She's also got lots of jewelry: spooky earrings, ghoulish bracelets, spider web necklaces; things like that, many of them given to her by fans.
Also in the collection: a ghoulish mask, made in Venice, Italy, and made of black, hand-tooled leather ("very spooky!"); a pretty black handbag with a silkscreen imprint of an Elvira-like woman; a piece of sheet music for the song "The Witch's Dance," with a drawing of a witch and black cat on it; a Charles Addams book, signed by Ray Bradbury; and an alphabet book, written in a macabre style.
By far the oddest item ever to find its way into Peterson's collection is a live python. "I was at the supermarket and this guy comes up to me and tells me what a huge fan he is and he raises pythons and he wants to give me one," she said. "So he runs home and brings back this foot-long baby python. He looked cute at the time, but it grew to 13 feet and we finally had to get rid of it."
| | |
| --- | --- |
| | Alice Cooper CD collection, Addams Family snow globe, Elvira figures, bronze skull ashtray, books. |
Cassandra Peterson was born in Manhattan, Kansas, and raised in Colorado Springs. "They flooded Randolph, Kansas, when I was seven to make a dam, so everybody had to get out," she recalled. "I was a third generation Peterson and we had all lived in Kansas except for this one aunt who had moved to Colorado Springs years before. So we all just packed up and moved there."
Her father was an insurance salesman and sometime trumpet player. Her mother, who today lives in Florida, owned a costume shop in Colorado called Peterson's Partyland. Young Cassandra loved snakes and had a king snake, a black snake and even a rattler. "I also made Frankenstein models and loved the old Roger Corman-Vincent Price movies from the '60s," she said. How fitting!
As a teenager, Peterson decided she wanted to become a dancer after seeing Ann-Margret in the Elvis Presley film "Viva Las Vegas." She left home within days after graduating from high school and found work right away, becoming the youngest showgirl in Las Vegas history (at 17). She even got to meet Elvis Presley, who saw her perform and encouraged her to pursue a career in singing.
Peterson took off for Europe, where she learned to speak Italian and toured extensively as the lead singer in an Italian rock band. She settled in Rome, where she met the legendary director, Federico Fellini, who cast her in the '70s film "Fellini's Roma." After that, she returned to the United States, where she formed her own nightclub revue called "Mama's Boys," which toured nationwide.
Then, in the late '70s, she joined the satirical improvisational troupe "The Ground-lings," which produced such notables as Phil Hartman, Pee Wee Herman and Jon Lovitz. There, she honed her skills as a writer and performer. It was the perfect warmup for her audition to play Elvira. "It's a part I'd like to play forever," she said. "I hope Elvira will live on in comics, films -- even a theme park."
When the TV show ended in the mid-'80s, Peterson took to the screen in "Elvira, Mistress of the Dark." It was released internationally and shown on TV. A second film, "Elvira's Haunted Hills," was made last year but enjoyed only limited theatre release. The movie, a gothic horror-comedy shot on location in Transylvania, can be purchased online at http://www.elvira.com/ or in most video stores.
Fans of Cassandra Peterson and "Elvira" may write to the star c/o The Elvira Fan Club, P.O. Box 38246, Hollywood, CA 90038.
2003
Cassandra Peterson has spent the last twenty-plus years playing "Elvira, Mistress of the Dark." Her collection, perhaps not surprisingly, is of ghoulish and macabre items.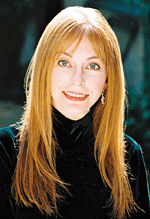 Cassandra Peterson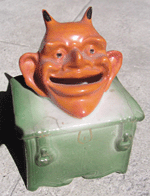 Coins go into the mouth of this devil's head porcelain bank, made in either Germany or Austria.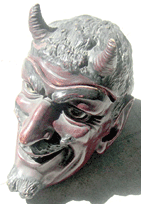 German-made tobacco holder; gift from Jerry Jackson, director of the Folies Bergere in Las Vegas.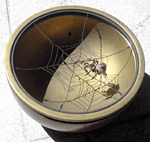 Viennese ash tray, featuring a wire web, bronze spider, mahogany outer bowl and brass inner bowl.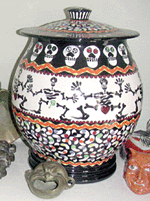 Large pot by L.A. artist Susie Ketchum, Royal Bayreuth devil teacup from Bavaria.
In 1982, Cassandra got this award from the Count Dracula Society.