The Celebrity Collector:
Elaine Irwin
By Ken Hall
Posted November 2012
International supermodel Elaine Irwin is the former face of Almay Cosmetics and Ralph Lauren and has graced the cover of dozens of fashion magazines, including Cosmopolitan, Glamour, Self and Elle. Her American Beauty cover for Vogue magazine was shot by renowned photographer Richard Avedon. She made the move into runway modeling for Victoria's Secret and Calvin Klein and soon became a favorite subject of photographers like Herb Ritts, Irving Penn and Steven Meisel, who were drawn to her soft, natural look. Elaine is a collector of Mid-Century Modern furniture and lighting, especially Danish.
"Even as a kid, I always had a great love of design and later fashion," Irwin said from her home in Indianapolis, where she lives with her two sons, Hud (born in 1994) and Speck (born in 1995). "My mother worked at the corporate offices of Knoll, the international furniture manufacturer known for their high-end office lines. They were headquartered in Pennsylvania, near where I grew up, and sometimes I'd go and visit my mother and be amazed at all the wonderfully designed pieces they'd have on display. The simple beauty of those pieces, combined with their functionality, really resonated with me."
Irwin left home at age 16 to pursue a career in modeling and found success almost right away. After her photo appeared in Seventeen Magazine in 1985 (when she was 16), the Boyertown, Pa., honors student and varsity letter winner in track and cross country was suddenly a much sought-after face for magazine covers, advertisements and commercials. Because her photo shoots often took her to exotic locales across the globe, she was further exposed to various furniture designs. Some were part of the photo shoots themselves. Some were just pieces she saw and liked when she was out and about.
Over time, Elaine developed a love and a passion for Mid-Century Danish furniture and lighting. She has pieces by designer-makers such as Frits Henningsen, Poul Henningsen, Poul Kjaerholm, Grete Jalk, Kaare Klint and Hans Wegner. (Wegner is probably the most renowned of the group.) She also developed a fondness for the female French furniture designer of the 1920s, Charlotte Perriand, a pioneer and visionary in what was then an entirely male-dominated field. But, for the most part, Danish pieces rule in her collection.
"I try to get to Denmark two or three times a year," she said. "I'll just drive through the countryside, waiting for an inspiration or something to catch my eye."
The prize of her Hans Wegner pieces is the stunning set of four armchairs from the rare JH-800 "Flat Steel Series" manufactured in 1970 as part of a high-end executive series by Wegner for Johannes Hansen. They were discontinued shortly after their introduction.
"Wegner effortlessly merged grace with function, while creating a smooth balance between the chair's fluid leather and structured steel," Irwin said. The JH-813 model (which Irwin owns) is a Wegner masterwork. He first showed the JH-800 series at the 1947 Copenhagen Cabinet Makers' Guild Exhibition, anonymously. It finally came to market more than 20 years later.
When Elaine first laid eyes on the 1930s-era Frits Henningsen-designed high wingback chair, "It was love at first sight...the unforgettable silhouette, the gorgeous leather aged perfectly, highlighting the rice patina...I knew I had to have it for my collection."
It is considered to be Frits Henningsen's greatest work, and it has the original upholstery, with exceptional color and texture of the leather. The classic wing chair dates back to the 1700s, with the integration of the "wing" feature to a Berger-style chair, the idea being to capture additional heat around the chair's occupant while he sat fireside. Henningsen's chair dates to the early '30s, and Irwin purchased it at an auction in Copenhagen.
Poul Hennigsen was a legendary lighting designer who summarized his design philosophy in ten words: "Form is given in a perfect mastery of the material." He applied that mindset to the set of four copper wall lamps that Irwin bought out of the same building they'd resided in since the mid-1960s. They were originally designed for exterior use, and all have the same rich patina from decades of oxidation and natural aging. It is a PH 4. 5/3 model (the PH is for the designer's initials, followed by a fraction that represents the shade size). The PH lamps were desk, wall and floor models, patented in 1927 but not manufactured until 1966.
One designer in Irwin's collection who has both furniture and lighting on his resume is Poul Kjaerholm. The furniture piece is the legendry PK-9 chair, manufactured by E. Kold Christiansen around 1960 and boasting rare original cognac leather and a magnificent patina. It is said that Kjaerholm's quest for the perfect shape led him to design the PK-9, but in fact it was a tulip-shaped sandy imprint on the backside of his wife, Hanne, at a Danish beach that actually led to the chair's final design.
"For that reason, it's often called the tulip chair," Irwin said with a laugh, "and I guess you could say it really was a labor of love."
The lighting example is an exceedingly rare PK-101 sculpted candelabra, produced by E. Kold Christiansen from 1959 to 1966 and then briefly again in 1974. It was made in very small numbers, making Irwin's piece very desirable among collectors. Kjaerholm envisioned the candelabra as a modern and abstract form of a plant, and it was designed to emulate a tree. It was constructed of thin steel rods attached to a central tube at 22-degree intervals, making two complete revolutions. He used high-tensile strength steel to reduce the size of the rods that were crafted to accommodate a typical Danish candle used at Christmas.
There's a masterpiece in Irwin's collection, and it's a 20th century armchair designed by Kaare Klint in 1927 for the lecture hall of the Danish Museum of Art & Design in Copenhagen. Shortly thereafter, it took the Grand Prix medal at the 1929 Barcelona World Expo, thus earning it the nickname, the "Barcelona" chair. It was actually called by its maker, Rud Rasmusson, the "Red Chair," due to the golden reddish color of the Niger leather used to upholster it.
"It should have been called the Klint chair," Irwin remarked, "like the master craftsman/designer himself, who perfected the blend of form and function."
Irwin is quite proud of her rosewood dining set designed by Grete Jalk and made in the early 1960s. The 53-inch circular table is crafted in rich Brazilian rosewood and expands to 11.5 feet with the use of four detailed extension leaves. Eight chairs of leather and rosewood complete the set.
"These pieces are from the private collection of the manufacturer, P. Jeppson," Irwin said. "It's an amazing piece of work and had been in his family home since being built in the '60s. It's in outstanding condition and is just a gorgeous set."
Irwin has an absolute soft spot in her heart for Charlotte Perriand, the spunky firebrand who, at age 24 in the 1920s, muscled her way into an "atelier" position with the famed designer Le Corbusier in France. This was after she had applied for a job at the Le Corbusier studio and was unceremoniously turned away. Undeterred, she set out to convert her apartment into a studio, where she designed a rooftop bar of glass, aluminum and steel for exhibit. Her design garnered much attention and caught the eye of Le Corbusier, who issued her an apology and invited her to work for him.
Perriand worked as a lead furniture designer for Le Corbusier before striking out on her own. In the 1960s, the French ski resort Les Arcs contracted her to help design and develop their resort, emphasizing practical use of small spaces and open living without compromising quality or comfort. One of the by-products of her effort was the tubular steel and leather chair that became known as "Les Arc" chairs. Perriand balanced the thick leather by mounting it to the tubular chrome steel frame with smaller straps. The symmetry between the leather and steel created an overall light feeling and made the chairs versatile for any setting. Elaine owns a set of four "Les Arc" chairs.
Irwin has accumulated so much Mid-Century Modern furniture and lighting she has actually launched a business to sell it, called Dragonlaine (www.dragonlaine.com). For now, purchases can be made online, but she plans to open a brick-and-mortar store by the end of the year in Venice Beach, Calif. She will have a partner who will dedicate a portion of the space to rare antiquarian books, and that part of the business will be called Dragon Books. The store as a whole will be called Dragon Books/Dragonlaine. The space they have selected is a former art gallery. Elaine said the two will probably exhibit at a few antiques shows per year, to help spread the word.
Irwin has also returned to the modeling scene in a big way, and will be featured in V Magazine as well as W Magazine's 40th anniversary issue, due to hit newsstands in November. Fans of Elaine Irwin may learn more about the star at www.elaineirwin.com.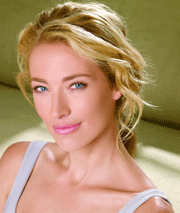 Elaine Irwin is the former face of Almay Cosmetics and Ralph Lauren. Her face has graced the covers of dozens of fashion magazines.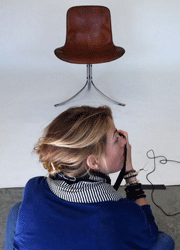 Elaine Irwin, behind the camera for a change, takes a photo of one of the many chairs in her collection.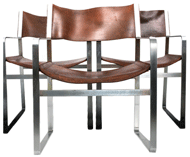 Stunning set of armchairs by the renowned designer Hans Wegner, from the rare JH-800 "Flat Steel Series."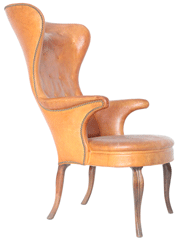 When Elaine first laid eyes on this 1930s-era Frits Hennningsen-designed high wingback chair, "it was love at first sight."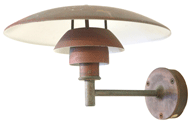 Mid-'60s-era copper wall lamp by Poul Henningsen, one of a set of four bought out of a building by Irwin.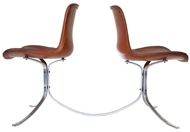 The legendary PK-9 chair designed by Poul Kjaerholm, nicknamed "the tulip chair" because it was inspired by his wife's tulip-shaped backside.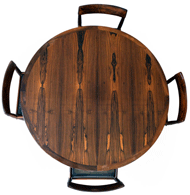 Irwin is quite proud of her rosewood dining set designed by Grete Jalk and made in the early 1960s.
This armchair designed by Kaare Klint in 1927 for a Danish museum lecture hall in 1927 is a masterpiece in Irwin's collection.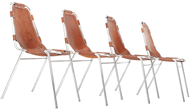 Irwin has a soft spot in her heart for Charlotte Perriand, the spunky firebrand who became a noted designer in France in the 1920s.