The Celebrity Collector
Barbara Eden, Everyone's Favorite "Jeannie," Collects Elephants
America's favorite genie-in-a-bottle has always had a soft spot in her heart for elephants. She began collecting them around the time the hit show I Dream of Jeannie was in its five-year run on NBC.
By Ken Hall
There's something about elephants that has always appealed to Barbara Eden, best known as the sexy, bubbly wish-granter on TV's smash '60s hit I Dream of Jeannie. "Elephants exist in a matriarchal society," Eden said from her home in Beverly Hills. "They look out for each other and care for each other, even when they die. They have compassion, and memories. I just love them."
Her collection of elephants -- most of which is crystal and ceramic, but also includes wood and even a wind-up elephant -- began around the time she was starring in Jeannie. "Someone gave me a ceramic elephant as a gift, and I just began accumulating more of them." Today, the house she shares with husband Jon Eicholtz (an architect/real estate developer) is populated with pachyderms.
"I've got them scattered about, but they all fit into the decor," Eden said. "You wouldn't even notice them, the way I've got them arranged. They flow, they fit in." One of her favorite pieces is in the kitchen. "At the bottom of the breakfast table, there are elephants going around the pedestal. It's really quite beautiful. I have a herd of little elephants set up around the plants in the kitchen, too."
Also in the kitchen, above the stove, there is a tile surface that needed some accenting. The solution? Elephants, of course! "I consulted with an artist about what should go there, and how it should be arranged," Eden said. "We decided on animal figures -- some elephants, but also rhinoceroses and other wild animal figures -- to go among some tulips. It looks like an African safari!"
Like many celebrities, Barbara didn't have to do a whole lot of buying to sustain her collector habit. "Once the word got out that I like elephants, I began getting them as gifts," she said. "One of my favorite pieces is one in the bathroom that was given to me by my hairdresser." Some are from friends in the industry. "George Hamilton gave me a wonderful ceramic elephant," she said.
Another gift came from Rita MacKenzie, a friend who is currently starring in a one-woman show dedicated to the life and music of Ethel Merman. "But most of the ones I've been given aren't from actors," she pointed out. "They're from directors and producers mainly." One she mentioned because of its unusual look and design is a candle with an elephant figure sticking out of it.
Don't be misled, though -- Barbara hasn't merely sat back and waited for the next elephant freebie to be handed to her. When something catches her eye, she pounces. "About seven years ago, I was at the Furniture Mart in Los Angeles, and I saw this beautiful, carved elephant chair that had been hand-made in Valley Forge, Pennsylvania. I just had to have it. It's in my home today."
As Eden moves from room to room in her house, she can locate an elephant in just about every one (except the living room, for no particular reason). Beginning in the entranceway, there's a large elephant under a coffee table; in another room, there's an elephant on a coffee table; there's a sculpture figure on the floor, some others in the bar. "I guess you could say I just love elephants."
Barbara Eden was born Barbara Jean Huffman in Tucson, Ariz. Her family moved to San Francisco when she was a little girl, and that's where she was raised. Her father worked for PacBell (the regional telephone company), while her mother was the credit manager for Granet Brothers, a jewelry store in San Francisco. Barbara's dream of succeeding in show business began early on.
Fortunately, her family recognized Barbara's talent and drive, and they encouraged her to pursue her dream. She was able to study drama and technique while still in high school. She also studied music at the San Francisco Conservatory, and sang with bands in the Bay Area on weekends. Performing was one way she was able to pay her way through City College in San Francisco.
While still in school, she teamed with a vaudeville comedian named Solly Hoffman, and the two did a pantomime act under the billing "Hoffman and Huffman." It was this kind of experience that gave Eden the poise that led to a scholarship in a theatre group. After that, Barbara felt she was ready for Hollywood. But was Hollywood ready for her? She remembered her first interview there: "I met with a studio executive from Warner Brothers, and he told me, 'You're a nice girl from a nice family -- go home!'" Undeterred, Eden got a night job working at a bank and moved into the Hollywood Studio Club for Women, where she met other aspiring actresses. All of them shared the same dream of one day achieving movie stardom. Fame would pass most of them by, but not Eden.
She got her first big break when a producer from 20th Century Fox spotted her onstage in "The Voice of the Turtle" in Laguna, Calif. He signed her to a contract and cast her in the TV series "How To Marry a Millionaire," starring in the role made famous by Marilyn Monroe in the film of the same title. While with the show, she married her first husband, the actor Michael Ansara.
While at Fox, Eden appeared in a string of motion pictures, including Voyage to the Bottom of the Sea, The Wonderful World of the Brothers Grimm, The Seven Faces of Dr. Lao, and opposite Elvis Presley in Flaming Star. She then joined Columbia Studios, where she starred in Ride The Wild Surf, The New Interns and other movies. Her career was launched, with fame about to call.
In 1965, Eden was asked to test for a new television show called I Dream of Jeannie. Like other fantasy concepts from the time -- Bewitched, The Flying Nun, My Mother The Car -- the show's premise hinged on the supernatural. In this case, a genie, trapped inside a bottle, was found by an astronaut and she did his bidding -- while he tried to keep her existence secret from NASA.
The show ran for five years on NBC, and is still seen today in syndication (twice daily on Nickelodeon's "TV Land"). It made superstars out of Eden and her co-star, Larry Hagman (the son of Mary Martin, she of Peter Pan fame). Both would find success in their post-Jeannie years, he as the infamous "JR" on the hit show Dallas and in other roles, she in numerous plays, shows and films.
In 1979, Barbara starred in the modestly budgeted independent film Harper Valley PTA, based on the popular recording by Jeannie C. Riley (another Jeannie!). The movie went on to gross more than $25 million. The next year, during February "sweeps week," the film was aired on TV and attracted more viewers than the Olympic hockey semi-final game between the U.S. and Russia.
Based on that unexpected success, network programming executives from NBC and Universal Studios began conceptualizing a TV series based on the movie. Barbara was the natural choice for the lead role, which she played for the show's two year-run (1980-81). Though rated highly, the program was cancelled when studio and network executives disagreed over its direction.
Eden has been a musical guest star on more than 50 variety TV shows, including 21 Bob Hope specials. She has also starred in numerous made-for-TV movies. She has a recurring role in the WB hit series Sabrina The Teen-Age Witch as the matriarchal Aunt Irma. For her many performing accomplishments, Barbara has been given her own star on the Hollywood Walk of Fame.
Eden came face to face with tragedy in 2001 when her son, the 35-year-old actor Michael Ansara, died from steroid use. He was an avid body-builder and used steroids to enhance his physique, but he paid the ultimate price. Today, Eden speaks out about the dangers of steroid use and abuse, appearing on shows such as Larry King Live. She is also active in other charity causes.
2002
I Dream of Jeannie ran from 1965-70 on NBC and is re-run twice daily on Nickelodeon's
"TV Land."



Some elephant collectors believe the trunk must always be turned up. That's a sign of good luck.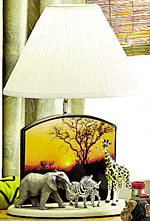 An elephant, zebra and giraffe live in harmony on this safari table lamp.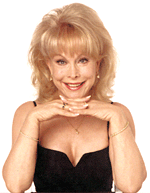 With her vivid blue eyes, cute figure and bubbly personality, Eden has enjoyed fame for 35 years.



Elephants on a round glass end table are supported by an elephant base, lit by an elephant lamp.



The "Bridge of Hope" (Mandarin style) conveys that goals are attainable when we all pull together.