Early Valentines of the Late-18th – Mid-19th Centuries
by Barbara Johnson, Ph.D.
For centuries, people have found different ways to express their feelings of love and affection. Many of these gifts and love tokens did not stand the test of time. The only testament we have today of these past proofs of tender feelings are valentines. This special greeting card can evoke the same emotional response from us today as the collectors of cards and cherishers of custom. The fascination with the valentine is probably due to our core basic human need to love and be loved. The valentine as an art form transforms itself and is remarkable because of the fragility of its nature. The ethereal beauty of the late-18th to mid-19th Centuries valentine is the subject of this article. While growing scarcer with time, early valentines are still circulating for purchase as well as being in the hands of private collectors, museums and historical societies.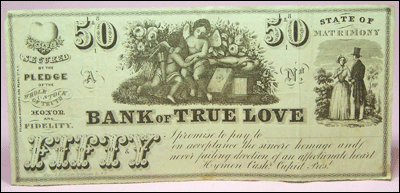 Photo 2. "Bank of True Love," engraved note implying the state of
matrimony was on the mind of the sender, published by
Franklin Bookstore, New York, ca. 1847.
The most remarkable fact about early valentines is that collectors can misidentify what they own. Much has to do with the lack of familiarity over the different styles of printing and lace paper. Collectors should thoroughly study the 19th Century lace paper makers, embossers and valentine publishers. Chromolithography was invented in 1798. Some early-to-mid-19th Century valentines had different sorts of scraps and ornamentation that made their features distinctive and easily recognizable. Recognizing scrap differences through the century can help date a valentine to the proper decade. Early scraps looked like small, flat-colored print cut outs. Besides being flat, additional types of early scraps could be embossed and were of a single color. They relied on the embossing for dimension to distinguish the design.
As decades progressed, chromolithographed scraps became increasingly popular. By the mid-tolate 19th Century, they are recognizable by their rich colors and wide range of tones due to the perfection of chromolithograph printing. The colorful scraps we have come to be familiar with in Victorian scrapbooks are of the latter kind.
It was fashionable from the 18th Century to the early 19th Century to hand craft your valentine using a combination of techniques. Some individuals produced cut out valentines resembling the paper-cut snowflake ornaments we make during the holidays. Senders might cut initials and hearts into the design. Some early artists used pinpricks to create pictorial valentines. Others used painted flowers (Photo 1) with all the beauty of an illuminated manuscript. Some used creatively-folded cards that showed artwork carefully folded into a paper purse to be opened and read by the recipient. Important themes included love knots, gloves and flower cages which feature central flowers surrounded by a cage of flower or greenery swags encircling it (Photo 1).
The shy or socially-reserved could use clever means of design to get their messages across to their love by using acrostics, rebuses or cryptograms to hide their messages of affection. These valentines remind us of the vastly different social conventions and strict propriety that defined the way these individuals could express affection.
Perhaps the most recognizable of these period valentines for collectors is the "Poonah" or "Theorem" valentine. These 1830s- 1840s hand-painted flowers resemble our modern stenciling techniques (Photo 1). Late 18th-to-early 19th Century valentines in retrospect encompassed many distinctive and beautiful art forms.
The collector of these earliest valentines needs to do thorough research to recognize features that are unmistakable. The subjects of the early cards are classical symbols of love. Cherubs and angels might bedeck the card. Naturalistic themes, such as love birds or flowers, might grace the design. The most important embellishments for color were applied flowers (Photo 3) and paper wafers placed behind paper lace to provide contrasting color (Photo 5). This was the age of more refined valentines.
Other varieties of design themes included nautical and classical features. Early 19th Century war and nautical activities were common concerns for Britain and America so it is not surprising sailors and ships figure into the early designs of valentines. They were identifiable images and themes of concern for those giving love tokens as well as those receiving them.
Classical figures also help identify cards of this period (Photos 5 & 10). Engraved valentines were popular. Stationers concocted such novelties as the 1840's "Bank of True Love" notes to pledge love and fidelity to the recipient while closely resembling currency of the times (Photo 2). Other early engraved valentines depicted couples in romantic scenes.
The greatest achievement of this time in valentine history is the development and the use of paper lace and paper embossing. Thanks to wonderful British makers, these artistic developments made British valentines true masterpieces. American card makers took British artistry one step further by creating their own valentines using British embossed paper and paper lace. Both constructed cards with a bevy of embellishments added to the paper lace. The beautiful embossed paper lace and cards featured figures (Photos 5, 6, 7 & 10), cupids (Photos 5 & 9), flowers (Photos 3, 6, & 9), shells (Photo 4), cameostyle embossing (photos 5 & 7), pastoral scenes and churches (photo 6).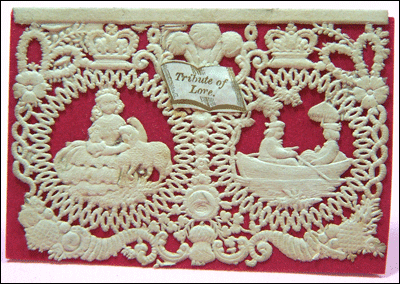 Photo 7. Very small cameo-embossed paper lace valentine
(2 x 2 3/4 inches), 18th C. clad king in a rowboat and queen with a lamb, crowns overhead; dated Feb. 14, 1865.
Much appreciated by the collector is the use of sparkling gold or silver "Dresdens," or scraps of gilded or silvered embossed paper. Tiny metallic scraps, now oxidized into a grayish rainbow color, were affixed to ornament the paper lace, silken fabric or white embossed paper base (photo 4). Some 1840s valentines even had small metal mirrors applied so the receiver could see they were the sender's beloved.
The early valentine also had applied artificial flowers (Photos 8 & 10), mosses, die cut flowers (Photo 3) and leaves (Photos 8, 9 & 10) made of embossed fabrics or paper. Verses were usually applied as scraps onto the valentine front and/or inside.
Some very special valentines of the 1860s were highly ornamented, perfumed sachets. These featured a stuffing under the scrap or ornamental paper which could be scented with perfume for the enjoyment of the recipient.
Besides using silk satin on some sachets, card makers utilized the beauty of silk elsewhere as backings behind the card's embellishments or affixed as special appliqués with printed verses (photos 4, 8 & 9). Colored scraps, Dresdens and painted verses were applied. By the 1850s- 1860s, paper lace was white, gilded, silvered or colored (photos 3-10).
One of the most important innovations of valentines late in this time period is the invention of the paper spring. These accordion-shaped hinges would act as lifting devices under different lace or embellished layers of the valentine to give beautiful dimension to the front design elements. Flowers, cupids, romance and roses remained some of the prettiest themes, now made even more interesting in threedimensional quality. The paper springs would remain popular through the latter Victorian decades (photos 8, 9 & 10).
Collectors should seek out some of these fine examples of early valentines as a special addition to any valentine collection. These rare cards are now more easily distinguishable once collectors know important details. Collectors should look for the maker's name embossed or printed somewhere on the front, in the paper lace, on the edge or on the back. Early British and American valentine publishers and lace and embossed papermakers very popular to collect include: Addenbrooke, Dobbs, De La Rue, Elton, Fisher, Goodall, Goode, Howland, Kershaw, King, McLoughlin, Magnus, Mansell (photo 4), Meek, Moody, Mossman, Mullord, Nister, Prang, Rimmel, Stevens, Strong, Tuck, Turner & Fisher, Ward, Whitney, Windsor (photo 9) and Wood (photo 5). This list is not exhaustive but represents those responsible for this period's most beautiful and popular valentines.
Early valentines offer collectors a chance to see the delicacy and care taken in their creation. These unique masterpieces are truly refined tokens of love and affection. A modest sense of taste comes forth when compared to later Victorian versions.
The early valentine is an antique that truly epitomizes a Golden Age of valentine artistry. Opening up a window into the secret or open hearts of our ancestors, they are artistic statements
of love expressed in past times when open expression might not be acceptable. Whether sedate or ornate, the early valentine offers a breathtaking presentation in fascinating variety for collectors. We marvel at the skilled craftsmanship of early makers as they alone enabled our ancestors to exchange the most stunning of valentines.
_________________________
About the Author: Barbara Johnson, Ph.D. is a sixteenth-century British cultural historian. She specializes in the material objects of Elizabethan and Jacobean aristocrats and their lives in their country homes. She is the author of Antique and Vintage Fashions, 1745-1979 by Collector Books, August, 2009 and Valentines, A Collector's Guide 1700s- 1950s, by Collector Books, 2010. Books are available at www.collectorbooks.com, in bookstores and online.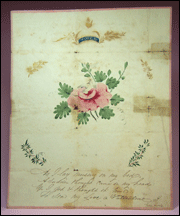 Photo 1. Poonah, or Theorem, valentine with a hand-painted central flower surrounded by a flower cage and topped with "love," handwritten verse; February, 1840.

Photo 3. Gilded embossed lace paper valentine with applied flowers, hidden verses under silk leaves, satin center; ca. 1858-early 1860s.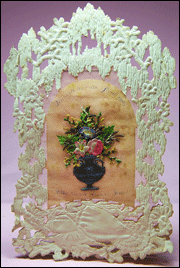 Photo 4. Embossed valentine by Mansell with silk center, painted interior verse, applied Dresden and embossed floral and urn scraps, embossed paper depicts a coral reef and shells, ca. late-1850s to mid-1860s.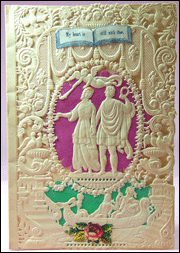 Photo 5. Cameo-embossed paper lace valentine, cupid, doves, classical figures, applied verse, paper wafers behind the embossing to show detail; ca. late 1850s-early 1860s.
Photo 6. Embossed silver and white paper lace valentine, multicolored tinting on embossing, dual scene of church and agricultural figure, ca. mid- 1860s to early 1870s.

Photo 8. Three-dimensional valentine of silver (oxidized) and white embossed paper lace, paper spring hinges for dimension, silk oval center with printed verse, applied leaves and flowers; ca. mid-1860s to early 1870s.

Photo 9. Three-dimensional valentine of white, embossed paper lace by Windsor, paper spring hinges for dimension, silk back, applied fabric leaves, embossed and silvered scraps of leaves and cupids, silk and paper lace appliqué with printed verse, applied scraps of flowers; ca. mid-1860s to early 1870s.

Photo 10. Three-dimensional chromolithographed valentine of silver (oxidized)-and-white embossed paper lace, paper spring hinges, purple silk trim, applied silk flowers, colored and silvered paper leaves, central motif of classical figure backed by purple silk and embossed miniature paper lace frame; ca. late 1860s to early 1870s.