The Celebrity Collector

Ashley Drane, a star on TV's "Blue Collar TV"
collects "Alice in Wonderland"
Ashley Drane is a star on TV's "Blue Collar TV" and "That's So Raven." She "grew up Disney" in Orlando, Fla., and found a kindred spirit (and a collection) in the character "Alice in Wonderland."
By Ken Hall
Ashley Drane's collection of "Alice in Wonderland" items came as naturally to her as the long blonde hair and bright blue eyes she had as a child. Being "brought up Disney" in Orlando, Fla., where her father was a food contractor for Disneyworld, Drane and her friends wore the dresses and costumes of the Disney characters they most looked like. For Ashley, that character was Alice.
Today, the actress who appears regularly on the WB hit series "Blue Collar TV" and the Disney Channel's "That's So Raven," has accumulated a lifetime's worth (well, she's only 23) of "Alice in Wonderland" items. Some she keeps in her apartment in Los Angeles, others are back in Memphis, where her parents now live (Mom's a fifth-grade teacher; Dad's still a food contractor).
"I probably wouldn't have gotten into it so much if I hadn't grown up in Orlando," Drane said. "But the Disney influence is so pervasive, and because I looked so much like her as a kid, that I just kind of adopted Alice as my favorite Disney character. My mother would read me the book (the large Golden Books version, in color) and bought me the Alice blue-and-white costume at a Disney store."
At age ten, Ashley decided to try her hand at fashion design. Her first project? An Alice dress, of course! "It was baby blue and white, with a big bow in the back," Drane said. "It was a pageant dress, and I took what I thought were the best elements from 'Cinderella,' 'Sleeping Beauty' and 'Alice In Wonderland.' The crowning touch was a pair of white gloves. I was quite proud of myself!"
Her collection takes into account numerous items: plates, Barbie dolls (yes, they made "Alice" Barbies!), jewelry, posters, clothes, rings, necklaces, purses, tea cups (what would an "Alice in Wonderland" collection be without tea cups?), tea pots (natch), pens and stationery. Her bedroom in Memphis is painted blue and white and much of her Alice stuff is displayed in a china cabinet there.
One of her favorite pieces is a Disney pin of Alice purchased at Disneyworld by the actress Mandy Moore. The two are friends, and Drane even co-hosted MTV's "The Mandy Moore Show" on a personal invite from the host herself. "Mandy bought the pin at EPCOT," Drane said. "It was so sweet of her. I really prize it. Disney pins are highly collectible. Some of them are worth quite a bit."
Another present ­ an "Alice in Wonderland" doll ­ was a gift from Autumn Reeser, the actress and Drane's co-star in the Fox made-for-TV movie, "The Brady Bunch in the White House" (Ashley played Jan Brady, Autumn was Marcia). The two have remained friends since the movie wrapped in 2002. To prepare for her role as Jan, Ashley watched a Brady Bunch marathon all day on TVLand.
Drane's mother gave her the largest item in her collection and certainly one of the most creative. While shopping at a Marshall's store, Sharon Drane saw a 2-1/2' tall statue of Alice. The entire thing had been painted, but not the face. "So my mother first convinced the store manager to give her the statue, then took it upon herself to paint the face in a very nice, creative way," Ashley said.
Drane said she's read the original Alice in Wonderland, by Lewis B. Carroll, but isn't a big fan of it. "It's a strange story," she said. "I like the Disney version much better. I love a fairy tale, and magic, and that's how Disney interpreted it for children. Alice goes to Wonderland in search of her perfect world and finds it was right in front of her nose. As they say, the grass is always greener."
Maria Ashley Drane was born Sept. 22, 1981, in Louisville, Ky. The family moved to Orlando when Ashley was still a child, whereafter she was "brought up Disney." Both parents encouraged her artistic and theatrical sides, and before she was a teen she'd landed a part as a dancer in the MGM Hercules Parade. At 12, she played Helen Keller in a local stage production of "The Miracle Worker."
The following year, Drane got her first big break when she was named to host "Shamu TV," a TV show that was seen on Animal Planet and the Discovery Channel. The program was based in Orlando, at Sea World, an ideal situation for the Dranes. In it, she imparted news and interesting facts about various sea creatures and marine life, in a kids-only format. The show ran from 1994-97.
When the TRUTH anti-tobacco campaign launched in Florida, Ashley was chosen as their national spokesperson. She made guest appearances on "Good Morning America," CNN and MTV. Soon after, her parents brought her to California, to be closer to the entertainment industry. Drane found work right away, appearing in TV shows like "JAG" and in the film "Ancient Warriors" (2001).
In 2002, Drane was cast as a regular on a quirky comedy program called "The Rerun Show." The cheeky, half-hour series revisited actual, vintage scenes from past television shows like "The Partridge Family," "Diff'rent Strokes" and "The Facts of Life." The sets, costumes, hair and make-up were recreated exactly as in the original show, while the ensemble cast of six added comic twists.
But the series was short-lived. "It was a wonderful concept, and it may have caught on if it were allowed to continue," Drane said, "but it just wasn't a good fit for NBC. It might have done better on Fox or Comedy Central." Ashley landed on her feet, scoring the recurring role of Muffy on the hit teen show, "That's So Raven." She plays a snooty nemesis to the show's star, Raven Simone.
True fame may now claim Ashley, though, as a star of "Blue Collar TV," the most watched program on the WB (it was recently picked up for 22 more episodes). As in "The Rerun Show," Drane is part of an ensemble cast, playing new parts each week in a sort of "Hee-Haw"-meets-"Saturday Night Live" skit format. It stars Jeff Foxworthy, Larry the Cable Guy and Bill Engvall.
Last year, Drane made a guest appearance on the Christmas episode of "That 70's Show," a part most actors would have died for. And Ashley did enjoy herself. But the obligation meant she couldn't play Alice in "Alice's Tea Party," a 20th anniversary DVD for the Disney movie. "I would have gotten to sing and dance," she said. "They were looking for the prototypical Alice from the cartoon."
So, her dream of someday playing the very character she now collects will have to remain on hold. Which isn't a bad thing. "Blue Collar TV" is perched high in the ratings, and other parts -- like the "Brady Bunch" movie -- keep the young actress busy enough. Drane is also active in charity causes, like the Special Olympics, the Make-a-Wish Foundation and the Ronald McDonald House.
Baseball fans will be interested to learn that Ashley is dating Anaheim Angels shortstop David Eckstein. The two have been going out for a year. They met in California, but it turns out they grew up near one another -- Eckstein in Sanford, Fla., just north of Orlando, and Drane in a suburb just south of the city. For her 23nd birthday, Eckstein bought her an "Alice in Wonderland" music box.
The story of how they met is interesting. After arriving in Los Angeles, Drane made friends with people who also knew David, and they kept telling her she should go out with him. Finally, she agreed to go to an Angels' game (she even wore an Eckstein jersey, with #22, her favorite number). The pair locked eyes for a moment (in itself unusual, as David almost never looks into the crowd).
Fast forward to a show-biz industry function, for which Ashley needed a date but had none. Her friends suggested Eckstein (whom she still hadn't met). Drane agreed, but only if the arrangements could be made through her agent. The agent called the Angels, who threw the idea out to David, who agreed to the date. Three months later, she told him it was her he saw in the stands.
Fans of Ashley Drane may write to the star c/o Sharp & Associates, 8721 Sunset Blvd., Ste. 208, Los Angeles, CA 90069.
2004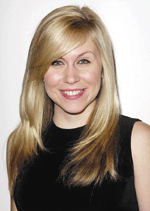 Ashley identified with "Alice in Wonderland" as a kid. Both had long blonde hair and sparkling blue eyes.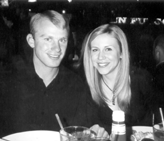 Classic Hollywood power couple: Ashley is dating David Eckstein, shortstop on the Anaheim Angels.

Some of the items from Ashley's "Alice" collection, kept in her
bedroom at her parent's house in Memphis.

Ashley identified with "Alice in Wonderland" as a kid. Both had long blonde hair and sparkling blue eyes.

Drane on the highly rated WB series, "Blue Collar TV," starring Jeff Foxworthy.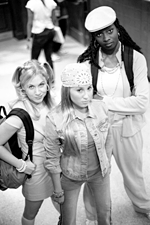 Drane (far left) plays the snooty "Muffy" on the hit Disney Channel series, "That's So Raven."