Down from the Attic, Up from the Cellar
Discovering the Colors of Depression Glass
By Deborah M. Allen
Depression Glass is inexpensive, machine-made glass from the 1920s and 1930s. It was packaged as a premium with various products or given away by theaters and stores. If you have glass pieces from your mother or grandmother, you may own some Depression Glass (D.G.). Look around; open those packed-away boxes; you may have a treasure.
Depression Glass was made in pink, green, yellow, blue, amber, white, red, black, amethyst and clear. That's an extensive list, but it doesn't begin to describe the variations available in some colors. For example, blue Depression Glass can be ice blue, cobalt, ultramarine, opaque, peacock, or opalescent, depending on the pattern. Some patterns only come in two or three colors. Others are available in more.
Color consistency can be a problem with Depression Glass. A red piece may have some yellow/orange in it. An ultramarine bowl may be more green than the blue it's supposed to be. Know the correct color for the pattern you choose to collect and decide whether or not variations are acceptable to you.
In the collecting world, the patterns of Depression Glass are known as "Adam to Windsor" from the alphabetical list of the 115 "classic" D.G. patterns. "Aunt Polly" has a molded-in diamond design, while white "Chinex Classic" has decals of a castle or of a floral bouquet. "Della Robbia" is clear with applied colors on its raised fruit design. "English Hobnail" has an attractive texture and sparkle. "Pyramid" is a striking, angular shape that's very art deco. "Orchid" has a delicate floral etching. The inventiveness and variety of D.G. patterns make them very alluring.
This multitude of patterns can be a great help in decorating for holidays by tying your table settings to your general theme. Heart-shaped cookies on a "Cupid" plate or tray add to a romantic Valentine's Day. For St. Patrick's Day, what could be more appropriate than "Cloverleaf"? The glorious colors of the United States flag can be brought easily to your table for the Fourth of July by D.G. "Crow's Foot" or "Lincoln Inn" could provide the red; "American Sweetheart" or "Dogwood" will furnish the white; for the blue, consider "Aurora" or "Radiance."
The harvest theme at Thanksgiving can be reinforced by "Della Robbia" with its bounty of fruits. The traditional colors of red and green for Christmas open up your pattern choices. "Royal Ruby" and "Moondrops" in dark green will give you both colors, and there are other options. There is even a pattern called "Poinsettia." Using different patterns to achieve your holiday colors offers great scope for imagination and creativity.
With so many patterns, where should a beginning collector start? If you have a family piece, a trip to the library could identify it for you. Many libraries have books on Depression Glass, and research will give you an idea of prices and of what pieces are available. You could decide to collect your "family" pattern. If you don't have an heirloom piece to start you off, research will show you all the patterns. You could decide to collect a pink cup and saucer from each pattern made in that color. Then you can look in antique malls and shops for your choice.
The largest grouping of Depression Glass patterns and colors, though, is at a D.G. show and sale. The Peach State Depression Glass Club puts on a sale every July at the Cobb County Civic Center in Marietta, GA. This year, it's July 27 (Saturday) and 28 (Sunday) and will feature 28 dealers. Admission is $4, which is good for both days, and parking is free. In addition to D.G., there will be Fostoria, Cambridge, Heisey, pottery, china, kitchenware, dinnerware and glassware from the '40s, '50s, '60s and Fenton through the '80s. No reproductions are allowed. There will be a glass identification booth so you can find out which company made your family heirloom.
Such a profusion of sparkle and color can be overwhelming, but your eye will be drawn to your favorite (or even additional ones), and you'll wonder how you lived this long without this glass! For more information about the Peach State Depression Glass Show and Sale, contact Bettye Millsaps at 770-926-0631 or Deborah M. Allen at 770-926-0291.
2002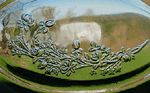 1930s pink Depression Glass cake plate with 3 legs, 12" diameter, Miss America style, $55 on eBay.
Deviled egg platter, $5.99 on eBay.
Heavy green Depression Glass pitcher, 10" high, $46 on eBay.
Should this style of Depression Glass be called "Ross Perot?"